Join the growing team at National Cardiovascular Partners.

We offer flexible Monday - Friday scheduling, with no weekends, or holidays required.
Front Desk Coordinators | Registered Nurses | Radiology Technologists | Medical Assistants


Leading our Team in Delivering Superior Care by Cultivating a Culture of Growth and Success
We know our people are the driver of our continued success. That's why National Cardiovascular Partners' leadership team
is committed to fostering a culture of employee growth and recognition.
EMPLOYEE SPOTLIGHT: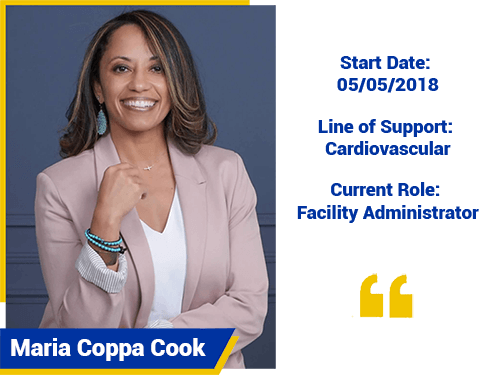 I joined NCP (National Cardiovascular Partners) to work for a smaller company that focuses on compassionate care. NCP is a smaller outpatient facility that nurtures that small company feel where patients and staff feel treasured. The structure is just one reason why I love NCP so much - it has the atmosphere of a small town where everyone knows your name! This makes the patients a part of our family too! I love this! We get to be a part of their care from Pre-op to discharge where we laugh, get to know them, and make them feel at ease.

During the recovery process once, a patient requested a bag of Cheetos - we had every snack except those. We could have stopped there and offered the patient something different, but we remembered that the on-site pharmacy carried a variety of chips, including Cheetos. The patient and family were delighted to know that we understood what it was like to go all day without eating. I'll never forget the smile on the patient's face when they opened the bag. At NCP we're here to make a difference and that includes the small niceties that help people know we care."
VIEW ALL NATIONAL CARDIOVASCULAR PARTNERS EMPLOYEE SPOTLIGHTS >

Ready to join the National
Vascular Partners team?
Take a look at our opportunities below!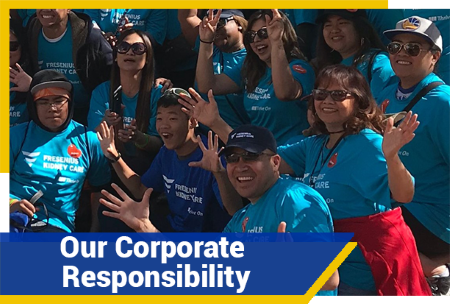 Corporate responsibility is how we demonstrate accountability and invest in the long-term viability of our business through advancing sustainability efforts. We strive to deliver value in a way that supports a healthy society while addressing its needs and challenges. This ensures we make a positive impact on society and the environment - all while providing our patients with the very best care.
WORKING TOGETHER TO CREATE VALUE >

We have become a global leader in healthcare because of the unwavering dedication our people bring to work every day. Whether that means developing new-to-market dialysis technology or educating patients, our team touches the lives of more than 190,000 patients through innovative care and profound, personal connections. Our team is made up of over 70,000 dedicated employees in North America, all of whom focus on being the difference and delivering the highest-quality care to people with kidney disease.
LEARN MORE >

We're the nation's leading provider of kidney care products and services. Every day, our team of nearly 70,000 employees cares for tens of thousands of people living with kidney disease, and each deserves to live their life to its fullest. We are committed to delivering superior care that improves the quality of life of every patient, every day."
- Bill Valle, Chief Executive Officer, Fresenius Medical Care North America
OUR AWARDS AND RECOGNITION:
From best practices that ensure quality and safety to innovative services and products,
we're proud that our market leadership is consistently recognized and rewarded.

Sign Up For Job Alerts
By signing up for Job Alerts, you'll receive the latest job openings based in your interests, skills and background sent directly to your inbox.
Join Our Talent Network
Joining our Talent Community allows us to send you company news, career event announcements and other career-related information.
By submitting your information, you acknowledge that you have read our privacy policy and consent to receive email communications from Fresenius Medical Care N.A.