Nurse Saves Two Lives in Georgia
Catherine has been both a Registered Nurse and an employee of Fresenius Medical Care for less than a year, but twice in that time her actions likely saved a patient's life.
In both cases, it was Catherine following her clinic's "no show/no call" protocol that made the difference. "If a patient does not arrive for their dialysis treatment, if they are a 'no show/no call,' my staff always calls to check on them, even if that patient is a frequent treatment skipper," said Carol, Clinical Manager at the Woodstock, GA clinic, in north suburban Atlanta.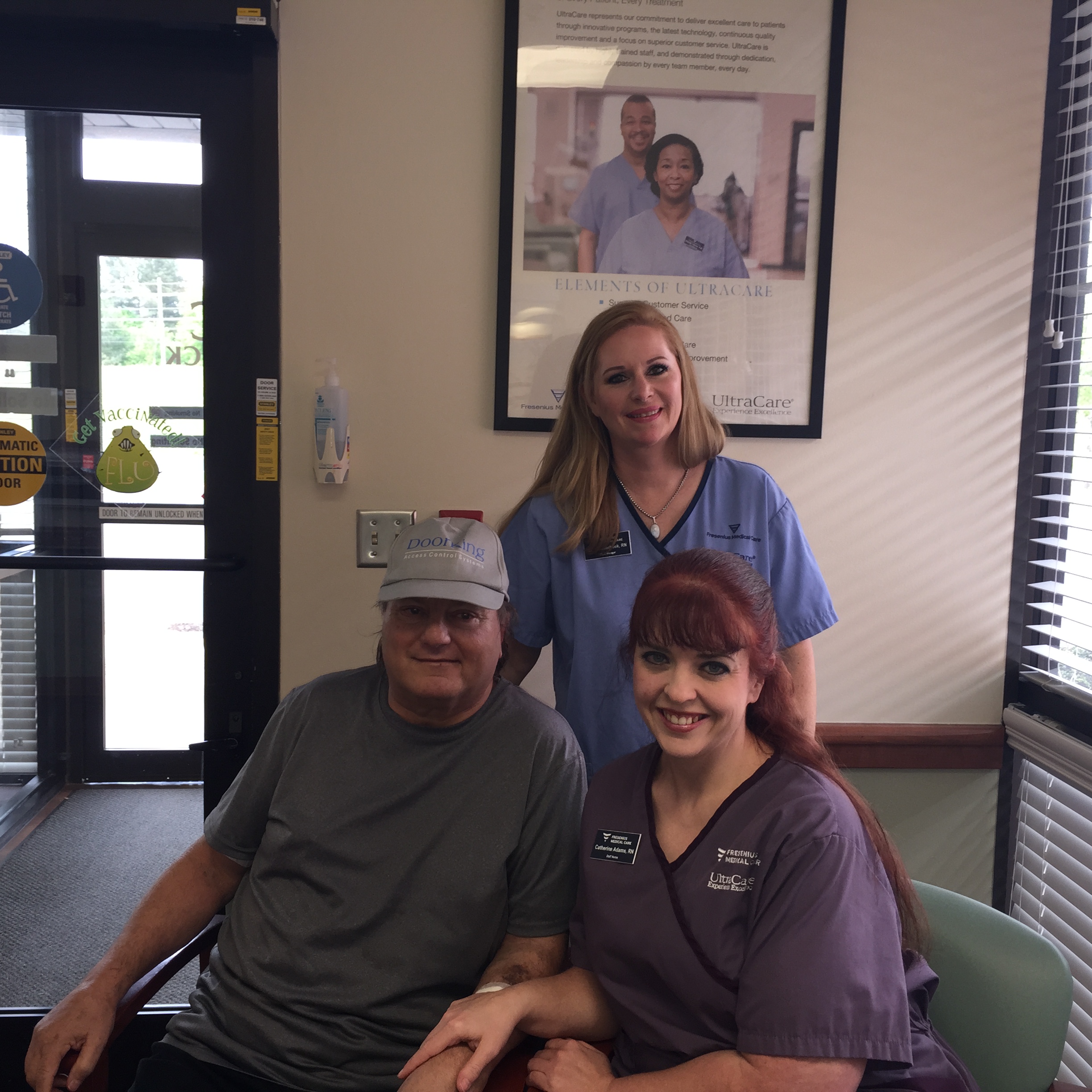 On a freezing day a few months ago, a patient was on his way to his dialysis treatment when he slipped and fell in his driveway and could not get up. Catherine's phone call alerted his daughter who rescued him. He did not suffer a serious injury due to the fall, but could have been stranded for hours in the cold before being discovered. "In the past few weeks, we had another patient who did not come to his regular treatment," Carol said. "So, Catherine made the phone call."
"Mr. [John] is usually here early, about 20 minutes before his treatment time," Catherine said. "I noticed that he had not shown up. So about 20 minutes after his chair time I called him at home, but there was no answer."
Catherine's next step was to call John's emergency contact number.
"I spoke to his wife and she said, 'He should be there,'" Catherine said. "I could hear the alarms going off in her head."
Shortly after Catherine's call, John was found in his home passed out and unresponsive by his wife. She called 911. Emergency Medical Technicians responded and later reported that his blood sugar level had dropped to 20 and he probably would not have lasted much longer, Catherine said.
"They tell me that when the blood sugar level hits 10 your heart stops, so I surely would have been dead in a few more minutes," John said. "It was a mistake on my part. I got a little bit lazy about testing myself before my dialysis appointment and I passed out. I'm very grateful she made that phone call. If I'd been there much longer I wouldn't have survived."
"If [Catherine] did not call his wife at her work, it is very likely [John] wouldn't have been found for at least eight more hours," said Carol.
As it turned out, John, who is 50 years old, was hospitalized for six days as doctors struggled to stabilize his blood sugar level and blood pressure.
He was later released and returned to the clinic for his dialysis treatment and Catherine said, "He's doing great now."
"The staff at the Woodstock clinic makes you feel like part of their family," John said. "They recognize you and get you all settled in before moving on to the next patient. It makes you feel important to them, and that's important to me."
Catherine, whose mother was a dialysis nurse for 40 years, grew up in Birmingham, AL., until she moved with her parents to Georgia. She began her dialysis career as a CCHT and last August earned a nursing degree at Chattahoochee Technical College.
"I know it sounds like such a simple thing," Carol said. "We should all make that phone call when a patient doesn't show up for a treatment. It's something we should do, but clinics are busy, so it isn't always done, but sometimes it could save a life."
Read here to learn more about nursing opportunities with FMCNA.