FMCNA RN Pam Receives High Praise
RN Pam has been a mobile acute dialysis nurse in the Houston North Gulf Coast region for only a year, but before that she spent 13 years as an emergency room nurse – and that experience makes all the difference.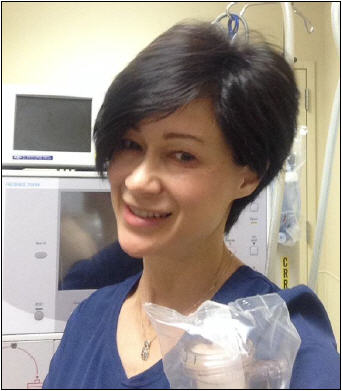 "She's one of my best nurses," said Phillip, Area Manager, Inpatient Services, said of Pam. "She's very consistent and treats every patient the same. She follows policy and procedure to a T."
Phillip said he was not surprised by a letter he received from the granddaughter of one of Pam's patients. In it she thanked him for the extraordinary professionalism, care, and patience Pam displayed while treating her grandmother.
"She's just been exceptional," Phillip said.
"Just like when I was an ER nurse, in mobile acute (dialysis) anything can, will and does happen," Pam said.
That's why she makes it a point to be prepared. In addition to her mobile dialysis treatment suitcase, she carries a tool box, because she plans for the unexpected.
Phillip said his team services 19 hospitals in the Houston area and available facilities vary from place to place. Some have dedicated dialysis treatment rooms while others do not. In order to get patients treated, Phillip said his mobile nurses have to be "part plumbers and part mechanics – they have to be flexible."
In addition to the standard pre-treatment procedure of getting the treatment room ready, if there is a treatment room, then bleaching the dialysis machine, reading the patient's chart and checking the doctor's orders, Pam has a standard procedure for each patient.
"First I acknowledge the patient and introduce myself," Pam said. "Then I tell the patient how long the treatment will last and explain how the treatment works and answer any questions they may have and then I thank them for being my patient."
Pam said following this procedure is good for the patient because it validates them. "Each patient is different," she said. "They each have different needs. One brand-new dialysis patient was afraid about the treatment and about her future.
Her need was based on her fear. For another, one who had been on dialysis for 10 years, her need was to be shown courtesy and respect."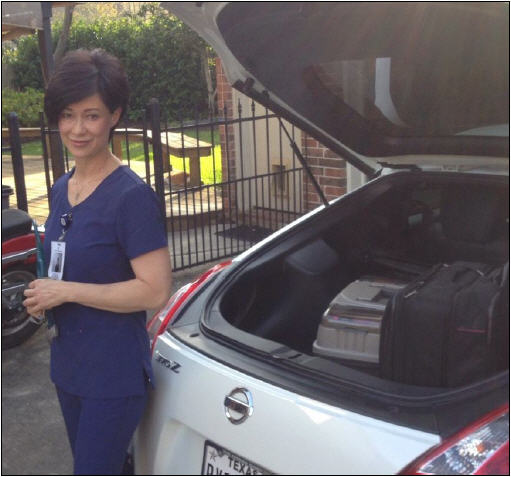 "I was on a steep learning curve when I began as a dialysis nurse," Pam recalled. "There was so much to learn. I'm glad I had my experience in the ER. It really helped my critical thinking."
It did not take long for Pam to become accustomed to her new assignment, Phillip said.
"Once that learning curve flattened out," Pam said, "I became much better at customer service."
That's what the letter from her patient's granddaughter said. "She provided the best customer service that we could receive," the granddaughter wrote. "She took the time and showed patience with the entire family when (she was) asked a million questions. She cleaned my grandmother's site where the other nurse did not take the time to clean it and she has always come in with a smile. Thank you for providing us with a great nurse."
After a year as a mobile acute dialysis nurse, Pam is happy with the change she's made.
"I love it," she said. "I'm used to stressful situations and being fairly autonomous, but also having the support of a great team. Now, I can really include the customer service part of the treatments, so it's less stress and more enjoyment. Plus, I like seeing patients get better each time. Isn't that what we say, 'Every patient every day.'"