Clinical Manager Delivers Excellence and Empathy
Brenda's 34 Years In Nephrology Nursing Are Characterized By Achievement, Excellence, Consistency And – Above All – Empathy.
The Gulfport, MS, Clinical Manager understands first-hand what her patients are going through on dialysis, having been a dialysis patient herself. Three years ago she underwent a successful kidney transplant, but she never forgets how it felt to be a patient.
"I've always said to my staff to put yourself or a loved one in your patient's place," Brenda said.
"Always use that. Always remember that."
Called "a shining example" of great leadership by her supervisor, Brenda's clinic has received eight Center of Excellence Awards, including one Platinum and four Diamonds since 2007.
Three years ago, she received the Ernestine Lowrie Award, given annually to a Fresenius Kidney Care employee who best exemplifies our core values and behaviors as well as our mission to provide superior care that improves the quality of life of every patient every day.
And earlier this year, she was awarded the first-ever President's Award of Excellence at the Clinical Managers Conference. This newly instituted recognition honors Brenda's commitment over the last year to leading, innovating, improving and succeeding.
"I always wanted to be a nurse," she said. "But I never dreamed of being in a management position. My Medical Director always urged me to seek career advancement, but I said, 'No. I want stability."
She certainly has stability with her staff. "We've worked together a long time. I did everything that I have asked them to do when I worked on the floor," Brenda said. "I trained from the 'old school' of nursing. We're there for the patients. That's how it has always been."
"My Medical Director says I run a tight ship and calls me 'the one with the whip,' " she said with a chuckle.
"I've heard what some have said – that I'm too hard and so set in my ways. I guess I just want to make sure that things are done right."
Her methods are effective. "Staff turnover rate is zero," she said. "I have four on my staff with me for 20 years and several others for over 10 years."
Now she is training a new nurse, who had been a PCT for 10 years, to be a new leader –perhaps her own replacement.
Looking back, she said, "A few weeks after I started working in dialysis, I was not sure I made the right decision. At that time, the staff was dealing with a difficult patient and I asked myself, 'What am I doing here?' Of course that was then, and I am still here. I care about my patients."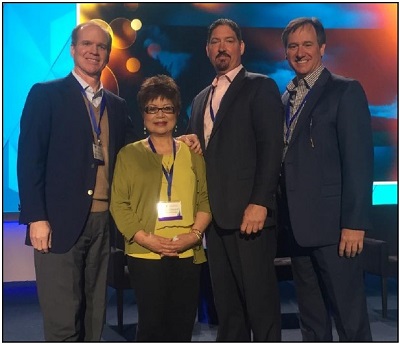 "I have excellent, supportive staff," she said. "We've stuck together through good and hard times. I've heard them say that I protect them and cover their back."
Brenda recalled the early years in dialysis. "There wasn't so much paperwork, reports and numbers to look at compared to now," she said. "I always tell the staff that if we do what we are supposed to do and do it right, then good numbers and positive results will follow. I always depend on God for guidance and wisdom to help me deal with the day-to-day issues at work."
So what about her new kidney? "It's working perfectly," she said.
Brenda credits her friend and Medical Director for monitoring her chronic kidney disease and slowing its progression. She received peritoneal dialysis for a year before transplantation, all the while continuing her commitment to leading, innovating, improving and succeeding as a clinical leader.