We're hiring at our Spectra Laboratory in Southaven, MS!
Spectra Laboratories, the leading provider of renal-specific testing services, is an integral part of the Fresenius Medical Care (FMC) family. Performing more than 78 million tests each year, we understand the unique needs of dialysis patients and those who care for them. Spectra Laboratories delivers comprehensive analysis and reliable reporting, ensuring the best possible outcomes for our patients. Our new Spectra Laboratories site in Southaven, MS., is a state of-the-art facility that will provide further support to our patients and bring 200+ jobs to the community, including Laboratory Supervisors, Specimen Handlers, Medical Lab Scientist, Medical Lab Technician, Billing Representative, Customer Service Representative, Line Operators and many more.

Fresenius Medical Care is a global leader in healthcare and the largest provider of renal care products and services in the nation, including state-of-the-art dialysis machines, dialyzers, pharmaceuticals and we're home to the country's largest renal specialty laboratories. Over 70,000+ dedicated employees in North America focus on suppling unsurpassed personalized dialysis care services including hemodialysis, home dialysis, transplant support services, and in-center services.
Fresenius Medical Care and Spectra Laboratories are committed to being the difference through constant innovation and delivering the highest-quality care to people with kidney disease – helping them to lead longer, better and healthier lives.
Join us and be a vital part of Fresenius Medical Care.
Explore the careers within Spectra Laboratories:
Spectra Labs Work in our Southaven, Mississippi Location
Spectra Labs

1280 Stateline Road East Southaven, MS
EMPLOYEE SPOTLIGHT

Theresa Zarrella

Senior Customer Service Representative

July, 2000

"Not only does this team have a great spirit but everyone has a big heart - this truly is a great company to work for!"

Read Theresa's Story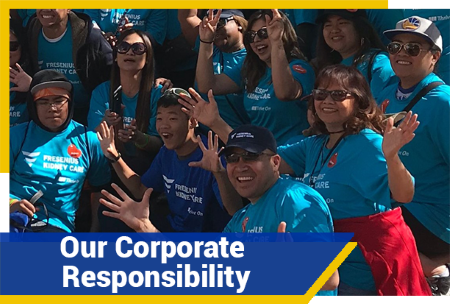 Corporate responsibility is how we demonstrate accountability and invest in the long-term viability of our business through advancing sustainability efforts. We strive to deliver value in a way that supports a healthy society while addressing its needs and challenges. This ensures we make a positive impact on society and the environment - all while providing our patients with the very best care.
WORKING TOGETHER TO CREATE VALUE >

We have become a global leader in healthcare because of the unwavering dedication our people bring to work every day. Whether that means developing new-to-market dialysis technology or educating patients, our team touches the lives of more than 190,000 patients through innovative care and profound, personal connections. Our team is made up of over 70,000 dedicated employees in North America, all of whom focus on being the difference and delivering the highest-quality care to people with kidney disease.
LEARN MORE >

We're the nation's leading provider of kidney care products and services. Every day, our team of nearly 70,000 employees cares for tens of thousands of people living with kidney disease, and each deserves to live their life to its fullest. We are committed to delivering superior care that improves the quality of life of every patient, every day."
- Bill Valle, Chief Executive Officer, Fresenius Medical Care North America
OUR AWARDS AND RECOGNITION:
From best practices that ensure quality and safety to innovative services and products,
we're proud that our market leadership is consistently recognized and rewarded.

Sign Up For Job Alerts
By signing up for Job Alerts, you'll receive the latest job openings based in your interests, skills and background sent directly to your inbox.
Join Our Talent Network
Joining our Talent Community allows us to send you company news, career event announcements and other career-related information.
By submitting your information, you acknowledge that you have read our privacy policy and consent to receive email communications from Fresenius Medical Care N.A.