Women's Employee Resource Group
The Women's Employee Resource Group (WERG) one of the first groups created at Fresenius Medical Care North America (FMCNA) to allow our colleagues an opportunity to connect and collaborate. WERG is inclusive of all gender identities and all FMCNA employees are welcome!
Chartered in 2017, the WERG's vision is to serve as an internal community, promoting and providing a diversity of voices, investing in employee and company growth, attracting, retaining, and engaging women leaders, and offering an opportunity for collaboration and personal connections within FMCNA.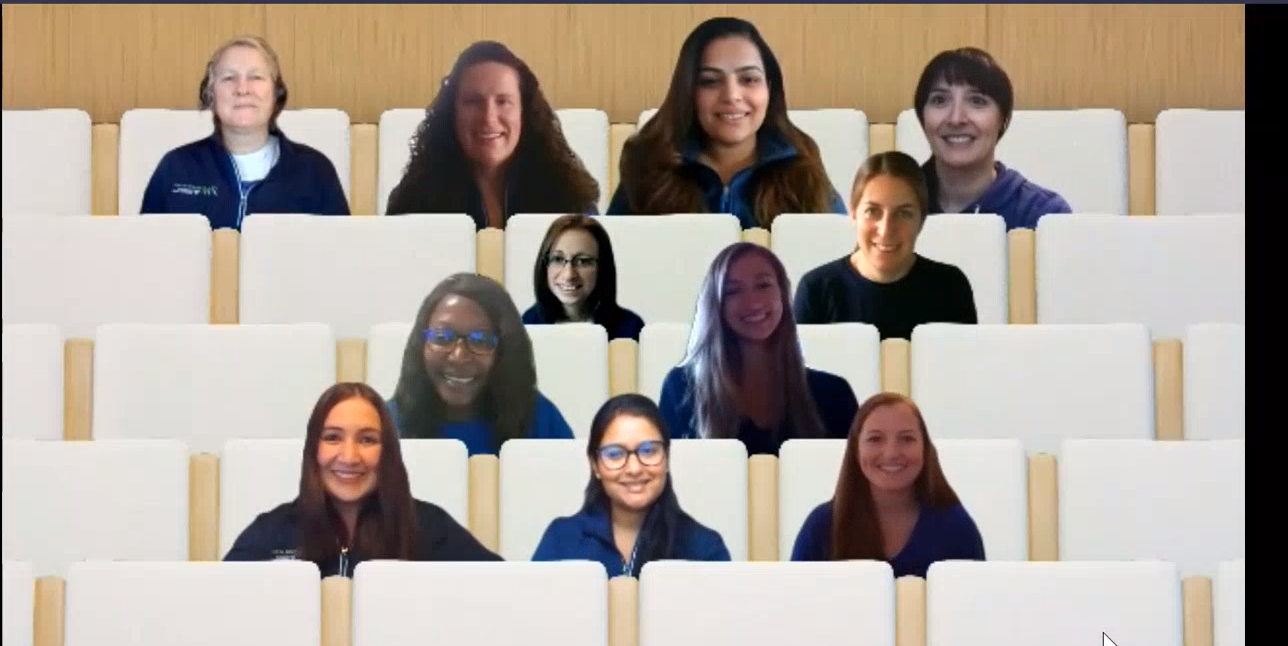 The WERG Leadership Team plans a variety of programming focused on:
Community Service | Diverse Voices | Field Outreach | Mentoring | Professional Development | Social & Networking


Community Service: coordinating opportunities for members to engage in community outreach (i.e. fundraising, volunteering, donating)


Diverse Voices: providing members the opportunity to learn from a diverse set of individuals through internal speaker series and external conference attendance


Field Outreach: engaging in internal outreach to develop additional chapters and ensure WERG opportunities are available to all FMCNA colleagues


Mentoring: coordinating mentor-mentee relationships to support members' professional growth and development


Professional Development: coordinating training opportunities for members to further their skills and career


Social & Networking: coordinating opportunities for members to connect with other FMCNA colleagues
What members are saying about WERG: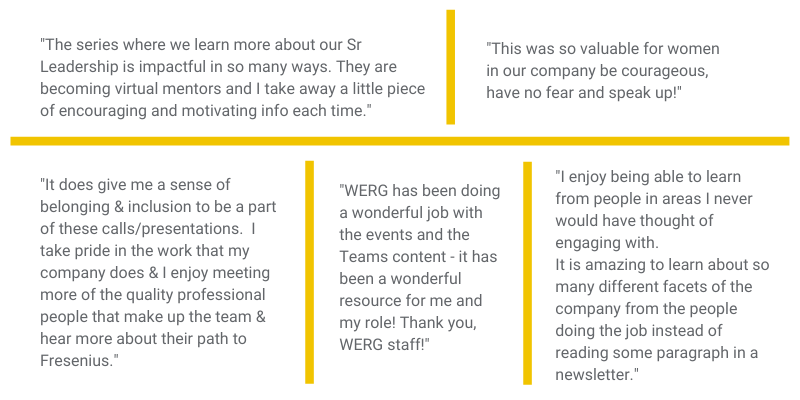 Ready to be part of this group? Join the FMCNA team and sign up to be part of WERG to connect and collaborate on their vision.
About Fresenius Medical Care North America
We have become a global leader in healthcare because of the unwavering dedication our people bring to work every day. Whether that means developing new-to-market dialysis technology or educating patients, our team touches the lives of more than 190,000 patients through innovative care and profound, personal connections.
With Fresenius Medical Care North America, you will "be the difference," enabling patients to thrive, providing comfort to families, supporting coworkers so they can realize their goals, compelling our company to achieve through innovation and performance, and driving the development of your career.
Our team is made up of over 64,000 dedicated employees in North America. All of them focus on being the difference and delivering the highest-quality care to people with kidney disease – helping them to lead longer, better, and healthier lives.
Why Join our team?
Employee Resource Groups - connecting and collaborating with colleagues
Rated as one of Forbes' U.S. Best Employers
Paid one-on-one training
Tuition reimbursement
Comprehensive health insurance
Paid time off
401(K) and much more
Sign Up For Job Alerts
By signing up for Job Alerts, you'll receive the latest job openings based in your interests, skills and background sent directly to your inbox.
Join Our Talent Network
Joining our Talent Community allows us to send you company news, career event announcements and other career-related information.
By submitting your information, you acknowledge that you have read our privacy policy and consent to receive email communications from Fresenius Medical Care N.A.