Fresenius Veteran Hiring: The Right Fit for Damien
At Fresenius Medical Care, we know that our nation's former military members have the skill sets needed to become vital members of the workforce. From leadership to innovation, veterans have unique expertise that can be an asset in a variety of careers. Former Marine and Aviation Ordnance Technician Damien, believes what he learned in the military made him a perfect fit at Fresenius.
What is your current job title and how long have you been working at Fresenius?
I'm currently an Outbound Warehouse Supervisor, and I've been at Fresenius for about two months.
How did you hear about the career opportunity at Fresenius?
My previous job was very specific, so I had no idea what my qualifications were. I found this position on a military recruiting site, and I started looking for jobs that were similar to what I did before. I soon heard back from a recruiter, had several interviews, and got chosen.
Can you tell me about your military background?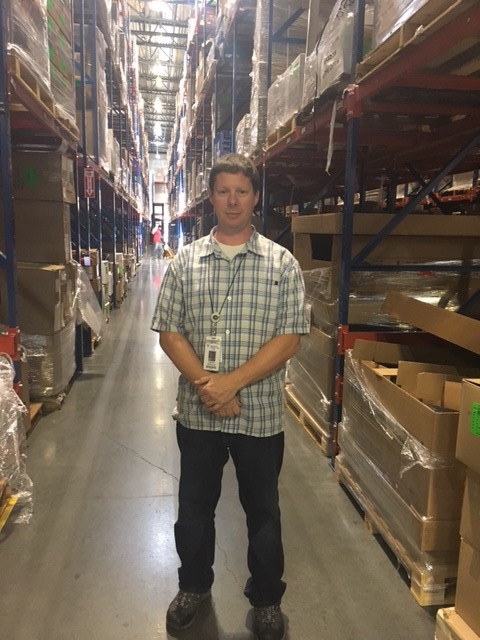 I started as an Aviation Ordnance Technician, which involved cleaning weapons and racks, inventory management and inventory control. Soon after, I was assigned to Marine Helicopter Squadron ONE working for the President. That involved tool control, aviation life-support systems and the like. I even got the chance to go overseas with the President, which was a really great experience for me and my family.
How has the military prepared you for a career at Fresenius?
The military taught me how to motivate people, and how to look at things in a holistic way. I knew I was part of something much larger. That mindset prepared me for my work at Fresenius because a lot of times I'm pulling spare parts and I don't get to see the actual medical devices or the patients using the machines, but I understand the impact it has on the health of Fresenius patients and customers. I'm happy knowing that there's something bigger that I'm contributing to.
What's something you're proud of accomplishing at work?
We recently implemented a new freight automation process, which made it really user friendly and overall makes the process more efficient. Our California warehouse is the first to implement this process. It's definitely exciting to be a part of something that is new and innovative.
What advice would you give to veterans considering a career at Fresenius?
If you're looking for a great and rewarding career, this is it. I didn't know a lot about the company coming into it originally, but one thing I really enjoy is that I'm serving. I was serving in the military, and though it might not be exactly the same, I'm still serving in another capacity. If you want a career where you feel like you're still doing something for the community, this is the place.
Want to use the skills you learned in the military in an atmosphere where we aim to help our employees grow? Learn more about careers for veterans today!