Top Reasons to Pursue Acute Care Nursing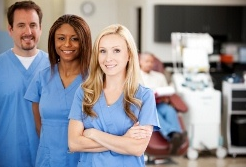 Ask any nurse, and he or she will tell you that nursing is a highly rewarding career full of boundless opportunity.
With over 100 nursing specialties to choose from, nurses have the unique ability to craft a career path that fits their interests, skill sets and professional goals.
One area of focus nurses can choose to pursue is acute care, also known as inpatient care.
Acute care nurses at FMCNA primarily work with chronically ill patients in a hospital setting, where they will administer hemodialysis, peritoneal dialysis, continuous renal replacement therapies, and apheresis treatments in a suite location or one-on-one fashion. The overall one-on-one interaction with patients makes acute nursing an ideal option for those who are looking to build strong interpersonal communication skills.
Because dialysis is a critical treatment for many hospital procedures and health conditions, acute care nurses at FMCNA have the opportunity to work with a variety of patients with a variety of medical conditions. Each day presents new challenges and opportunities for growth!
These are just a few reasons why an acute care nursing career at FMCNA could be the perfect career move for you. Read on to learn the top 3 reasons to become an acute care nurse with us:
1. Continual Education and Career Development Opportunities
At FMCNA, our inpatient/acute care RNs are required to have 6 months – 1 year of dialysis experience, as well as some form of critical care experience. Given the ever-evolving nature of the health care industry, we provide our acute care nurses additional training and support in order to stay atop of our rapidly expanding services. As part of our in-house training, we offer a Clinical Advancement Program for Nurses as well as clinical ladders and leadership programs. We are committed to helping each and every one of our nurses achieve his or her full professional potential by mastering valuable, transferrable skills that can be used in future leadership roles.
2. A Career with Autonomy
We believe that greater autonomy allows for a happier, healthier work environment. That's why our acute care nurses are responsible for the direct care of assigned patients and are specifically accountable for administering and assessing each patient's treatment plan. This elevated level of responsibility helps foster confidence and leadership skills, and it also allows our nurses to play a more holistic role in the treatment process.
3. Varied Work Day
If you're looking for a fast-paced career full of excitement, acute care nursing may right up your alley. No two days on the job are the same! In addition to meeting new patients on a frequent basis, acute care nurses perform a variety of tasks within a single day: patient care, staff management, technical maintenance, medical documentation and laboratory-related duties, just to name a few.
Are you an experienced inpatient or acute care nurse looking to make a bold career move? Apply to join the FMCNA team today! Explore our current inpatient/acute care nursing job opportunities here.