From PCT To Clinical Manager
Meet Amber, a Clinical Manager who started her career as an FMCNA PCT. Amber shares her tips on accomplishing your career goals while maintaining a healthy balance and finding personal and financial support.
Tell us a little about yourself.
Presently, I live in Benson, IL. I drive about 40 minutes to the clinic (because Benson is a very small town in the middle of nowhere!). I was born in Jonesboro, AR. I moved to Illinois when I was 6, when my dad transferred with his job. I graduated from Metamora High School. My free time usually involves children's activities; 3 kids – ages 4, 9, 11. My 4- year-old plays t-ball in the summer, preschool activities, 9-year-old is on swim team in the summer, plays on travel basketball, and gymnastics. And my 11-year-old plays on junior high basketball, swim team, percussion in band, and active in choir. I love to read when I actually have free time … haha.
What was your "aha! moment" when you knew you wanted to grow beyond your PCT role?
Honestly, being a PCT is hard work. I always knew I wanted to be in healthcare, but not exactly sure what field. The opportunity to grow within the company and the RN Tuition Assistance Program really motivated me. I also wanted to be able to provide better for my family and have steady work.
After being a staff RN for about 4 years, I applied for the CM position. I had always been a leader as a PCT and as a staff RN. It just seemed like the next best step and the best way to make changes within the clinic for the better. I have a good rapport with my staff already as I have worked with them for many years. I have an open door policy and all of the staff feels comfortable talking to me about any issue or ways to improve.
Pro-Tip: Become A Leader
Start by identifying skills that you can pass onto to team members and arrange a meeting with your manager to pitch your idea.
What kind of challenges did you face along the way?
It is exhausting working full-time and going to school full-time. I also worked every holiday and sometimes extra Saturdays, or opened and closed the clinic so that I could still get my 40 hours – and go to school. I learned quickly that it was not a good idea to work before school (get up at 4 am and then sit still in class). I think I drank a LOT of caffeine! Sometimes, I felt like I did not spend enough time with my kids (ages 2 and 4 at the time). Sometimes, I was so tired I just wanted to quit. I would be up late at night doing care plans or assigned reading for school; I would do homework during my breaks here as well. When I felt like it was getting too hard, I just had to remind myself that it was only for 2 years (I did a 2-year degree) and that, when I finished, I would have endless opportunities for growth and financial stability for my family. So while I felt that I did not have enough time for everything, and did not "juggle" everything well, I was doing what was best for myself and my family in the long run.
Pro-Tip: Stay Focused
Be realistic about the upcoming challenges and remind yourself of the long-term benefits it will have.
What was your support system like during this growth?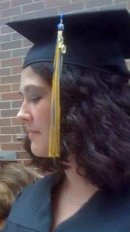 I had a good support system. The staff members were always ready to back me up. They were accommodating with the schedule as well, but so was I, in that I worked extra holidays, Saturdays, and opening/closing. Plus, I had my husband – he probably took a little longer to adjust because it was a big scheduling change for us, but after the first semester, he did everything he could to help me get through school. I also had family to help with the kids, to go on field trips if I couldn't, take them to the doctor if I had clinicals for school, watch them if I had late night clinicals or early morning clinicals. I had a lot of people help me get through school and couldn't have done it without them. I really felt lucky to have the support. There were some in my classes that were single moms or just didn't have any one else and I just could not imagine getting through something as difficult as nursing school without the support that I did have.
Pro-Tip: Find A Support System Talk to family, friends or colleagues about the support you need. Establish a consistent schedule and tap into family members to help with responsibilities.
What piece of advice do you have for anyone considering a similar career path?
Go for it. It will be the best decision of your life. Develop a good support system and learn to work "smarter not harder" really quickly (nursing school phrase)! Utilize the company RN Tuition Assistance Program. It pays 100% directly to the school once you are accepted into a nursing program – not many programs do that, most are just 80% reimbursement. So there is no reason you cannot afford to better your education. Not to mention, you get a 5% pay increase every time you complete a quarter of your required credits. Some people are motivated by money, or ask how to get more as a tech…well, there you go! It is a great program. Utilize your resources, develop a good relationship with the current staff nurses and your CM or DO, even. They can help you or at least be empathetic with the struggles and level of difficulty nursing school entails.
Pro-Tip: Reap Some Benefits Check if your employer offers financial assistance. At FMCNA, we're proud to offer a substantial Tuition Reimbursement Program that has helped employees reach toward their goals.
What's next? Tell us about your next goal!
I am not sure what my next goal is at this time. I've only been the CM for a little over a year. I will most likely try to learn everything I can about that position before considering anything else within the company. I am considering going back to school to get additional nursing degrees.
Pro-Tip: Stop & Learn
At every stage of your career, you will be exposed to new opportunities to learn unique skills and make a bigger impact, so relish the moment and commit to learning.
Thinking back to 2006, what made you choose a career here? What has made you stay?
I think I found the job in the newspaper; it was something new and different that I had never heard of before. I love the technological aspect that is tied in with the healthcare aspect. I love the staff I work with and the patients. It's really like having a very LARGE, extended family. You have these patients for years, sometimes decades. You get to know them really well. I like mentoring new staff as well, and encouraging them to pursue nursing careers if they are interested.
Pro-Tip: Become A Mentor
Not only is this an opportunity to support others, but it will also help you grow your leadership and management skills.