PCT is 'relentless' in her efforts to reduce catheters
Many of the patients at the Cherry Hill, N.J., dialysis clinic resisted switching to arteriovenous fistulas or grafts instead of traditional catheters, that is, until one of the all-star employees there convinced them otherwise.
Patient Care Technician (PCT) Josie was the force behind an education campaign for patients to use fistulas or grafts instead of temporary, infection-prone catheters. Thanks to Josie's initiative, and the team's efforts, the number of patients using fistulas and grafts over the past six months has increased from 70 to 83 percent.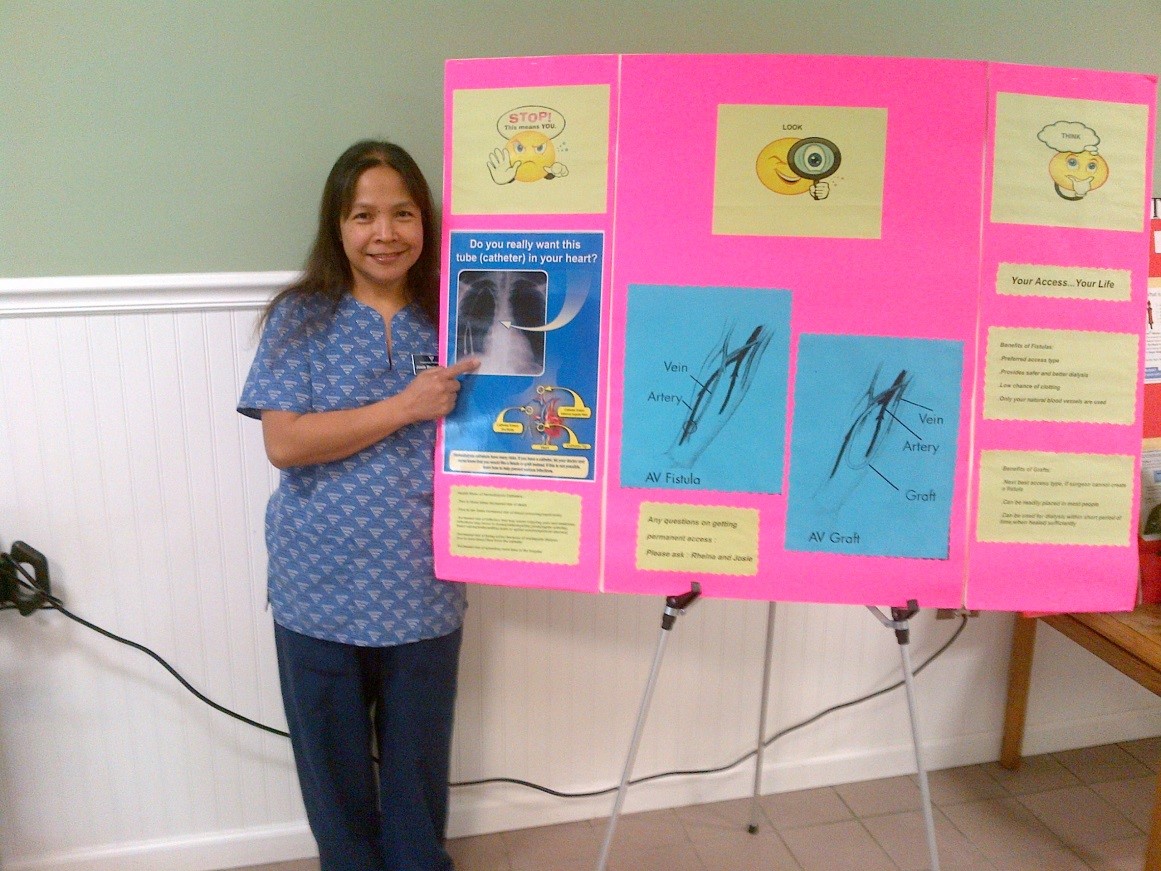 Patient Care Technician Josie showcases her poster that helps patients understand the benefits of using alternatives to catheters for dialysis treatment. Her efforts significantly helped reach her team's goals, but for her it's part of her job.
"It's a challenge to try to convince some patients to do something that's good for them, and I guess I like that part of it," said Josie.
Director of Operations in the Skyland area, Karen, said their clinic faces a particular challenge in reducing the use of catheters, with 75 community-based out-patients, about 30 nursing home and rehab patients, and 10 patients who depend on a ventilator or tracheotomy.
Switching to fistula and graft dialysis treatment is one of the many ways FMCNA is embracing and implementing new technology to deliver quality health care. Patients go through a smoother recovery process, but convincing patients to make the switch isn't easy.
"Some patients refuse fistulas because they fear the needles," Josie said. "Others have had a failed access, or transportation could be problem, and some are frustrated with dialysis and don't want to go through the long (maturation) process."
Karen said it was thanks to Josie's consistent work with patients, updating the clinic's catheter workbook with the nursing staff, and attending weekly Interdisciplinary Team meetings that made the difference. Taking on these responsibilities as part of her everyday workload, Josie diligently monitored patients' surgical appointments and produced timely access evaluations.
But for Josie, it's just part of her job.
"I love it," Josie said. "I love my job and the patients, and working with my boss and the company."
A Philippines native, Josie came to the United States 15 years ago and worked in real estate before joining the CCHT team.
"Josie is impassioned," Karen said. "She's fearsome and this access initiative is her baby."
Fresenius team members at clinics across the country have the opportunity to pursue their passions and make differences in their patients' lives. That's what meeting goals and collaborating as a team comes down to, helping patients, one at a time.
Join a team like Josie's as a Patient Care Technician.