Employee Spotlight: Meet Azura Vascular Care RN Anna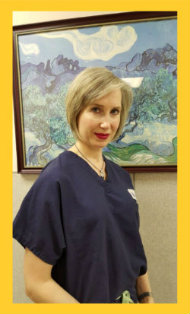 Name: Anna
Job Title: Registered Nurse
At Azura Vascular Care Since: February 2012
Greetings! My journey at Azura Vascular Care started in February of 2012 when I joined the vascular team at American Access Care of Queens as a per diem nurse. Working as a registered nurse in a busy emergency room, I was looking for a change in pace, and Azura Vascular Care turned out to be a perfect fit. Three months later, I was offered a full-time position and gladly accepted it. Since then, I've worked first as a staff nurse and later as a charge nurse learning the daily operations of this dynamic company.
I was born and raised in Russia. However, I did not become a nurse until I came to the United States in 1998. During my nursing career, I have had a chance to work in ICU, telemetry and ER. I have been fortunate enough to be able to utilize my critical care skills while caring for Azura Vascular Care patients. At the same time, having spent most of my career in a hospital setting, I learned to appreciate the difference in care provided to the patients in small facilities like ours.
I am married and have two boys. My main focus outside work is my children. We are a physically active family, and our weekends revolve around hiking trips, swimming competitions and just simply enjoying local parks.
In the patient experience at Azura Vascular Care, where does what you do on a daily basis fit in?
We would not be here if it wasn't for our patients! Every one of them is special. From the minute a patient walks into our facility, I strive to provide the best possible care. I try to concentrate not only on the physical aspect of care, but also on the emotional one. My job requires me to utilize my listening skills.
What type of support can you expect from your colleagues at Azura Vascular Care?
Teamwork is paramount when it comes to patient care. Dealing with large volumes of patients, we have to coordinate the transition from pre-op, to intra-op, to post-op so there are no delays. This can be accomplished only if all the members of the team communicate and support each other.
How does your experience as an Azura Vascular Care RN differ from your previous work experience?
As an Emergency Room nurse, I witnessed first-hand the delay in care for dialysis patients who needed hospital-based interventions related to their accesses. Once in the Emergency Room, they would spend hours waiting for the results of the blood work and then waiting to see a vascular surgeon. At Azura Vascular Care, the procedure takes minutes, and the recovery time is minimal.
Ready to join the Azura Vascular Care team? Take a look at our opportunities for RNs below or a learn more about the role , or meet some more RNs at Azura Vascular Care in this video.