Registered Dietitians at Fresenius Medical Care build trusting relationships with patients and their families. That trust paves the way for dietary education and planning that directly affects patients' quality of life. Responsibilities include completing patient assessments, creating patient-specific nutritional plans, and providing ongoing nutritional support. All this is done in a multi-disciplinary environment where information from both patients and co-workers contribute to success. Qualified candidates are excellent listeners with a current RD license and prior clinical dietitian experience.
Job Description
Washington D.C., District of Columbia
Job ID R0030418
PURPOSE AND SCOPE:
A Registered Dietitian in training with less than the one year of clinical experience will work directly with a qualified dietitian. With direct supervision of a qualified renal dietitian, this position will provide nutritional services for the facilities in-center and home patients in order to gain the experience required by CMS until year of clinical experience is completed to become a qualified dietitian.
Actively participates in process improvements activities to enhance the likelihood that patients will achieve their individualized patient-specific goals as determined by the patient's physician. The Dietitian in training would not be qualified to complete patient assessments, develop plans of care, or take responsibility for QAPI program review. Under direct supervision of a company Registered Dietitian (employee with a minimum of 3 years' experience as a renal dietitian). Adheres to the FMCNA Compliance Program, including following all regulatory and FMS policy requirements. Supports the FMCNA commitment to the Quality Enhancement Program (QEP).  Supports FMCNA's mission, vision, core values and customer service philosophy. 
PRINCIPAL DUTIES AND RESPONSIBILITIES:
Responsible for driving the company culture through values and customer service standards. 

Accountable for outstanding customer service to all external and internal customers.

Develops and maintains effective relationships through effective and timely communication.

Take initiative and action to respond, resolve and follow up regarding customer service issues with all customers in a timely manner.

Calculates diet prescription according to standards of practice.

Evaluates patient's knowledge of diet and kidney disease.

Completion of Nutrition History forms with patients to be used by CMS-qualified dietitian to complete assessments

Provides patient specific education to patient/family/caregiver regarding nutritional status, adequacy measures and results, fluid status, and all nutrition related lab parameters pertaining to their disease process, keeping in mind the learning style and preferences of the patient.

Reviews nutrition related lab results:

Counsels patient and/or caregiver and formulates appropriate action to assist patient in achieving and sustaining an effective nutritional status.

Communicates lab results and recommended treatment changes to the interdisciplinary team as appropriate.

Communicates with physician and/or facility staff regarding lab results as appropriate.

Communicates lab results and recommended treatment changes to providers of patient care in nursing facilities (i.e. hospitals, short term and long-term care facilities).

Monitors adherence and response to nutrition therapy. Addresses issues impacting the patient's ability to achieve the goals

Reviews each patient's albumin level and body weight at least monthly. Identifies malnourished patients as well as patients at risk for malnutrition and works collaboratively with interdisciplinary team to identify appropriate interventions, resources or solutions.  Involves patient/family/caregiver in improvement goals.

When appropriate, identifies candidates to refer to physician for nutritional supplements as per disease management agreements.

Assist with fluid and volume management of patients

Provides fluid and sodium education, as appropriate

Collaborates with the interdisciplinary team on management and recommendations for mineral metabolism and renal bone disease, anemia and iron status, nutritional status, psychosocial status, vascular access, modality, rehabilitation status and sodium/volume control.

Participates in Quality Assessment and Performance Improvement and Plan of Care meetings with a CMS-qualified dietitian

Attends all other pertinent staff meetings as applicable.

Collaborates with interdisciplinary team, ensuring that all work areas are safe and clean.

Collaborates with the interdisciplinary team in pharmacy-related responsibilities including setup, enrollment, and management

Participates in lobby days

Educates patients in emergency preparedness as it relates to food and nutrition

Conducts staff in-services as needed or requested

Adheres to FMCNA algorithm and medical record policies

Maintains and improves knowledge and skills for a competent and innovative practice.

Maintains dietetic registration and continuing education hours as specified by American Dietetic Association and state licensure regulations where applicable.

Other Nutrition services duties as assigned

Escalates issues to supervisor for resolution, as deemed necessary.

Assist with various projects as assigned by direct supervisor.

Other duties as assigned.
Additional responsibilities may include focus on one or more departments or locations.  See applicable addendum for department or location specific functions.
PHYSICAL DEMANDS AND WORKING CONDITIONS:
The physical demands and work environment characteristics described here are representative of those an employee encounters while performing the essential functions of this job.  Reasonable accommodations may be made to enable individuals with disabilities to perform the essential functions.

Day to day work includes desk and personal computer work and interaction with patients, facility staff and physicians.  The position may require travel between assigned facilities and various locations within the community. 

Travel to training clinics as well as regional, Business Unit and Corporate meetings may be required.
EDUCATION:
Bachelor's degree in Nutrition or directly related field, Master's degree preferred

Registered Dietitian as per Commission on Dietetic Registration

Current State licensure if applicable
EXPERIENCE AND REQUIRED SKILLS:
Less than 1 year's clinical experience.
EO/AA Employer: Minorities/Females/Veterans/Disability/Sexual Orientation/Gender Identity
Fresenius Medical Care North America maintains a drug-free workplace in accordance with applicable federal and state laws.
View More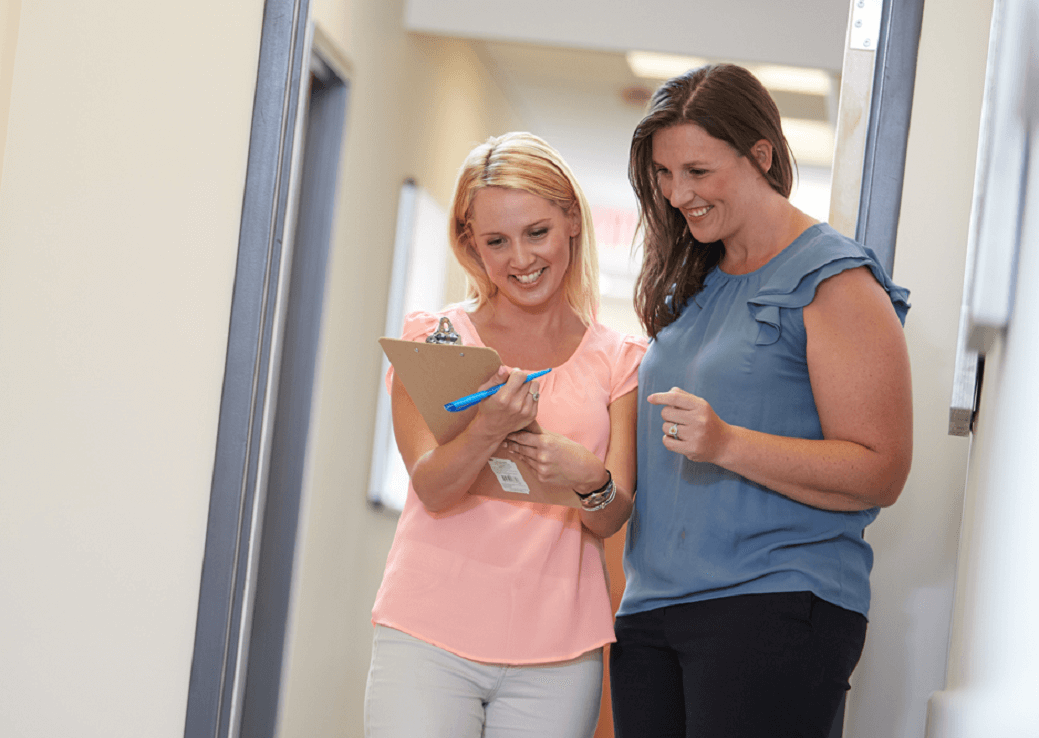 Success Profile
What makes a successful member of our team? Check out the top traits we are looking for and see if you have the right mix.
Compassionate
Trustworthy
Facilitator
Persuasive
Good Listener
Patient

We are partnering with them for their care, and we have to work with them to make sure that
they get the best care possible.
Lori K., Registered Dietitian
We've got your back.
We fully believe that dedication and passion should be recognized and rewarded. That's why we offer a competitive compensation and benefits package to all of our employees. Our benefits provide the flexibility, choice and support you need to be at your best as you play a vital part in helping patients live longer, better and healthier lives.
Healthcare

Healthcare

Medical
Dental
Vision
Healthcare FSA
Dependent Care FSA

Medical
Short/Long-term
Disability

Continuing Education

Continuing Education

Tuition Assistance and CEU reimbursements ($500/year for full‑time; $350/year for part‑time)

Paid Time Off

Paid Time Off

Flexibility in using PTO for vacation, holiday and personal time.

Collaborative Environment

Collaborative Environment

Employee Pride
Valued Team Members
Motivation for Excellence
Respect & Dignity
Openness & Trust

Additional Perks

Additional Perks

Adoption Assistance
Wireless, Automobile and Computer Discounts

401(K) Retirement Saving

401(K) Retirement Saving

Competitive vesting schedules and a company match of 50 cents for each dollar you save up to the first 6% of your salary (3% additional) after one year of employment.
Application Process
We are so glad you are interested in a career with FMCNA! What happens next?
Application & Assessment

First you will need to complete your online application. Some roles may also require an online assessment to be completed.

Review

Then a recruiter will review the applications submitted and select those most aligned with the role to move forward. If selected, The recruiter will contact you to schedule the next step.

Interview

Next, you will participate in phone/video interview(s) with our recruiter & leadership team.

Feedback

The recruiter will provide feedback to you on your interview(s) and update you on any hiring decisions.

Offer

Next, the recruiter will extend a formal offer if you are selected for the position.

Pre-Employment Checks

Lastly, you will accept your offer and complete pre-employment checks and paperwork.
Upcoming Events
Learn more about working at Fresenius Medical Care at an upcoming hiring event near you.
Sign Up For Job Alerts
By signing up for Job Alerts, you'll receive the latest job openings based in your interests, skills and background sent directly to your inbox.
Join Our Talent Network
Joining our Talent Community allows us to send you company news, career event announcements and other career-related information.
By submitting your information, you acknowledge that you have read our privacy policy and consent to receive email communications from Fresenius Medical Care N.A.