Travel Nurses at Fresenius Medical Care support our dialysis clinics and partner hospitals across the country for 13-week assignments. This role offers variety, flexibility, autonomy and the highest compensation package available for dialysis nurses. A minimum of one year of dialysis experience is required, as is the ability to quickly build rapport with new patients and team members. Through it all, you'll make a profound difference in the lives of patients affected by kidney disease.
Job Description
Waltham, Massachusetts
Job ID R0036014
PURPOSE AND SCOPE:
Responsible for the recruitment, screening and placement of nursing professionals nationwide. May coordinate examinations, travel, and reporting dates. Introduce benefits, process and market conditions to potential travelers. Prepare and complete potential client's personnel files prior to placement. 
PRINCIPAL DUTIES AND RESPONSIBILITIES:
Utilizes current knowledge of industry recruiting and staffing strategies and best practices to coordinate, source, interview, and hire all Agency Staff position levels. Proactively seek new avenues to attract candidates.
Creates recruiting and interviewing plans for the identified open positions as needed.
Facilitate the hiring process which includes screening, interviewing and coaching of candidates. Verifies background information on candidates.
Identify, qualify, match, advise and manage candidates.
Participates in recruitment and staffing initiatives as they impact Fresenius Travel Nurses.
Helps develop and coordinate the recruitment strategy for geographic regions utilizing web, networking, and advertising.
Reviews and evaluates credentials, work history, education etc. of applicants to establish eligibility for position ensuring the appropriate license and visa requirements are met.
Regularly assess current and future recruitment needs with the goal of filling vacant positions as efficiently as possible.
Coordinates housing arrangements and other logistical issues for temporary staff while on assignment.
Assists with the transfer of Agency Staff from assignment to assignment.
Inputs pertinent information into the applicant tracking and requisition database.
Ensures the open positions are posted on the appropriate Internal Job Boards and advertised in the appropriate media.
Leverages online recruiting resources such as the internet; resume databases, networking channels, and other direct sources to identify and recruit the best possible candidates.
Verifies background information on candidates.
Performs detailed reference checking and/or reference analysis on selected candidates and reviews results with managers as appropriate.
Conducts follow-up calls and quality improvement studies with hiring managers and new hires to determine the effectiveness of recruiting plans and processes.
Evaluates recruitment, selection and placement techniques from feedback data and identifies and implements improvements as needed.
Coordinates recruitment efforts as needed with Human Resource teams. Participates in the development of ongoing creative and cost-effective sourcing strategies and may assist with recruiting projects across the country as needed.
Maintains applicant tracking system and database ensuring accurate and current data.
Provides monthly status report on number of recruitment activities.
May refer to senior level staff for assistance with higher level problems that may arise.
Escalates issues to supervisor/manager for resolution, as deemed necessary.

Assist with various projects as assigned by direct supervisor.

Other duties as assigned.
Additional responsibilities may include focus on one or more departments or locations.  See applicable addendum for department or location specific functions.
PHYSICAL DEMANDS AND WORKING CONDITIONS:
The physical demands and work environment characteristics described here are representative of those an employee encounters while performing the essential functions of this job.  Reasonable accommodations may be made to enable individuals with disabilities to perform the essential functions.
Occasional travel is required.
EDUCATION:
Bachelor's Degree required
EXPERIENCE AND REQUIRED SKILLS:
2 - 5 years' related experience; or an advanced degree without experience; or equivalent directly related work experience.

SHRM Certification (SHRM-SCP, SHRM-CP) is desirable, or a plus.
Strong networking abilities, presentation skills, and negotiation skills
Advance usage of applicant tracking systems and demonstrated sourcing tactics
Demonstrated savvy with social media, job boards, events/meetups, and other online resources to attract and interact with talent.
Excellent written and oral communication skills.
Able to support a diverse group of management.
EO/AA Employer: Minorities/Females/Veterans/Disability/Sexual Orientation/Gender Identity
Fresenius Medical Care North America maintains a drug-free workplace in accordance with applicable federal and state laws.
View More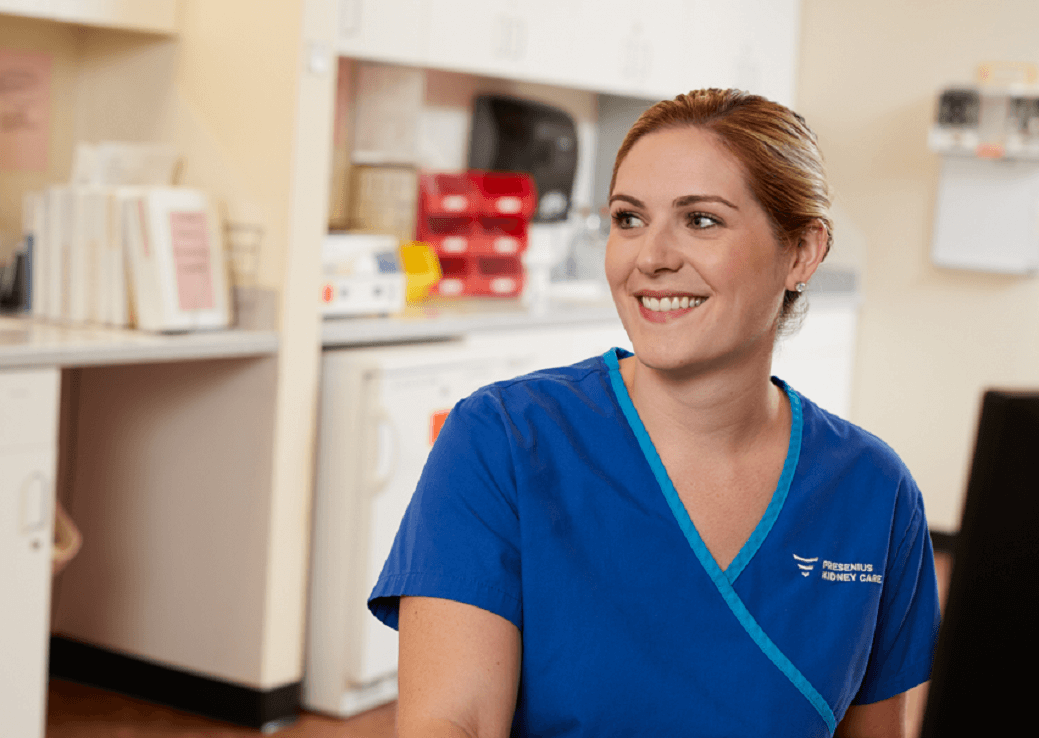 Success Profile
What makes a successful member of our team? Check out the top traits we are looking for and see if you have the right mix.
Dependable
Adaptable
Compassionate
Positive
Team-player
Flexibility
We've got your back.
We fully believe that dedication and passion should be recognized and rewarded. That's why we offer a competitive compensation and benefits package to all of our employees. Our benefits provide the flexibility, choice and support you need to be at your best as you play a vital part in helping patients live longer, better and healthier lives.
Healthcare

Healthcare

Medical
Dental
Vision
Healthcare FSA
Dependent Care FSA

Medical
Short/Long-term
Disability

Continuing Education

Continuing Education

Tuition Assistance and CEU reimbursements ($500/year for full‑time; $350/year for part‑time)

Paid Time Off

Paid Time Off

Flexibility in using PTO for vacation, holiday and personal time.

Collaborative Environment

Collaborative Environment

Employee Pride
Valued Team Members
Motivation for Excellence
Respect & Dignity
Openness & Trust

401(K) Retirement Saving

401(K) Retirement Saving

Competitive vesting schedules and a company match of 50 cents for each dollar you save up to the first 6% of your salary (3% additional) after one year of employment.
Application Process
We are so glad you are interested in a career with FMCNA! What happens next?
Application & Assessment

First you will need to complete your online application. Some roles may also require an online assessment to be completed.

Review

Then a recruiter will review the applications submitted and select those most aligned with the role to move forward. If selected, The recruiter will contact you to schedule the next step.

Interview

Next, you will participate in phone/video interview(s) with our recruiter & leadership team.

Feedback

The recruiter will provide feedback to you on your interview(s) and update you on any hiring decisions.

Offer

Next, the recruiter will extend a formal offer if you are selected for the position.

Pre-Employment Checks

Lastly, you will accept your offer and complete pre-employment checks and paperwork.
Upcoming Events
Learn more about working at Fresenius Medical Care at an upcoming hiring event near you.
Sign Up For Job Alerts
By signing up for Job Alerts, you'll receive the latest job openings based in your interests, skills and background sent directly to your inbox.
Join Our Talent Network
Joining our Talent Community allows us to send you company news, career event announcements and other career-related information.
By submitting your information, you acknowledge that you have read our privacy policy and consent to receive email communications from Fresenius Medical Care N.A.