Fresenius Medical Care nurses are on the front line of patient care, improving the quality of life of every patient, every day. That means providing dialysis care to 10-12 patients at any given time, and collaborating with our multi-disciplinary team to deliver a unique care plan to each one of them. This role is all about relationships and the bond you'll create with patients and their families. Prior dialysis nursing experience is helpful, but many successful candidates come from a background in ICU, PCU and/or surgery.
Job Level: Experienced/Non-Managerial
Travel: Minimal
Job Description
Waco, Texas | Louisiana | Texas
Job ID
21000Q6Q
Available Openings
1
Position Specific Information
Outpatient Dialysis RN
Waco, TX
10K SIGN ON!!!!
Full Time!
About this role: As a Dialysis Clinic Registered Nurse (RN) with Fresenius Medical Care, you will be part of a close-knit, collaborative team responsible for delivering unique care plans and providing dialysis treatment to patients facing end stage renal disease or chronic kidney disease. Our clinic RNs build strong bonds and lasting relationships with people who entrust us with their care, their families, and fellow care team members.
How you grow or advance: As a Dialysis RN, you will enter our Clinical Advancement Program (CAP) to grow and advance in your career. By participating in CAP, you will develop clinical leadership skills, derive greater career satisfaction, have an opportunity to share your expertise with others, and be recognized for your experience, knowledge, and clinical expertise. All new hires will begin at the appropriate CAP level based on prior experience and education.
Our culture: We believe our employees are our most important asset — we value, care about, and support our people. We are there when you may need us most, from tuition reimbursement to support your education goals, granting scholarships to family members, delivering relief when natural disasters strike, or providing financial support when personal hardship hits, we take care of our people.
Our focus on diversity: We have built a nurturing environment that welcomes every age, race, gender, sexual orientation, background, and cultural tradition. We have a diverse range of employee resource groups (ERGs) to encourage employees with similar interests, goals, social and cultural backgrounds, or experiences to come together for professional and personal development, discussion, activities, and peer support. Our diverse workforce and culture encourage opportunity, equity, and inclusion for all, which is a tremendous asset that sets us apart.
At Fresenius Medical Care, you will truly make a difference in the lives of people living with kidney disease. If this sounds like the career and company you have been looking for, and you want to be a vital part of the future of healthcare, apply today.
PRINCIPAL DUTIES AND RESPONSIBILITIES:
All duties and responsibilities are expected to be performed in accordance with Fresenius Kidney Care policy, procedures, standards of nursing practice, state, and federal regulations.
As a member of the nephrology health care team, you will participate in decision-making, teaching, leadership functions, and quality improvement activities that enhance patient care outcomes and facility operations.
Coordinates patient care including assessment, planning, intervention, and evaluation for an assigned group of hemodialysis patients. This includes delegation of appropriate tasks to direct patient care staff.
Performs ongoing analysis of patient data with each patient visit and documents in the patient medical record.
Adjusts or modify the treatment plan as indicated and notify supervisor as needed.
Provides initial and ongoing education to patient and family.
Administers medications as prescribed or in accordance with approved algorithm(s), and document appropriate medical justification and effectiveness.
Initiates or assist with emergency response measures.
Ensures correct laboratory collection, processing, and shipping procedures are performed.
Collaborates with the Interdisciplinary Team on the patient care plan.
Ensures patient awareness related to transplant and treatment modality options.
Completes CAP requirements to either maintain or advance within the program.
Makes referrals to Social Worker and Registered Dietitian as appropriate.
Ensures patient awareness related to transplant and treatment modality options.
EDUCATION AND LICENSURE:
• Graduate of an accredited School of Nursing.
• Current appropriate state licensure.
• Current or successful completion of CPR BLS Certification.
• Must meet the practice requirements in the state in which he or she is employed.
EXPERIENCE AND SKILLS:
• Qualities and traits: compassion, caring, support for colleagues, collaborative, reliable.
• Experience as a Registered Nurse (preferred but not required).
• Chronic/acute hemodialysis experience (preferred but not required).
• Successfully pass the Ishihara Color Blind Test.
PHYSICAL DEMANDS AND WORKING CONDITIONS:
The physical demands and work environment characteristics described here are representative of those an employee encounters while performing the essential functions of this job. Reasonable accommodations may be made to enable individuals with disabilities to perform the essential functions.
• The position provides direct patient care that regularly involves heavy lifting, moving of patients and assisting with ambulation. Equipment aids and/or coworkers may provide assistance.
• This position requires frequent, prolonged periods of standing and the employee must be able to bend over.
• The employee may occasionally be required to move, with assistance, machines and equipment of up to 200 lbs., and may lift chemical and water solutions of up to 30 lbs. as high as 5 feet.
• The work environment is characteristic of a health care facility with air temperature control and moderate noise levels.
• May be exposed to infectious and contagious diseases/materials.
• Day to day work includes desk work, computer work, interaction with patients, facility/hospital staff and physicians.
• The position may require travel to training sites or other facilities.
• May be asked to provide essential functions of this position in other locations with the same physical demands and working conditions as described above.
EO/AA Employer: Minorities/Females/Veterans/Disability/Sexual Orientation/Gender Identity
Fresenius Medical Care North America maintains a drug-free workplace in accordance with applicable federal and state laws.
View More
Success Profile
What makes a successful member of our team? Check out the top traits we are looking for and see if you have the right mix.
Communicator 10
Compassionate 10
Detail Oriented 9
Relationship Expertise 9
Facilitator 8
Leadership 8
Traits are on a scale of
0
to
10

You have to be able to count on your co-workers to help you, and I see this here every day. Everybody works together, which is better for the patients.
Carol B., Registered Nurse
Trending
A day in the life of a clinic RN

Employee support, enthusiasm

and engagement at FMCNA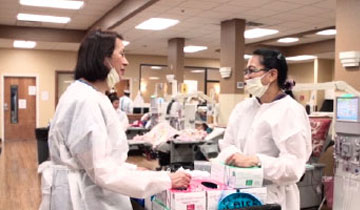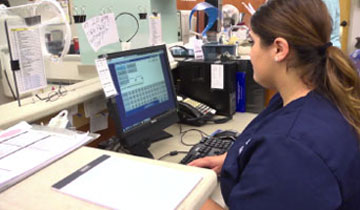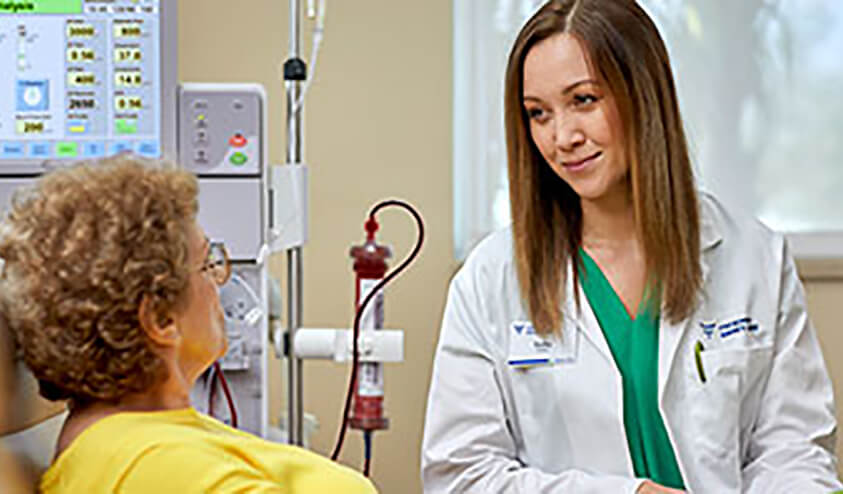 Benefits
HEALTHCARE

Medical
Dental
Vision
Healthcare FSA
Dependent Care FSA
Medical
Short/Long-term Disability

CONTINUING EDUCATION

RN Tuition Assistance Program
Clinical Advancement Program (four practice tiers for RNs to advance your career)

PAID TIME OFF

Flexibility in using PTO for vacation, holiday and personal time.

COLLABORATIVE ENVIRONMENT

Employee Pride
Valued Team Members
Motivation for Excellence
Respect & Dignity
Openness & Trust

ADDITIONAL PERKS

Adoption Assistance
Wireless, Automobile and Computer Discounts
Discount Fitness Program

401(K) RETIREMENT SAVING

Competitive vesting schedules and a company match of 50 cents for each dollar you save up to the first 6% of your salary (3% additional) after one year of employment.
Sign Up For Job Alerts
By signing up for Job Alerts, you'll receive the latest job openings based in your interests, skills and background sent directly to your inbox.
Join Our Talent Network
Joining our Talent Community allows us to send you company news, career event announcements and other career-related information.
By submitting your information, you acknowledge that you have read our privacy policy and consent to receive email communications from Fresenius Medical Care N.A.