Inpatient RNs at Fresenius Medical Care perform dialysis treatments on an acute patient population in a hospital setting, including ICU, ER and Med/Surg units. What makes this role truly unique is the level of autonomy you'll enjoy. Inpatient nurses are specifically accountable for administering and assessing each patient's treatment plan. And because dialysis is a critical treatment for many hospital procedures and health conditions, you'll have the opportunity to work with a wide variety of patients. Ideal candidates possess leadership skills and independence needed to make quick decisions in a fast-paced environment. Six months to one year of dialysis experience and some form of critical care nursing experience are also required.
Job Description
Job ID R0013505
Fresenius Travel Nurse Program:

As part of the Fresenius Travel Nurse program, you'll have a unique opportunity to build your career in a flexible, autonomous environment. Working with new and different people and personalities, and with physicians and nurses from various facilities, will make each day an exciting challenge. Through it all, you'll make a profound difference in the lives of patients affected by kidney disease. Come join a leader in Dialysis, where assignments are ongoing, as we have over 2,200 clinics and numerous acute facility programs, so travel with us can be continuous.
Benefits: 
Acute or Chronic care positions
Position Specific Details:
Number of Chairs/Stations:
Position Summary:
The Fresenius Medical Care Healthcare Recruitment registered nurse (RN) is responsible for the delivery of quality patient care through the nursing process of assessment, diagnosing, planning, implementation, and evaluation.  The RN is responsible for directing and coordinating all nursing care of patients based on established clinical nursing practice standards.  The RN collaborates with other healthcare professionals to ensure effective and efficient patient care delivery and achievement of desired patient outcomes.  The RN utilizes knowledge of patient's age and cultural diversity into the provision of patient techniques that demonstrate positive outcomes in patient care.  The RN provides care as a temporary employee and understands that travel away from his or her home state may be required for employment, or continues employment with Fresenius Medical Care Healthcare Recruitment.
Position Education / Qualifications:
Graduated from an accredited school of professional nursing

Licensure appropriate to the state RN is working in and the appropriate certifications to the position and facility

Minimum 1 year Dialysis experience. For Inpatient Services (Acutes), the preceding 12 months must be in a hospital setting. For Outpatient (Chronic),2,000 hours in Dialysis in the preceding 2 years.

Proficient oral and written skills

Current CPR certification

Annual Physical

Two professional references from current / former supervisors

Citizen of the U.S. or proof to work in the U.S.
Job Knowledge / Responsibilities:
Ability to utilize the nursing process in the provision of nursing care including but not limited to administering medications and treatments in compliance with the physicians orders and applicable hospital policy, interpreting diagnostic tests, formulating a plan of care, collaborating with other healthcare providers, and provide education to patients and / or significant others (while in compliance with HIPPA).

The RN must be able to demonstrate the knowledge and skills necessary to provide care appropriate to patients of all age groups.  Must demonstrate knowledge of the principals of growth and development through the life span, possess the ability to assess data reflective of the patient's status, and interpret the appropriate information needed to identify each patients needs in relation to age.

Must document / chart observations and other data related to the clinical condition of the patient.  Must properly and accurately chart observations and activities related to patient care.

Communicates report to appropriate healthcare workers in accordance with hospital policy.

Performs all required and related duties.
Physical Requirements:
The individual may be required to pull up or reposition patients, lift supplies, place equipment on supports, push bed or chair through facility.  The individual must be able to bend over to perform certain duties, the individual must be able to maneuver throughout the facility in response to any facility emergency.  Interpretation of environmental input requires visual and auditory skills.  In the event there is a need to evacuate the building, heavy lifting of the patients may be required.
EO/AA Employer: Minorities/Females/Veterans/Disability/Sexual Orientation/Gender Identity
Fresenius Medical Care North America maintains a drug-free workplace in accordance with applicable federal and state laws.
Read More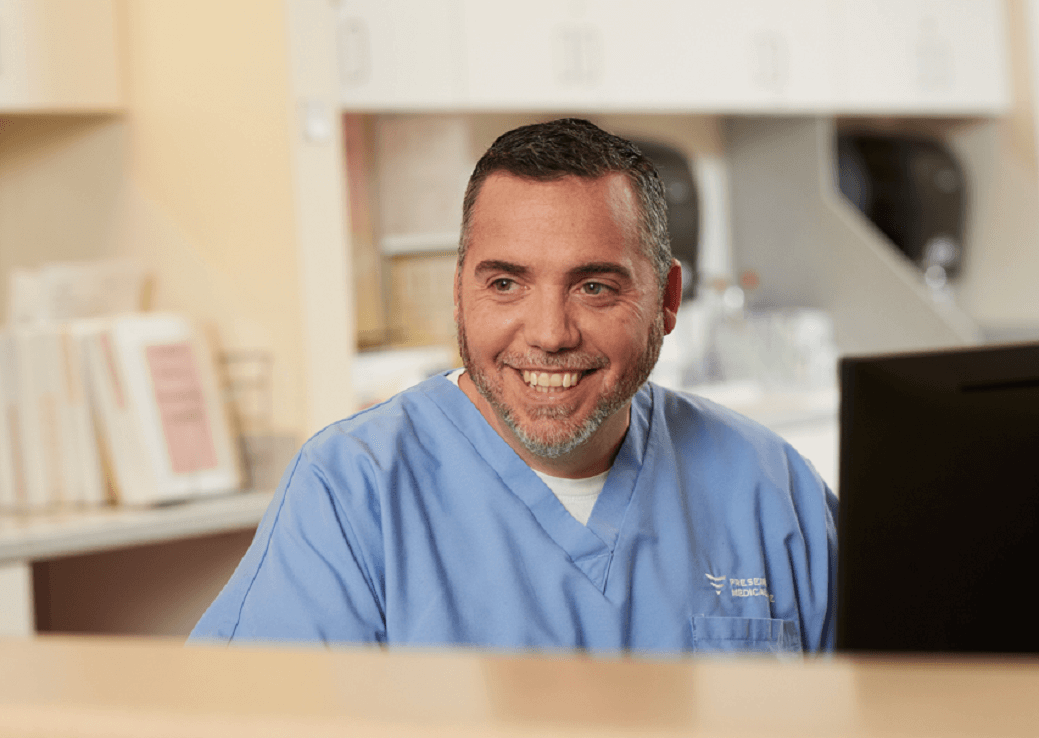 Success Profile
What makes a successful member of our team? Check out the top traits we are looking for and see if you have the right mix.
Compassionate
Flexible
Independent
Quick-thinking
Patient
Responsible

You have a lot of independence...so the doctors trust you. You have to be able to make decisions on your own.
Lesly, Inpatient Services RN
We've got your back.
We fully believe that dedication and passion should be recognized and rewarded. That's why we offer a competitive compensation and benefits package to all of our employees. Our benefits provide the flexibility, choice and support you need to be at your best as you play a vital part in helping patients live longer, better and healthier lives.
Healthcare

Healthcare

Medical
Dental
Vision
Healthcare FSA
Dependent Care FSA

Medical
Short/Long-term
Disability

Continuing Education

Continuing Education

Tuition Assistance and CEU reimbursements ($500/year for full‑time; $350/year for part‑time)

Paid Time Off

Paid Time Off

Flexibility in using PTO for vacation, holiday and personal time. PTO can also be reimbursed for cash for up to 80 hours per year.

Autonomy

Autonomy

The elevated responsibility of Inpatient RNs helps foster confidence and leadership skills, and allows for a more holistic role in the treatment process.

Additional Perks

Additional Perks

Adoption Assistance
Wireless, Automobile and Computer Discounts

401(K) Retirement Saving

401(K) Retirement Saving

Competitive vesting schedules and a company match of 50 cents for each dollar you save up to the first 6% of your salary (3% additional) after one year of employment.
Application Process
We are so glad you are interested in a career with FMCNA! What happens next?
Application & Assessment

First you will need to complete your online application. Some roles may also require an online assessment to be completed.

Review

Then a recruiter will review the applications submitted and select those most aligned with the role to move forward. If selected, The recruiter will contact you to schedule the next step.

Interview

Next, you will participate in phone/video interview(s) with our recruiter & leadership team.

Feedback

The recruiter will provide feedback to you on your interview(s) and update you on any hiring decisions.

Offer

Next, the recruiter will extend a formal offer if you are selected for the position.

Pre-Employment Checks

Lastly, you will accept your offer and complete pre-employment checks and paperwork.
Upcoming Events
Learn more about working at Fresenius Medical Care at an upcoming hiring event near you.
Sign Up For Job Alerts
By signing up for Job Alerts, you'll receive the latest job openings based in your interests, skills and background sent directly to your inbox.
Join Our Talent Network
Joining our Talent Community allows us to send you company news, career event announcements and other career-related information.
By submitting your information, you acknowledge that you have read our privacy policy and consent to receive email communications from Fresenius Medical Care N.A.