Home Therapies professionals at Fresenius Medical Care provide education and support to patients and caretakers who have chosen home dialysis therapy. This role involves an initial visit to the homes of patients to assess home therapy readiness, as well as training and follow-up visits within the clinic environment. Successful candidates have outstanding customer service skills, a valid driver's license and the desire to positively impact patients' lives by empowering them to treat themselves in the comfort of their own homes.
Job Description
Sugar Land, Texas
Job ID R0028894
PURPOSE AND SCOPE:
Supports FMCNA's mission, vision, core values and customer service philosophy.  Adheres to the FMCNA Compliance Program, including following all regulatory and FMS policy requirements. 
Functions as part of the Home Therapies dialysis health care team as the Coordinator of Home Therapies for a defined geographic area.  Ensures provision of quality home patient care in accordance with FMS policies, procedures and training and collaborates with Business Unit management and support personnel to grow the assigned Home Therapies program.
DUTIES / ACTIVITIES:
CUSTOMER SERVICE:
Responsible for driving the FMS culture through values and customer service standards.
Accountable for outstanding customer service to all external and internal customers.
Develops and maintains effective relationships through effective and timely communication.
Takes initiative and action to respond, resolve and follow up regarding customer service issues with all customers in a timely manner.
PRINCIPAL RESPONSIBILITIES AND DUTIES
PATIENT RELATED:
Responsible for the safe and effective delivery of home therapy support care to patients with End Stage Renal Disease. Oversees the delivery of home dialysis therapy to patients in compliance with standards outlined in the facility policy and procedure manuals, as well as regulations set forth by the Corporation, state and federal agencies. Ensures standard of dialysis provided is at least the equivalent to that provided to facility patients.
-  Assists in the identification and evaluation of candidates for the FMS Home Therapies Program including assessment of patients' home environment if needed.
-  Oversees patient and family readiness and ability to perform dialysis treatments at patient's home and assesses home environment for suitability in the ongoing delivery of home dialysis therapy.
-  Coordinates all aspects of patient care with the appropriate staff members, from admission through discharge of the patient.
-  Ensures patients' response to home dialysis treatment therapy is documented following company policies and procedures.
-  Ensures completion of Initial and Annual Nursing assessment, and ongoing evaluation and documentation of patient care needs according to FMC Policies and Procedures.
-  Ensures appropriate intervention for changes in patient adequacy status and troubleshooting peritoneal and access flow issues are completed per physician orders.
-  Identifies and communicates patient related issues to the physician.
-  Develops action plans for missed treatments in collaboration with the Medical Director.
-  Administers medications as prescribed including algorithm (as appropriate), and document appropriate medical justification if indicated. 
-  Responsible for the appropriate recording of controlled substances as required by law.
Ensures all educational needs of patient and family are met regarding End Stage Renal Disease (ESRD).
-  Oversees the safe, effective and timely training of all home patients and their families/significant others on the safe and effective operation and maintenance (as appropriate), of all home therapies equipment.
-  Oversees coordination transplant education and assists in transplant workup process.
-  Ensures patients are educated regarding laboratory values and the relationship to adequate dialysis therapy, compliance with treatment schedules medications, and fluid as appropriate.
Oversees the delivery of the FMS Treatment Options Program.
Acts as a resource for the patient to address patient concerns and questions.
Develops a process for acquiring and maintaining knowledge of the specific situation of each patient, including hospitalizations, and any significant change in patient care status.
Enters physician lab orders into the Medical Information System accurately and follows company policies and government regulations related to the collection, packaging, and delivery of lab specimens and reporting of results.
Responsible for accurate data entry into systems to ensure appropriate and accurate billing of Home Therapies services.
Maintains appropriate skill levels with all emergency operational procedures, and initiates CPR and emergency measures in the event of cardiac and/or respiratory arrests when the patient is in the medical office.
STAFF RELATED:
Responsible for overseeing performance of all licensed personnel, direct patient care staff, indirect patient care personnel as assigned, and when necessary, technical staff.  Provide employee education, guidance, and performance related feedback.
-  Creates, maintains, and communicates efficient and timely employee schedules according to the needs of the facility.
-  Orients all new home therapy staff and provide ongoing education.
-  Conducts staff meetings regularly.
-  Completes timely employee evaluations and establishes annual goals for staffwith appropriate Manager.
-  Provides written documentation of all disciplinary conferences in accordance with the established personnel policies, and confers with the appropriate Manager regarding  the nature of the disciplinary decisions.
-  Ensures the appropriate tracking, documentation, allocation, and payment of hours worked for the applicable staff members.
Participates in Business Unit and FMS corporate initiatives, projects, and audits as directed.
Utilizes the Business Unit Director of Home Therapies as a resource.
Creates and implements a Process Improvement Team (CQI) that involves staff in problem solving.
Ensures competency HT personnel in the operation of all home dialysis therapy-related equipment, including the ability to troubleshoot equipment problems with the patient via telephone.
Directs staff and patients in the preventive maintenance of home therapy equipment, including water systems and analyses as appropriate.
QUALITY:
Accountable for outstanding quality of patient care, as defined by the FMS quality goals, by working with the appropriateRegional Director of Education,Regional Quality Manager, Vice President of Quality, Regional Vice President, and FMS Clinical Services Department to ensure that FMS policy and procedure is followed.
-  Participates in the development and maintenance of a Quality Assessment and Performance Improvement (QAPI) program that tracks the Home Therapies program's performance in patient health outcomes.
-  Responsible for supporting and driving FMS quality standards through meeting all ESRD regulatory requirements and the practice of Continuous Quality Improvement (CQI), including use of FMS CQI tools.
-  Implements FMS quality goals and develops facility specific action plans in order to achieve FMS quality standards.
-  Implements appropriate training according to FMS policy, which includes training to ensure ongoing compliance with all FMS risk management initiatives.
-  Aggressively addresses and acts upon adverse events and action thresholds.
Ensures all FMS Clinical Quality policies and procedures are communicated to and implemented by the facility staff.
Maintains integrity of medical records and other FMS administrative and operational records.
Complies with all data collections and auditing activities.
Maintains facility environmental integrity, including safety.
ADMINISTRATIVE:
Responsible for maintaining and updating all FMSHome Therapymanuals.
Directs information gathering required to support billing and collection activities.
Responsible for efficient utilization of medication, laboratory, inventory, supplies, and equipment to achieve supply cost goals following all guidelines established in FMS formularies.
Completes all monthly and annual reporting as required by company policies and government regulations.
Participates in the completion and interpretation of the PI-17 inventory supply use analysis.
Reviews profit and loss statements with Area Manager.
Responsible for participating in all required Network reporting and on-site state or federal surveys.
Accountable for timely completion of patient care plans by organizing meetings of the health care team to discuss patient care plans and resolve patient problems.
Responsible for ensuringalert/panic reports and abnormal lab resultsare communicated to the appropriate physician.
PHYSICIANS:
Collaborates with HT Program Manager/Area Manager to facilitate the application process for physician privileges and compliance with FMS Medical Staff Bylaws.
Develops and maintains strong Medical Director and physician relationships and facilitates staff relationships with physicians.
Ensures regular and effective communication with all physicians through regular meetings with Medical Directors.
Schedules and coordinates CQI meetings with physicians.
OTHER:
Other duties as assigned.
PHYSICAL DEMANDS AND WORKING CONDITIONS:
The physical demands and work environment characteristics described here are representative of those an employee encounters while performing the essential functions of this job.  Reasonable accommodations may be made to enable individuals with disabilities to perform the essential functions.
Day to day work includes desk and personal computer work and interaction with patients, facility staff and physicians.  The position requires travel between assigned facilities and various locations within the community.  Travel to regional, Business Unit and Corporate meetings may be required.
The work environment is characteristic of a health care facility with air temperature control and moderate noise levels.  May be exposed to infectious and contagious diseases/materials.
EDUCATION:
Graduate of an accredited School of Nursing (R.N.)
Current appropriate state licensure.
EXPERIENCE AND REQUIRED SKILLS:
Minimum of one year nursing experience plus one year dialysis nursing experience required.
Medical-surgical or ICU nursing experience preferred.
Supervisory experience preferred.
Successfully complete a training course in the theory and practice of dialysis therapies.
Competent at operating all Home Therapies related equipment.
Successfully complete CPR Certification with maintenance as required.
Icd-9 coding Training.
Demonstrated leadership skills including, but not limited to communication, customer service, performance management and continuous quality improvement.
EO/AA Employer: Minorities/Females/Veterans/Disability/Sexual Orientation/Gender Identity
Fresenius Medical Care North America maintains a drug-free workplace in accordance with applicable federal and state laws.
View More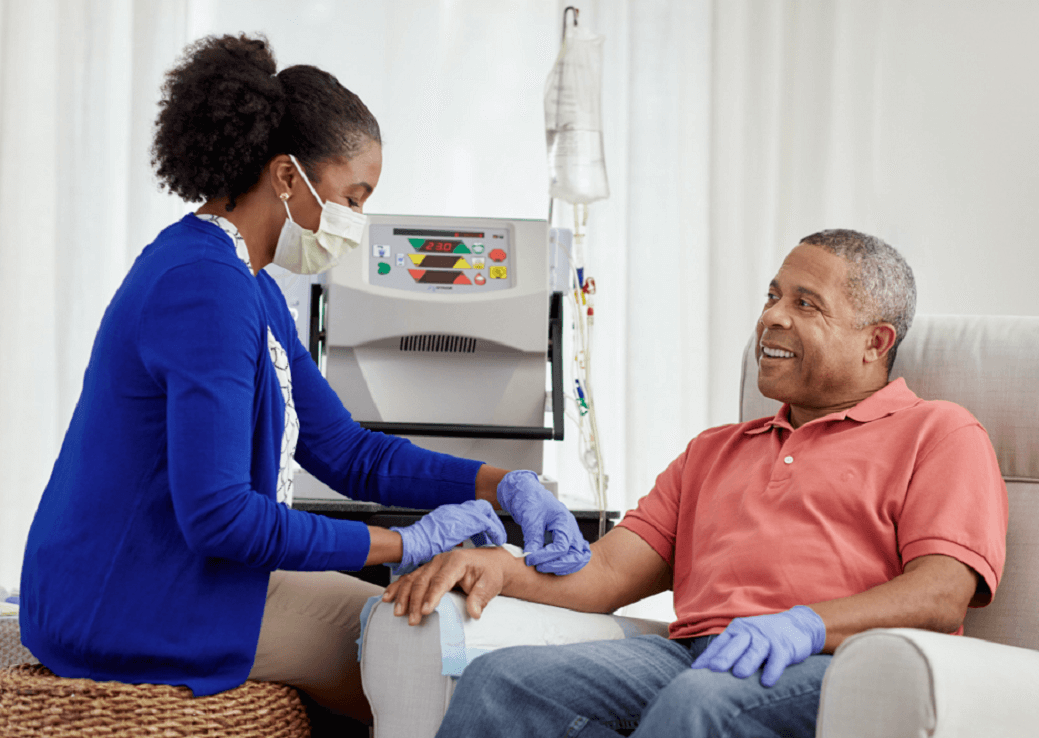 Success Profile
What makes a successful member of our team? Check out the top traits we are looking for and see if you have the right mix.
Facilitator
Leadership
Patient
Motivational
Understanding
Helpful

I see these people when they start, and when they're over that hump my heart just...I can't even describe it. It's just amazing.
Joanne S., Registered Nurse
We've got your back.
We fully believe that dedication and passion should be recognized and rewarded. That's why we offer a competitive compensation and benefits package to all of our employees. Our benefits provide the flexibility, choice and support you need to be at your best as you play a vital part in helping patients live longer, better and healthier lives.
Healthcare

Healthcare

Medical
Dental
Vision
Healthcare FSA
Dependent Care FSA

Medical
Short/Long-term
Disability

Continuing Education

Continuing Education

Tuition Assistance and CEU reimbursements ($500/year for full‑time; $350/year for part‑time)

Paid Time Off

Paid Time Off

Flexibility in using PTO for vacation, holiday and personal time.

Collaborative Environment

Collaborative Environment

Employee Pride
Valued Team Members
Motivation for Excellence
Respect & Dignity
Openness & Trust

Additional Perks

Additional Perks

Adoption Assistance
Wireless, Automobile and Computer Discounts

401(K) Retirement Saving

401(K) Retirement Saving

Competitive vesting schedules and a company match of 50 cents for each dollar you save up to the first 6% of your salary (3% additional) after one year of employment.
Application Process
We are so glad you are interested in a career with FMCNA! What happens next?
Application & Assessment

First you will need to complete your online application. Some roles may also require an online assessment to be completed.

Review

Then a recruiter will review the applications submitted and select those most aligned with the role to move forward. If selected, The recruiter will contact you to schedule the next step.

Interview

Next, you will participate in phone/video interview(s) with our recruiter & leadership team.

Feedback

The recruiter will provide feedback to you on your interview(s) and update you on any hiring decisions.

Offer

Next, the recruiter will extend a formal offer if you are selected for the position.

Pre-Employment Checks

Lastly, you will accept your offer and complete pre-employment checks and paperwork.
Upcoming Events
Learn more about working at Fresenius Medical Care at an upcoming hiring event near you.
Sign Up For Job Alerts
By signing up for Job Alerts, you'll receive the latest job openings based in your interests, skills and background sent directly to your inbox.
Join Our Talent Network
Joining our Talent Community allows us to send you company news, career event announcements and other career-related information.
By submitting your information, you acknowledge that you have read our privacy policy and consent to receive email communications from Fresenius Medical Care N.A.