Inpatient RNs at Fresenius Medical Care perform dialysis treatments on an acute patient population in a hospital setting, including ICU, ER and Med/Surg units. What makes this role truly unique is the level of autonomy you'll enjoy. Inpatient nurses are specifically accountable for administering and assessing each patient's treatment plan. And because dialysis is a critical treatment for many hospital procedures and health conditions, you'll have the opportunity to work with a wide variety of patients. Ideal candidates possess leadership skills and independence needed to make quick decisions in a fast-paced environment. Six months to one year of dialysis experience and some form of critical care nursing experience are also required.
Level: Experienced/Non-Managerial
Travel: Local Travel Required
Success Profile
What makes a successful member of our team? Check out the top traits we are looking for and see if you have the right mix.
Compassionate 10
Flexible 9
Independent 9
Quick-thinking 8
Patient 8
Responsible 7
Traits are on a scale of
0
to
10
Consistent
Versatile
Problem Solver
Team Player
Problem Solver
Communicator
Proactive
Organized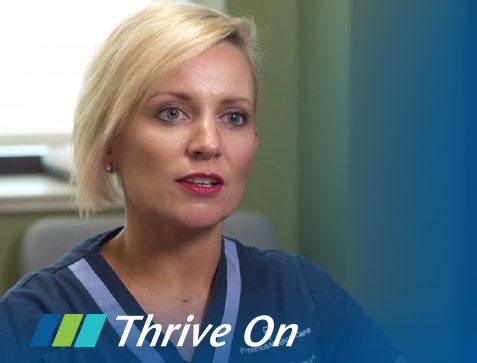 You have a lot of independence...so the doctors trust you. You have to be able to make decisions on your own.
Lesly, Inpatient Services RN
Trending
A day in the life of an Inpatient Services Nurse

The history of FMCNA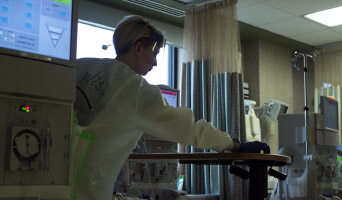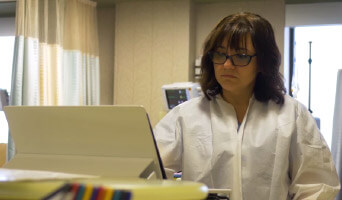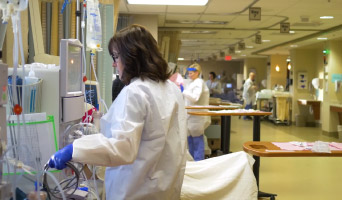 Rewards
Healthcare

Medical • Dental • Vision Healthcare FSA Dependent Care FSA Short- and Long-term Disability

401(K) Retirement Saving

Competitive vesting schedules and a company match of 50 cents for each dollar you save up to the first 6% of your salary (3% additional) after one year of employment.

Continuing Education

RN Tuition Assistance Program Clinical Advancement Program (four practice tiers for RNs to advance your career)

Paid Time Off

Flexibility in using PTO for vacation, holiday and personal time. PTO can also be reimbursed for cash for up to 80 hours per year.

Autonomy

The elevated responsibility of Inpatient RNs helps foster confidence and leadership skills, and allows for a more holistic role in the treatment process.

Additional Perks

Adoption Assistance. Wireless, Automobile and Computer Discounts. Discount Fitness Program
Responsibilities
Job ID
190000Z8
Available Openings
1
Position Specific Information
Full time position
26-50% travel required
GA, MS, LA territory
Description
Lend direction as well as a caring attitude. Bring a smile and your vital knowledge to everyone, every day. Brighten prospects for patients and your career.
Connect with your goals and change lives
with Fresenius Medical Care North America.

Here is your opportunity to make profound connections that make all the difference. As the global leader in dialysis healthcare, we know what it takes to create strong bonds among patients, their families, and our team members—and why it matters. Within this positive environment, those in our care can achieve better outcomes—and professionals can achieve their most important objectives.

Why Join the Fresenius Team?
Passion. Dedication. Knowledge. Motivation. Experience. These are the impressive qualities you'll find in the Fresenius Leadership Team. Our strength in the North American market and extensive global network provide our employees with the best of both worlds—the friendliness of a local organization and the stability of a worldwide organization—for diverse experiences and challenging career opportunities. When you join the Fresenius Medical Care team, you'll be welcomed into a company that is built on the philosophy that our employees are our most important asset. Our career advantages include the following: 
Fresenius Medical Care is the nation's largest provider of renal care, meeting the needs of more than 135,000 patients at 1,800 clinics throughout the country.
Our well-established, trusted organization fosters a spirit of camaraderie, emphasizing friendly collaboration, professional support, and career development.
Superior training, UltraCare® quality control, and certification procedures ensure your potential to succeed and advance as a professional.
Competitive compensation and exceptional benefits.
Outstanding tuition reimbursement program.
Recognized among Fortune's "World's Most Admired Companies" in 2011.
National Safety Award from CNA insurance companies for 11 consecutive years.
Opportunities to give back by participating in philanthropy and community outreach programs.

Education Coordinator

Here is an exceptional chance to make a real difference with a premier healthcare organization. Ensuring the highest possible quality of care, the professional we select will offer competency-based training and development for dialysis facilities within a specified geographic region. This individual will ensure that all programs for new-employee orientation, preceptor training, our Annual In-service Marathon (AIM) Day nurses technical training, clinical services, and UltraCare®quality initiatives comply with FMS standards.



Past Successes, Education, and Qualifications Should Include:
Current appropriate state licensure and RN degree from an accredited school of nursing; advanced education, CNN or CDN preferred.
One or more years of experience in dialysis.
Demonstrated leadership qualities and skills, including excellent communication, customer service, continuous quality improvement, relationship development, results orientation, team-building, employee motivation, performance management and decision-making.
Ability to successfully complete FMS clinical orientation training.
Start Connecting with the Industry Leader:
Fresenius Medical Care North America.
EO/AA Employer: Minorities/Females/Veterans/Disability/Sexual Orientation/Gender Identity