Social Workers at Fresenius Medical Care help patients understand that while dialysis treatment can be overwhelming at first, it is still possible to thrive. Responsibilities include assessing, educating and collaborating with patients on care planning that addresses everything from work, travel and financial concerns to emotional support. The result is a career that profoundly impacts the lives of both patients and their families. Successful candidates will possess an MSW and state licensure, as well as the ability to develop relationships with patients as you help them navigate life on dialysis.
Job Description
Sebring, Florida
Job ID JR0005444
POSITION FEATURES:
$10,000 Sign On Bonus - paid over the first year of employment! 
PURPOSE AND SCOPE:
Provides psychosocial services to patients treated by the facility including in-center and home dialysis patients (if applicable) utilizing Social Work Theory of Human Behavior and accepted methods of social work practice. Works with the health care team to promote positive adjustment, rehabilitation and improved quality of life for our patients. In collaboration with the interdisciplinary team, informs, educates and supports staff in understanding the emotional, psychological and behavioral impact of Chronic Kidney Disease on the patient and family to ensure comprehensive quality care of our patients. Supports the Fresenius Kidney Care (FKC) commitment to the Quality Indicators and Outcomes and Quality Assessment and Improvement (QAI) Activities, including those related to patient satisfaction and quality of life and actively participates in process improvement activities that enhance the likelihood that patients will achieve the FKC Quality Goals. This is an entry level MSW role.
PRINCIPAL DUTIES AND RESPONSIBILITIES:
Patient Assessment / Care Planning / Counseling

As a member of the interdisciplinary team, assesses patients' psychosocial status, strengths and areas of need that may affect rehabilitation and optimal treatment outcomes as part of the comprehensive patient assessment.

Participates in care planning in collaboration with the patient and healthcare team to identify effective interventions that will help the patient meet rehabilitation, treatment goals, and improve quality of life.

Utilizes FKC patient education programs, established social work theory and methods, social work focused interventions, and quality of life measurement instruments as part of assessment and care planning to address barriers and meet patient treatment goals.

Provides monitoring and interventions for the patient to adjust to dialysis and achieve optimal psychosocial status and quality of life.

Provides supportive counseling services to patients as permitted within the scope of their clinical training and state license.

Provides educational and goal directed counseling to patients who are seeking transplant.

Provides information and assists the team and patient with referral to community resources (home health services, vocational rehabilitation, etc.) to facilitate optimal treatment outcomes.

Maintains current knowledge regarding local vocational/educational rehabilitation programs and assist patients with referral and access to vocational rehabilitation to enable them to remain employed, become employed or receive education.

Assesses patient awareness of advance directives; assists with accessing advance directive forms/information and facilitates discussion of advance directive wishes, if necessary, with the healthcare team and the patient's family/support persons.

In collaboration with the physician and nurse, participates in the discussion of patient DNR status in the facility to ensure patient and/or family understand and make an informed decision about their care.

Knowledgeable of and adheres to FMCNA Social Work Policy and Measuring Patient Physical and Mental Function Policy, including documentation.

Documents based on MSW interaction and interventions provided to patient and/or family.

Quality

Provides psychosocial support and/or Social Work Focused Interventions to address non-adherence, quality outcome, and quality of life concerns for all patients based on acuity level.

Participates in monthly Quality review meetings with the interdisciplinary team. Reports on quality indicators related to adherence, such as Missed and Shortened Treatments, Quality of Life Trends, and Service Recovery.

Patient Education

Assesses patient knowledge of kidney disease for barriers that may affect adherence to treatment. Works with patient, family and health care team to provide education tailored to the patient's learning style, communication barriers, and needs.

With other members of the interdisciplinary team, provides appropriate information about all treatment modalities.

Facilitates the transplant referral process and collaborates with interdisciplinary team on transplant waitlist management.

Provides ongoing education to patient/family regarding psychosocial issues related to End Stage Renal Disease (ESRD) and all support services that are available.

Reviews patient rights and responsibilities, grievance information (company and network) and other facilities policies with patient and/or the patients' representative to ensure patients' understanding of the rights and expectations of them.

Collaborates with the team on appropriate QAI activities.

Patient Admission and Continuity of Care

Reviews Patient Rights and Responsibilities, Grievance Procedure & Important Numbers Handout, FKC Non-discrimination policy, DNR Statement (if applicable) and address any immediate needs/concerns.

Understands the referral and admission process and supports the clinic in regard to the patient needs for scheduling to maximize adherence and adjustment.

The Social Worker will interview the patient to identify root causes or concerns for the discharge request, (i.e. transfer to hospice, relocation, dissatisfaction with services or staff) and share causes/concerns with operational leadership.

Insurance and Financial Assistance

Collaborates and functions as a liaison for patient with Insurance Coordinators to address issues related to insurance.

In collaboration with Insurance Coordinators, provides information and education to patients about payment to dialysis (federal, state, commercial insurance, state renal programs, AKF HIPP, and entitlement programs).

Collaborates with the Insurance Coordinator of any changes to patient state that impacts insurance i.e. transplantation, discharged, loss of coverage, or extended travel.

Refers patients to patient billing solutions (PBS) department for questions/concerns in regard to treatment related bills

Staff Related

Assists with interview process and decision to hire new personnel if requested by SW Manager/Senior Manager.

Works with the administrative support staff to maintain updated patient resource lists (e.g. maintain updated list of transportation resources).

Provides training to staff pertaining to psychosocial topics as needed.

Contributes and participates with weekly team huddles. Discusses any urgent patient issues with staff.

Adheres to work defined caseload guidelines based on state regulatory requirements.

Performs other related duties as assigned.
PHYSICAL DEMANDS AND WORKING CONDITIONS:
The physical demands and work environment characteristics described here are representative of those an employee encounters while performing the essential functions of this job. Reasonable accommodations may be made to enable individuals with disabilities to perfor

m the essential functions.

Travel required (if multiple facilities or home visits, if applicable)
SUPERVISION:
EDUCATION AND REQUIRED CREDENTIALS:
Masters in Social Work

Must have state required license

Meets the applicable scope of practice board and licensure requirements in effect in the State in which they are employed
EXPERIENCE AND SKILLS:          
0 – 2 years' related experience
EO/AA Employer: Minorities/Females/Veterans/Disability/Sexual Orientation/Gender Identity
Fresenius Medical Care North America maintains a drug-free workplace in accordance with pplicable federal and state laws.
View More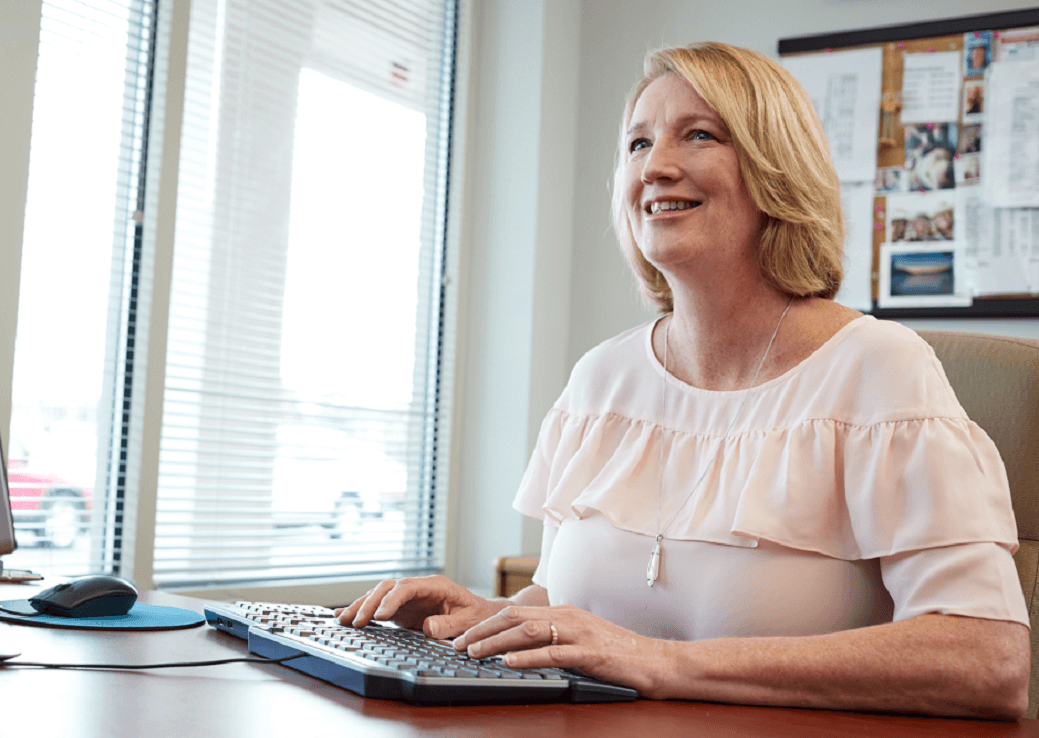 Success Profile
What makes a successful member of our team? Check out the top traits we are looking for and see if you have the right mix.
Compassionate
Communicator
Motivational
Helpful
Trustworthy
Sincere

We're dealing with people's lives. They deserve the best quality of care that we can provide.
Jennifer L., Social Worker
We've got your back.
We fully believe that dedication and passion should be recognized and rewarded. That's why we offer a competitive compensation and benefits package to all of our employees. Our benefits provide the flexibility, choice and support you need to be at your best as you play a vital part in helping patients live longer, better and healthier lives.
Healthcare

Healthcare

Medical
Dental
Vision
Healthcare FSA
Dependent Care FSA

Medical
Short/Long-term
Disability

Continuing Education

Continuing Education

Tuition Assistance and CEU reimbursements ($500/year for full‑time; $350/year for part‑time)

Paid Time Off

Paid Time Off

Flexibility in using PTO for vacation, holiday and personal time.

Collaborative Environment

Collaborative Environment

Employee Pride
Valued Team Members
Motivation for Excellence
Respect & Dignity
Openness & Trust

Additional Perks

Additional Perks

Adoption Assistance
Wireless, Automobile and Computer Discounts

401(K) Retirement Saving

401(K) Retirement Saving

Competitive vesting schedules and a company match of 50 cents for each dollar you save up to the first 6% of your salary (3% additional) after one year of employment.
Application Process
We are so glad you are interested in a career with FMCNA! What happens next?
Application & Assessment

First you will need to complete your online application. Some roles may also require an online assessment to be completed.

Review

Then a recruiter will review the applications submitted and select those most aligned with the role to move forward. If selected, The recruiter will contact you to schedule the next step.

Interview

Next, you will participate in phone/video interview(s) with our recruiter & leadership team.

Feedback

The recruiter will provide feedback to you on your interview(s) and update you on any hiring decisions.

Offer

Next, the recruiter will extend a formal offer if you are selected for the position.

Pre-Employment Checks

Lastly, you will accept your offer and complete pre-employment checks and paperwork.
Upcoming Events
Learn more about working at Fresenius Medical Care at an upcoming hiring event near you.
Sign Up For Job Alerts
By signing up for Job Alerts, you'll receive the latest job openings based in your interests, skills and background sent directly to your inbox.
Join Our Talent Network
Joining our Talent Community allows us to send you company news, career event announcements and other career-related information.
By submitting your information, you acknowledge that you have read our privacy policy and consent to receive email communications from Fresenius Medical Care N.A.