Inpatient RNs at Fresenius Medical Care perform dialysis treatments on an acute patient population in a hospital setting, including ICU, ER and Med/Surg units. What makes this role truly unique is the level of autonomy you'll enjoy. Inpatient nurses are specifically accountable for administering and assessing each patient's treatment plan. And because dialysis is a critical treatment for many hospital procedures and health conditions, you'll have the opportunity to work with a wide variety of patients. Ideal candidates possess leadership skills and independence needed to make quick decisions in a fast-paced environment. Six months to one year of dialysis experience and some form of critical care nursing experience are also required.
Job Level: Experienced/Non-Managerial
Travel: Local Travel Required
Success Profile
What makes a successful member of our team? Check out the top traits we are looking for and see if you have the right mix.
Compassionate 10
Flexible 9
Independent 9
Quick-thinking 8
Patient 8
Responsible 7
Traits are on a scale of
0
to
10

You have a lot of independence...so the doctors trust you. You have to be able to make decisions on your own.
Lesly, Inpatient Services RN
Take a Closer Look
A day in the life of an Inpatient Services Nurse

The history of FMCNA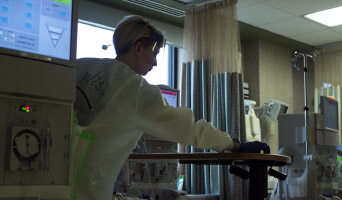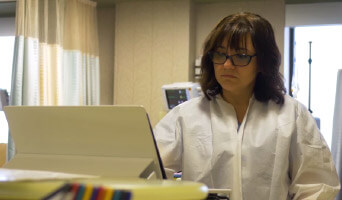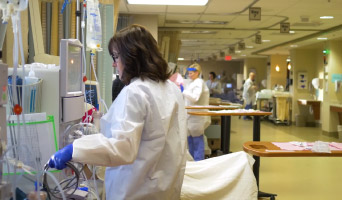 Benefits
HEALTHCARE

Medical
Dental
Vision
Healthcare FSA
Dependent Care FSA
Medical
Short/Long-term Disability

CONTINUING EDUCATION

RN Tuition Assistance Program Clinical Advancement Program (four practice tiers for RNs to advance your career)

PAID TIME OFF

Flexibility in using PTO for vacation, holiday and personal time. PTO can also be reimbursed for cash for up to 80 hours per year.

AUTONOMY

The elevated responsibility of Inpatient RNs helps foster confidence and leadership skills, and allows for a more holistic role in the treatment process.

ADDITIONAL PERKS

Adoption Assistance
Wireless, Automobile and Computer Discounts
Discount Fitness Program

401(K) RETIREMENT SAVING

Competitive vesting schedules and a company match of 50 cents for each dollar you save up to the first 6% of your salary (3% additional) after one year of employment.
Responsibilities
San Diego, California
Job ID
200004ZG
Available Openings
1
PURPOSE AND SCOPE:

Serves as the focal part of the care team that is responsible for all scheduling and dispatching efforts working hand in hand with area hospitals and acute care facilities for emergent and non-emergent dialysis care. Liaisons with physicians, hospital partners and direct and indirect patient care staff to schedule all patient treatments in a 24/7 environment with the utmost emphasis on extraordinary patient care service. Support FMCNA's mission, vision, core values, and customer service philosophy. Adhere to the FMCNA Compliance Program, including following all regulatory and business policy requirements.
PRINCIPAL DUTIES AND RESPONSIBILITIES:
Under the direction of direct supervisor oversees and coordinates the scheduling of direct patient care staff of acute dialysis treatments, regardless of modality in contracted hospitals/facilities.

Ensures that staff utilization adheres to efficient scheduling, meeting the needs of both the physician and hospital partners as well as effective labor utilization practices.

Receives and prioritizes all incoming calls in a swift and proper manner through the use of company approved communication tools.

Dispatches the appropriate personnel to the assigned facility (RN, CCHT, BIOMED, etc.) in addition, a dispatcher will make phone calls to update, add to, inform and facilitate to all FKC customers.

Accurately schedules staff per modality trained on and updates master tracker.

Follows regional established practices as it relates to communication of assignments and confirmation.

Oversees hospital equipment and availability for RNs, updates master tracker as needed and works with the Biomed team for machine repairs and equipment availability as needed.

Central point of contact for coordinating with technical team for timely repairs of disabled machines, coordinate infection control measures, routine water culturing, water testing, logging of results, transportation of equipment and supplies.  Helps to ensure accurate equipment inventory lists and logs are ready for joint commission.

Assists with new hire orientation for staff as it relates to specific hours of operations for the hospital contracts as well as training staff on the scheduling process. Reinforces local call-out procedures for off-hours and weekend schedules.

Escalates scheduling matters as it relates to adhering to hospital contract to direct supervisor.

Produces scheduling reports as requested. Keeps records per FMCNA record keeping policies.

Practices cost containment strategies in all areas to adhere to hospital contracts as well as desired regional metrics.

Demonstrates thorough geographic knowledge of all FKC Acute Program service areas.

Dispatches all responses to ensure DPC staff arrive within contracted response time in compliance with the terms and conditions of the program.

Assists with billing reconciliation as needed.

Other duties and projects as assigned.
PHYSICAL DEMANDS AND WORKING CONDITIONS:

The physical demands and work environment characteristics described here are representative of those an employee encounters while performing the essential functions of this job. Reasonable accommodations may be made to enable individuals with disabilities to perform the essential functions.

Day to day work includes desk and personal computer work and interaction with patients, facility staff and physicians.

This position requires frequent, prolonged periods of being in front of a computer as well as phone work.

The work environment is characteristic of a health care facility with air temperature control and moderate noise levels. Maybe exposed to infectious and contagious diseases/materials.

Ability to be on call and work in a 24/7 environment.

The position may require travel between assigned locations and various locations within the community as needed.

Travel to meetings may be required.

SUPERVISION:

EDUCATION AND REQUIRED CREDENTIALS:

High school diploma or equivalent combination of education and experience.

EXPERIENCE AND REQUIRED SKILLS:
1 - 2 years of customer service experience or dispatch experience.

Prior scheduling experience in a fast-paced environment desired.

Familiarity with the Grasshopper, ACES, etc with ability to pick up systems quickly.

Prior medical terminology experience preferred.

Excellent communication skills; both verbal and written.

Ability to make sound decisions in a timely manner.

Proficient in MS Office Suite and communications platforms, such as Skype and Microsoft Teams.

Ability to employ discretion and confidentiality in sensitive areas.

Must be able to work in a fast-paced environment and remain professional under high-stress times.

EO/AA Employer: Minorities/Females/Veterans/Disability/Sexual Orientation/Gender Identity
Fresenius Medical Care North America maintains a drug-free workplace in accordance with applicable federal and state laws.