Home Therapies professionals at Fresenius Medical Care provide education and support to patients and caretakers who have chosen home dialysis therapy. This role involves an initial visit to the homes of patients to assess home therapy readiness, as well as training and follow-up visits within the clinic environment. Successful candidates have outstanding customer service skills, a valid driver's license and the desire to positively impact patients' lives by empowering them to treat themselves in the comfort of their own homes.
Full Time
Job Level: Mid
Travel: Local patient home visits
Success Profile
What makes a successful member of our team? Check out the top traits we are looking for and see if you have the right mix.
Facilitator 10
Leadership 9
Patient 9
Motivational 8
Understanding 8
Helpful 7
Traits are on a scale of
0
to
10
Communicator
Deadline-oriented
Good listener
Persuasive
Relationship expertise
Responsible
Sense of humor
Skilled presenter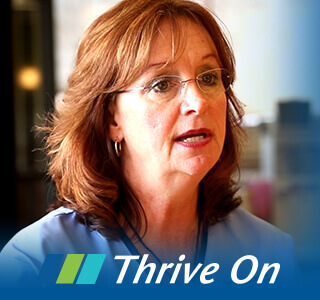 I see these people when they start, and when they're over that hump my heart just...I can't even describe it. It's just amazing.
Joanne S., Registered Nurse
Rewards
Healthcare

Medical • Dental • Vision Healthcare FSA Dependent Care FSA Short- and Long-term Disability

Continuing Education

Tuition Reimbursement
Defined Career Path (certifications, preceptor opportunities, salary increases at each stage)

Paid Time Off

Flexibility in using PTO for vacation, holiday and personal time. PTO can also be reimbursed for cash for up to 80 hours per year.

Collaborative Environment

Employee Pride Valued Team Members Motivation for Excellence Respect & Dignity Openness & Trust

Additional Perks

Adoption Assistance
Wireless, Automobile, and Computer Discounts
Discount Fitness Program

401(K) Retirement Saving

Competitive vesting schedules and a company match of 50 cents for each dollar you save up to the first 6% of your salary (3% additional) after one year of employment.
Responsibilities
Job ID
18000M59
Available Openings
1
Position Specific Information
$7500 Sign on bonus for qualifying Dialysis experience
$5000 Sign on bonus for candidates without Dialysis experience
PURPOSE AND SCOPE:
Supports FMCNA's mission, vision, core values and customer service philosophy. Adheres to the FMCNA Compliance Program, including following all regulatory and FMS policy requirements.
Functions as a member of the Home Dialysis Team asthe Home Therapy Staff Nurse.Ensures provision of quality Home Dialysis Training and patient care in accordance with FMS policies, procedures and the UltraCare at Home principles.Supports FMCNA's commitment to the Quality Assessment Performance Improvement Program (QAPI)) and CQI activities, including those related to patient satisfaction.Actively participates in Quality Assessment Performance Improvement (QAPI) process that may enhance the likelihood that patients will achieve established FMCNA Quality Target Goals..
DUTIES / ACTIVITIES:
CUSTOMER SERVICE:
·Responsible for driving the FMS culture through values and customer service standards
·Accountable for outstanding customer service to all external and internal customers.
·Develops and maintains effective relationships through effective and timely communication.
·Takes initiative and action to respond, resolve and follow up regarding customer service issues with all customers in a timely manner.
PRINCIPAL RESPONSIBILITIES AND DUTIES
·Provides safe and effective delivery of home dialysis training and education to patients with End Stage Renal Disease (ESRD) who have selected a home modality as a dialysis therapy.Oversees the delivery of home dialysis therapy to the patient in compliance with standards outlined in the FMS Home Peritoneal Dialysis Policy and Procedure Manual, or/Home Hemodialysis Policy and Procedure Manual , as well as regulations set forth by the Corporation, state and federal agencies. Accountable for providing outstanding quality of patient care, as defined by FMS quality goals and standards.
·Assists in the identification, evaluation and selection of Home Dialysis training candidates, and Home Partners as appropriate for the FMS Home Dialysis Program,
·Educates the patient/Home Partner and family regarding ESRD and the availability of the FMS Treatment Options Program.(TOP)
·Performs assessment of the Home Dialysis training candidate's home environment for suitability in the ongoing delivery of home dialysis therapy
·Assesses the Home Dialysis patient and Home Partner/family readiness and potential ability to perform dialysis treatments at home.
·Admits all new home patients and documents the appropriate processes as required by policy and procedure.
·Trains the home dialysis candidate/Home Partner as appropriate on the safe and effective operation and maintenance of all home dialysis equipment and treatment supplies through an organized and formalized Home Dialysis Training Program.
·Provides ongoing education to patients regarding their renal dialysis, peritoneal or vascular access and home dialysis therapy, and other related health conditions.Assesses and manages patients' response to home dialysis training and treatment therapy by following prescribed predetermined protocols.Communicates patient related issues to the physician as needed.
·Reports adverse patient events at home or in the clinic, as well as equipment and technology related problems to the Clinical Manager/Home Therapy Program Manager, and physician including the correct documentation of such events.
·Coordinates the transfer or discharge of patients to the hemodialysis or transplant clinic when needed and appropriate.
·Reviews, transcribes, and enters physician lab orders accurately into Proton, AMI or eCube medical information systems as appropriate.Follows company policies and government regulations related to the collection, packaging, and delivery of lab specimens and reporting of results.
·Participates in policy updates and ensures all FMCNA policies regarding patient admission, transfer, and discharge are appropriately implemented.
·Maintains competency with all emergency operational procedures, and initiates CPR and emergency measures in the event of a cardiac and/or respiratory arrest when the patient is in the dialysis facility.
·Administers medications as prescribed including following prescribed algorithms (as appropriate), and documents appropriate medical justification if indicated and maintains records on controlled substances as required by law.
·Documents all relevant data including physician orders, lab results, vital signs, and treatment parameters, and patient status and any treatment related data appropriately, and enters into the appropriate medical information system.
·Completes all monthly and annual reporting as required by FMS policies and government regulations.
·Submits CQI information to Clinical Manager or Program Manager for completion of HT QAI Template for inclusion in facility QAPI review process.Participates in all monthly QAPI meetings and all required staff meetings as scheduled.
·Rotates coverage with other licensed staff to ensure reliable and adequate coverage, and participates in 24/7 on-call coverage as assigned.
·Participates in staff training and orientation of new staff as assigned.
·Maintains appropriate skill level in the operation of all home dialysis therapy-related equipment, including the ability to troubleshoot equipment problems with the patient via telephone.
·Directs patients in the appropriate routine maintenance of home dialysis equipment, including water systems procedures as appropriate, immediatly reporting any water/dialysate problems to the facility Home Dialysis technical support staff.
·Coordinates the ordering and delivery of the patient's initial dialysis supplies with the FMCNA RTG; the ordering of the patient's dialysis equipment as appropriate at the initiation of the training program; and the on-going operation and preventative maintenance of all home dialysis equipment through facility Technical support staff, or through the appropriate equipment vendor as required.
·Other duties as assigned.
POSITION SUMMARY
The registered professional nurse (UltraCare Home Therapies RN 1) is accountable and responsible for the provision and coordination of clinically competent care for an assigned group of patients that includes assessment, planning, intervention and evaluation.As a part of the End Stage Renal Disease (ESRD) health care team, the UltraCare Home Therapies RN 1 participates in decision-making, teaching, leadership functions, and quality improvement activities that enhance patient care outcomes and facility operations.The UltraCare Home Therapies RN 1 relies on the experience, judgment and support of others while developing knowledge in CKD nursing practice. The UltraCare Home Therapies RN 1 performs all essential functions under the direction of the Clinical Manager/Home Therapy Program Manager (HTPM) and with the guidance from the Educator, Preceptor or an UltraCare Home Therapies RN 2, 3, 4 or 5.
1.Assessment:Performs ongoing, systematic collection and analysis of Patient Data
a.)Assesses patient status on admission and throughout patient's treatment during training to obtain data that integrates patient's CKD 5 diagnoses, physical/psychosocial findings, patient/family perceptions of illness and cultural value systems
b.)Assesses patient/family's basic learning needs upon admission and throughout outpatient care related to diagnosis and treatment
c.)Collects pertinent data in a systematic and ongoing process using appropriate evidence based assessment techniques, instruments, monitors and tools
d.)Involves and educates the patient in data collection and includes the family/care partner as appropriate
e.)Prioritization of data collection activities is determined by the patient's immediate condition or anticipated needs
f.)Recognizes aspects of patient status that vary from normal and reports to appropriate health team members for input
g.)Documents relevant data in a retrievable format
2.Outcomes Identification and Planning:Develops a Plan of Care that prioritizes care using an interdisciplinary approach
a.) Utilizes basic knowledge of current nursing practice in CKD 5 to carry out developed care plan and provides for continuity of care
b.) Relies on FMS Quality Enhancement Program metrics to establish expected outcomes from the diagnoses
c.) Develops daily treatment plan in conjunction with patient and interdisciplinary team, as appropriate
d.) Documents the plan in a retrievable format
3.Implementation:Implements nursing and prescribed medical interventions identified in the plan of care and evaluates patient/family response to treatment
a.)Delivers safe, effective care in a timely and efficient manner
b.)Communicates pertinent patient/family/care partner information to members of the interdisciplinary team timely and efficiently
c.)Documents interventions and any modifications of the identified plan of care in a clear, concise and timely manner
4.Evaluation:Evaluates the patient's progress toward attainment of goals, ( theUltraCare Home Therapies RN 1 may seek assistance from the CM/HTPM and or UltraCare Home Therapies RN levels 2-5 )
a)Evaluates effectiveness of plan of care and interventions in relation to progress toward identified outcomes
b)Uses ongoing assessment data to revise outcomes and the plan of care as appropriate
c)Involves the patient, family/care partner and the interdisciplinary team in the evaluation process, as appropriate
d)Documents the results of the evaluation
5.Time Management: Process of planning exercising conscious control over the amount of time spent on certain activities, to increase effectiveness, efficiency or productivity
a.)Gives organized, concise reports to the home therapy and interdisciplinary teams
b.)Utilizes down time for the promotion of patient and company goals
c.)Ability to accomplish work within the assigned shift
d.)  Organizes and prioritizes assigned workload and care of the patients
EDUCATION
Graduate of an accredited School of Nursing (R.N.)
Current appropriate state licensure
EXPERIENCE AND REQUIRED SKILLS
·Minimum of one year nursing experience required.
·Minimum of three months (twelve weeks) Home Dialysis Training experience required.
·Experience must be specific to the modality of Home Dialysis Training that the staff member will be providing, ie; Peritoneal Dialysis (PD) or Home Hemodialysis.
·Must have successfully completed a training course in the theory and practice of dialysis therapy/ hemodialysis or PD
·Medical-surgical nursing experience and ICU experience preferred but not required..
·Competent at operating all Home Dialysis related equipment.
·Successfully complete CPR certification with maintenance as required.
·

Icd-9 coding Training

Demonstrated teaching abilities using Adult Learning principles
EO/AA Employer: Minorities/Females/Veterans/Disability/Sexual Orientation/Gender Identity