Overview
Fresenius Medical Care nurses are on the front line of patient care, improving the quality of life of every patient, every day. That means providing dialysis care to 10-12 patients at any given time, and collaborating with our multi-disciplinary team to deliver a unique care plan to each one of them. This role is all about relationships and the bond you'll create with patients and their families. Prior dialysis nursing experience is helpful, but many successful candidates come from a background in ICU, PCU and/or surgery.
Job Description
Job ID R0105408
Available Openings 2
POSITION FEATURES:
Various schedules available (per diem, part time, full time) 
https://jobs.fmcna.com/Azura-CRNA
PURPOSE AND SCOPE:
A Certified Registered Nurse Anesthetist (CRNA) in an advanced practice registered nurse (APRN) who practices both autonomously and in collaboration with a variety of health providers on the interprofessional team to deliver high-quality, holistic, evidence-based anesthesia and pain care services. The CRNA cares for patients at all acuity levels across the lifespan in a variety of settings for procedures including, but not limited to, surgical, obstetrical, diagnostic, therapeutic, and pain management.
PRINCIPAL DUTIES AND RESPONSIBILITIES:
Perform and document the pre anesthesia assessment and evaluation of the patient.

Review, request, and order (as permitted by state law), laboratory/diagnostic studies.

Obtain informed consent for anesthesia and related services.

Select, obtain, order, and administer preanesthetic medication or treatment.

Develop and implement an anesthesia care plan.

Select, obtain, prepare, and use equipment, invasive and non-invasive monitors, supplies, and drugs for the administration of sedation, anesthesia, and pain management services; perform safety checks as needed.

Select, order, obtain, and administer analgesic and anesthetic agents, adjuvant drugs, accessory drugs, fluids, necessary to provide anesthesia services.

Document a time- based record of events during peri-anesthetic care

Perform all aspects of airway management, including fiberoptic intubation.

Facilitate emergence and recovery from anesthesia by evaluating patient response, and selecting, ordering, and administering medications, fluids, and ventilator support to maintain patient stability during transfer.

Initiate and administer post-anesthesia pharmacological or fluid support of the cardiovascular system.

Initiate and administer respiratory support to ensure adequate ventilation and oxygenation in the post anesthesia period.

Evaluate the patient's response to anesthesia and surgery; take appropriate corrective action post anesthesia.

Provide post anesthesia follow-up evaluation care

Discharge the patient from the post anesthesia care unit

Implement acute and chronic pain management modalities

Manage emergency situations by assessing, stabilizing, and determining disposition of patients, including providing airway management, administration of emergency

Place and manage regional anesthetic techniques, as delineated by his or her clinical privileges or granted special privileges.

Insert and manage peripheral, arterial, pulmonary catheter, or central venous lines and catheters.

Provide patient and caregiver education.

Consult with respiratory care providers and Implement respiratory and ventilator care when appropriate. 

Supports patient safety when performing his or her job functions and through participation in facility, department, or unit patient safety initiatives.

Takes action to correct observed risks to patient safety.

Reports adverse events and near misses to appropriate management authority.

Identifies possible risks in processes, procedures, devices and communicates the same to those in charge.

Using an interdisciplinary approach, including consultation or referral to another clinician, as appropriate.
Perform advanced and interventional pain management using drugs, regional anesthetic techniques, or other accepted pain relief modalities with or without fluoroscopic guidance.

Utilize ultrasound, fluoroscopy, as appropriate. 

Participates in center quality meetings, medical executive meetings and other management meetings upon request from the Medical Director.

Review and comply with the Code of Business Conduct and all applicable company policies and procedures, local state and federal laws and regulations

Other duties as assigned
PHYSICAL DEMANDS AND WORKING CONDITIONS:
The physical demands and work environment characteristics described here are representative of those an employee encounters while performing the essential functions of this job.  Reasonable accommodations may be made to enable individuals with disabilities to perform the essential functions.
The work environment is characteristic of a health care facility with air temperature control and moderate noise levels. May be exposed to infectious and contagious diseases/ materials and radiation. May be required to wear protective gear in procedure rooms for extended periods of time.  Majority of the time spent on feet, may require lifting, and positioning of patients. Position Requires ability to lift objects heavier than 50 pounds.

Travels between locations primarily during the business day, although some out-of-the-area and overnight travel may be expected.

This position may require approximately 10- 15% travel.
SUPERVISION:
EDUCATION AND REQUIRED CREDENTIALS:
Graduate of a nurse anesthesia educational program accredited by the Council on Accreditation of Nurse Anesthesia Educational Programs or its predecessor.

Current Appropriate State Licensure and complies with any applicable state statutory and regulatory requirements concerning CRNAs.

BLS and ACLS certification

Is currently certified or recertified by the National Board of Certification and Recertification for Nurse Anesthetists.

Insurable by an appropriate medical malpractice insurer for the limits required by this institution or state.
EXPERIENCE AND SKILLS:
8 – 12 years' related experience or an equivalent combination of education and experience

5 years CRNA experience preferred

Ability to perform clinically as a nurse anesthetist in the facility setting on a regular basis.

Ability to operate, use, and interpret data from a wide variety of equipment to perform anesthesia care as well as necessary perioperative or operating room care to support the safety and wellbeing of the patient while they are under the direct care of the CRNA.

Effective verbal and written communication skills are required to effectively collaborate with various clinical staff and other disciplines.

Ability to demonstrate knowledge and skills necessary to provide care appropriate to the patient population(s) served.

Ability to demonstrate knowledge of the principles of growth and development over the life span and ability to assess data reflective of the patient's requirements relative to his or her population-specific and age specific needs.

Knowledge of infection prevention and control techniques.

Ability to maintain confidential records.

Ability to implement and adhere to facility policies and procedures.
EO/AA Employer: Minorities/Females/Veterans/Disability/Sexual Orientation/Gender Identity
Fresenius Medical Care North America maintains a drug-free workplace in accordance with applicable federal and state laws.
View More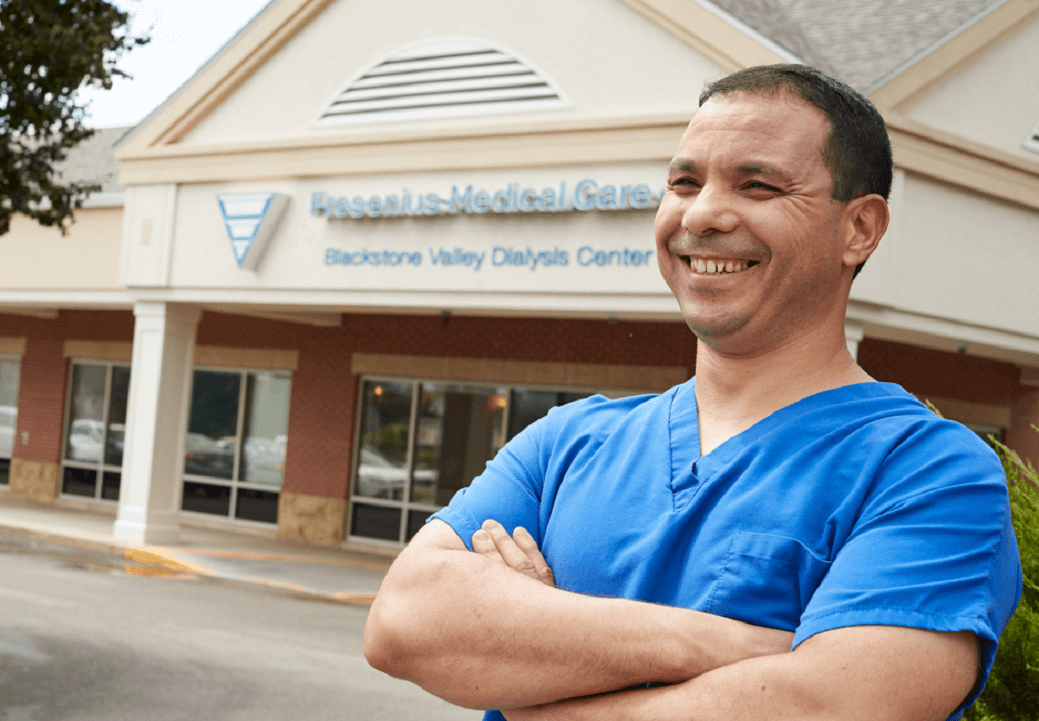 Success Profile
What makes a successful member of our team? Check out the top traits we are looking for and see if you have the right mix.
Communicator
Compassionate
Detail Oriented
Relationship Expertise
Facilitator
Leadership

You have to be able to count on your co-workers to help you, and I see this here every day. Everybody works together, which is better for the patients.

Carol B., Registered Nurse
We've got your back.
We fully believe that dedication and passion should be recognized and rewarded. That's why we offer a competitive compensation and benefits package to all of our employees. Our benefits provide the flexibility, choice and support you need to be at your best as you play a vital part in helping patients live longer, better and healthier lives.
Healthcare

Healthcare

Medical
Dental
Vision
Healthcare FSA
Dependent Care FSA

Medical
Shore/Long-term
Disability

Continuing Education

Continuing Education

RN Tuition Assistance Program

Clinical Advancement Program (four practice tiers for RNs to advance your career)

Paid Time Off

Paid Time Off

Flexibility in using PTO for vacation, holiday and personal time.

Collaborative Environment

Collaborative Environment

Employee Pride
Valued Team Members
Motivation for Excellence
Respect & Dignity
Openness & Trust

Additional Perks

Additional Perks

Adoption Assistance
Wireless, Automobile and Computer Discounts

401(k) Retirement Saving

401(k) Retirement Saving

Competitive vesting schedules and a company match of 50 cents for each dollar you save up to the first 6% of your salary (3% additional) after one year of employment.

Application Process

We are so glad you are interested in a career with FMCNA! What happens next?

Application & Assessment

First you will need to complete your online application. Some roles may also require an online assessment to be completed.

Review

Then a recruiter will review the applications submitted and select those most aligned with the role to move forward. If selected, The recruiter will contact you to schedule the next step.

Interview

Next, you will participate in phone/video interview(s) with our recruiter & leadership team.

Feedback

The recruiter will provide feedback to you on your interview(s) and update you on any hiring decisions.

Offer

Next, the recruiter will extend a formal offer if you are selected for the position.

Pre-Employment Checks

Lastly, you will accept your offer and complete pre-employment checks and paperwork.

Upcoming Events

Learn more about working at Fresenius Medical Care at an upcoming hiring event near you.

Sign Up For Job Alerts

By signing up for Job Alerts, you'll receive the latest job openings based in your interests, skills and background sent directly to your inbox.

Join Our Talent Network

Joining our Talent Community allows us to send you company news, career event announcements and other career-related information.

By submitting your information, you acknowledge that you have read our privacy policy and consent to receive email communications from Fresenius Medical Care N.A.