Overview
Fresenius Medical Care nurses are on the front line of patient care, improving the quality of life of every patient, every day. That means providing dialysis care to 10-12 patients at any given time, and collaborating with our multi-disciplinary team to deliver a unique care plan to each one of them. This role is all about relationships and the bond you'll create with patients and their families. Prior dialysis nursing experience is helpful, but many successful candidates come from a background in ICU, PCU and/or surgery.
Job Description
Job ID R0114939
Available Openings 1
PURPOSE AND SCOPE:
Supports FMCNA's mission, vision, core values and customer service philosophy. Adheres to the FMCNA Compliance Program, including following all regulatory and FMS policy requirements. Ensure quality patient care while maintaining cost-effective clinical operations in accordance with all legal, compliance, and regulatory requirements and programs.  As the Charge Nurse, manages the daily decisions to ensure continuity of care to maintain patient and staff safety and oversees the delivery of safe effective quality outcomes.
PRINCIPAL DUTIES AND RESPONSIBILITIES:
Provide day to day guidance, support and direction to direct patient care staff, providing informal feedback on an ongoing basis and formal feedback input for the annual performance evaluation. Participate in the department staffing and the appropriate hiring, firing and disciplinary actions. Recommend disciplinary action to Facility Administrator and initiate as appropriate.
Ensure compliance with all company and facility approved procedures and policies as well as regulations set forth by state and federal agencies.
Approve or disapprove time or personnel schedule changes in the absence on the Facility Administrator ensuring compliance with applicable regulations, policies and procedures for documenting time of work hours for staff members on assigned shift.
Participate in patient care plan meetings.
Maintain knowledge in the current practices related to the principles and techniques of dialysis by participating in all scheduled in- services.
Train and orient staff as necessary.
Routinely observe and guide direct patient care staff for appropriate technique and adherence to facility policies and procedures.
Promote and assist with compliance to OSHA programs in order to maintain a safe and clean working environment.
Maintain overall shift operation in a safe, efficient, and effective matter.
With Facility Administrator conduct staff meetings at least monthly or as needed to keep patient care staff informed of changes in patient care needs or operations to improve delivery of care.
Meet routinely with the Facility Administrator to discuss personnel and patient care status, issues, and information.
Supervise all documentation of patient information.
Coordinate Charge Nurse duties with Staff RNs acting in the relief charge capacity.
Assess daily patient care needs and develop and distribute patient care assignments appropriately.
Assume primary responsibility in an emergency situation.
Assess patient needs, respond to dialysis treatments, and communicate concerns to rounding physician. Implement changes in patient care/treatment as directed.
Monitor and supervise all patient care activity during dialysis and assist as necessary.
Collaborate with direct patient care team in making decisions to benefit patient care.
Continuously monitor patient's condition with regards to problems and potential complications associated with dialysis.
Administer medications to patients per physician's orders.
Act as the subject matter expert and as a resource for staff members.
Supervise and participate in completion of short and long term care plans.
Admit new patients according to facility procedure.
Ensure educational needs of patients are met and educate the patient and family about End Stage Renal Disease, dialysis therapy, diet and medication.
Supervise the safe and effective use of all equipment involved in direct patient care.
Operate all dialysis related and emergency equipment safely and efficiently when needed.
Perform required testing and verification and initial the checklist for start-up and shut-down procedures as outlined in the Technical Services Manual.
Complete Nurse's Technical Training Program/Water Quality Facility
Assist with special projects or other duties as assigned by the Facility Administrator
Assist with the interviewing of potential direct patient care staff
Promote efficient use of medical supplies.
Attend and participate in monthly Quality Assurance meetings.
Additional responsibilities may include focus on one or more departments or locations.  See applicable addendum for department or location specific functions.
PHYSICAL DEMANDS AND WORKING CONDITIONS:
The physical demands and work environment characteristics described here are representative of those an employee encounters while performing the essential functions of this job.  Reasonable accommodations may be made to enable individuals with disabilities to perform the essential functions.

Day to day work includes desk and personal computer work and i

n

teraction with patients, facility staff and physicians. The position requires travel between assigned facilities and various locations within the community.
The work environment is characteristic of a health care facility with air temperatu

r

e control and moderate noise levels. May

b

e exposed to infectious and con

t

agious diseases/materials.

Employees are required to take the Ishihara's Color Blindness test as a condition of employment. Note that: Failing the
Ishihara Test for Color Blindness does not preclude employment. The Company will consider whether reasonable accommodation can be made.
Travel to regional, Business Unit and Corporate meetings may be required.
SUPERVISION:
Direc

t

Patien

t

Car

e

Staff

,

War

d

Cler

k

a

s

assigned.
EDUCATION:
Graduate of an accredited school of Nursing (R.N.)
Must be registered and licensed to practice in the applicable State.
EXPERIENCE AND REQUIRED SKILLS:
Minimum of 12 months of nursing experience, plus 6 months of specialized experience providing clinical nursing care to dialysis patients, in either a chronic or acute setting.
Medical/surgical nursing preferred.
Supervisory or management experience preferred.
Certified in CPR or successfully complete course in CPR certification.
Good communication skills – verbal and written.
ACKNOWLEDGEMENT:
I acknowledge that I have read and accepted this job description.  I understand what is expected of me in this position, and I am able to perform the essential functions as outlined with or without reasonable accommodation.  Furthermore, I understand that the duties and responsibilities listed in this job description are intended only as illustrations of the various types of work that may be performed.  The omission of specific statements of duties does not exclude them from the position if the work is similar, related, or a logical assignment to the position.  If I have any questions about duties and responsibilities not specified in this job description that I am asked to perform, I should discuss them with my immediate supervisor or my Human Resources representative.
ADDENDUM:
Minimum of 12 months of nursing experience, plus 6 months of specialized experience providing clinical nursing care to dialysis patients, in either a chronic or acute setting or 9 months nursing and 3 months dialysis if the hiring FA covers only 1 site and meets the above qualifications.
EO/AA Employer: Minorities/Females/Veterans/Disability/Sexual Orientation/Gender Identity
Fresenius Medical Care North America maintains a drug-free workplace in accordance with applicable federal and state laws.
View More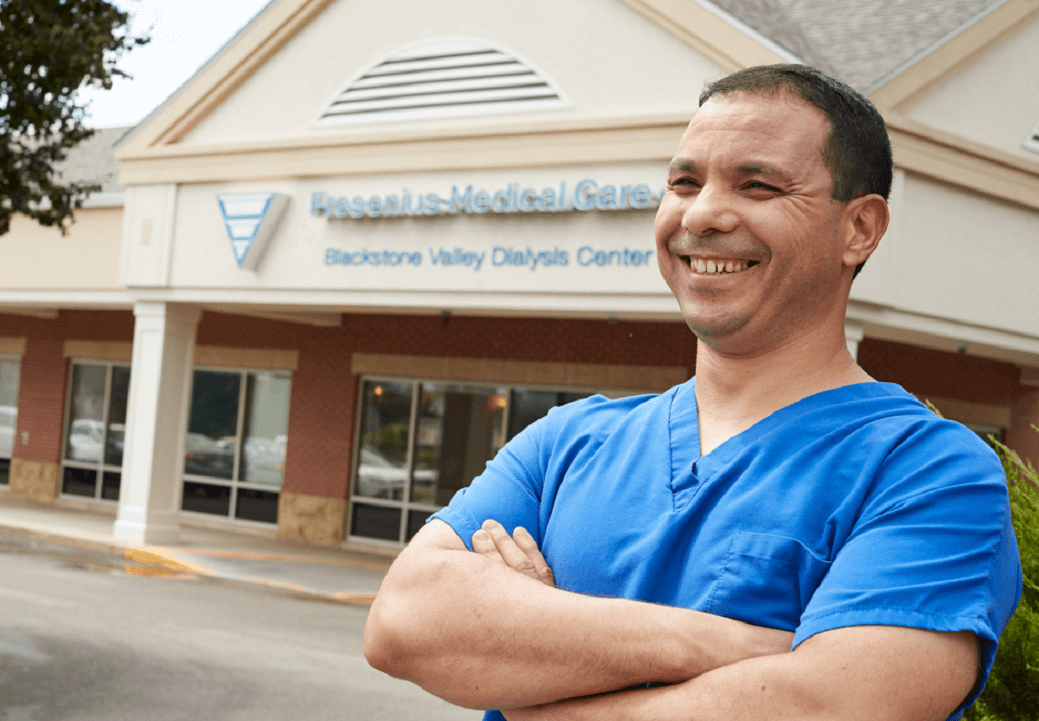 Success Profile
What makes a successful member of our team? Check out the top traits we are looking for and see if you have the right mix.
Communicator
Compassionate
Detail Oriented
Relationship Expertise
Facilitator
Leadership

You have to be able to count on your co-workers to help you, and I see this here every day. Everybody works together, which is better for the patients.

Carol B., Registered Nurse
We've got your back.
We fully believe that dedication and passion should be recognized and rewarded. That's why we offer a competitive compensation and benefits package to all of our employees. Our benefits provide the flexibility, choice and support you need to be at your best as you play a vital part in helping patients live longer, better and healthier lives.
Healthcare

Healthcare

Medical
Dental
Vision
Healthcare FSA
Dependent Care FSA

Medical
Shore/Long-term
Disability

Continuing Education

Continuing Education

RN Tuition Assistance Program

Clinical Advancement Program (four practice tiers for RNs to advance your career)

Paid Time Off

Paid Time Off

Flexibility in using PTO for vacation, holiday and personal time.

Collaborative Environment

Collaborative Environment

Employee Pride
Valued Team Members
Motivation for Excellence
Respect & Dignity
Openness & Trust

Additional Perks

Additional Perks

Adoption Assistance
Wireless, Automobile and Computer Discounts

401(k) Retirement Saving

401(k) Retirement Saving

Competitive vesting schedules and a company match of 50 cents for each dollar you save up to the first 6% of your salary (3% additional) after one year of employment.

Application Process

We are so glad you are interested in a career with FMCNA! What happens next?

Application & Assessment

First you will need to complete your online application. Some roles may also require an online assessment to be completed.

Review

Then a recruiter will review the applications submitted and select those most aligned with the role to move forward. If selected, The recruiter will contact you to schedule the next step.

Interview

Next, you will participate in phone/video interview(s) with our recruiter & leadership team.

Feedback

The recruiter will provide feedback to you on your interview(s) and update you on any hiring decisions.

Offer

Next, the recruiter will extend a formal offer if you are selected for the position.

Pre-Employment Checks

Lastly, you will accept your offer and complete pre-employment checks and paperwork.

Upcoming Events

Learn more about working at Fresenius Medical Care at an upcoming hiring event near you.

Sign Up For Job Alerts

By signing up for Job Alerts, you'll receive the latest job openings based in your interests, skills and background sent directly to your inbox.

Join Our Talent Network

Joining our Talent Community allows us to send you company news, career event announcements and other career-related information.

By submitting your information, you acknowledge that you have read our privacy policy and consent to receive email communications from Fresenius Medical Care N.A.