Home Therapies professionals at Fresenius Medical Care provide education and support to patients and caretakers who have chosen home dialysis therapy. This role involves an initial visit to the homes of patients to assess home therapy readiness, as well as training and follow-up visits within the clinic environment. Successful candidates have outstanding customer service skills, a valid driver's license and the desire to positively impact patients' lives by empowering them to treat themselves in the comfort of their own homes.
Full Time
Job Level: Mid
Travel: Local patient home visits
Success Profile
What makes a successful member of our team? Check out the top traits we are looking for and see if you have the right mix.
Facilitator 10
Leadership 9
Patient 9
Motivational 8
Understanding 8
Helpful 7
Traits are on a scale of
0
to
10
Communicator
Deadline-oriented
Good listener
Persuasive
Relationship expertise
Responsible
Sense of humor
Skilled presenter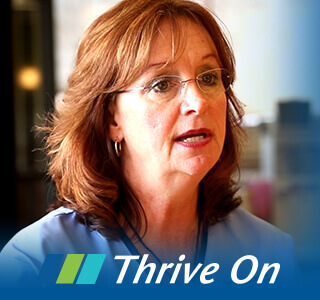 I see these people when they start, and when they're over that hump my heart just...I can't even describe it. It's just amazing.
Joanne S., Registered Nurse
Rewards
Healthcare

Medical • Dental • Vision Healthcare FSA Dependent Care FSA Short- and Long-term Disability

Continuing Education

Tuition Reimbursement
Defined Career Path (certifications, preceptor opportunities, salary increases at each stage)

Paid Time Off

Flexibility in using PTO for vacation, holiday and personal time. PTO can also be reimbursed for cash for up to 80 hours per year.

Collaborative Environment

Employee Pride Valued Team Members Motivation for Excellence Respect & Dignity Openness & Trust

Additional Perks

Adoption Assistance
Wireless, Automobile, and Computer Discounts
Discount Fitness Program

401(K) Retirement Saving

Competitive vesting schedules and a company match of 50 cents for each dollar you save up to the first 6% of your salary (3% additional) after one year of employment.
Responsibilities
Job ID
190009A3
Available Openings
1
PURPOSE AND SCOPE:
In coordination with regional and area management, and under the direction of the General Manager, this role is responsible for developing, driving and implementing Home Therapy Markets of Excellence with increased home penetration, accelerated organic growth and key operational efficiencies. Focuses on the development of a Home First Strategy while cultivating relationships with local market operators and nephrologists to enable an exceptional patient experience. Provides leadership in formulating and implementing, at the market level, the Corporation's goals and objectives regarding the development of key CBSAs (Core-based Statistical Areas) as Home Therapy Markets of Excellence. Supports FMCNA's mission, vision, core values and customer service philosophy. Adheres to the FMCNA Compliance Program, including following all regulatory and division/company policy requirements.
PRINCIPAL DUTIES AND RESPONSIBILITIES:
Responsible for developing new Home Therapies business opportunities that contribute to the overall FMCNA strategic plan and growth portfolio.
Identifies and implements key actions that foster a culture change within the assigned market or markets around the Home First Strategy. Implements a plan to promote a mentality of Home Therapy is everyone's responsibility in the assigned markets.
Works internally in Fresenius and with external support functions to identify and create the required elements and resources required to support a rapidly growing Home Therapy Market.
Functions in a matrix relationship with the FMCNA Home Therapy team to communicate, collaborate and coordinate activities within target markets. Serves as a Thought Leader who proactively shares best practices and learnings with others across the country who have similar roles.
Creates reports, growth forecasts, and formulates business cases supported by analytics to drive Home Therapy penetration and market development opportunities.
Effectively works within a matrix environment to influence key operational, market development and clinical leaders within assigned markets.
Develop and maintain relationships with clinical affiliated and non-clinical affiliated nephrologists and surgeons to align these professionals with the Home Therapy Market of Excellence strategy.
Participate in local and regional healthcare meetings and conferences as appropriate to develop new relationships that will foster community alignment within the target markets.

Provide consultation and assistance to the General Manager as follows:

Creates and implements local Market of Excellence strategy with alignment with BU operations and physician partners.
Develop influential business relationships with physician groups to facilitate Market of Excellence objectives.
Functions as a representative of the company to promote relations with nursing homes, hospitals and physician groups focusing on improved access to Home Therapies and continuity of care.
Develop dynamic relationships with Regional Vice Presidents, Director of Operations, and Clinical Managers to facilitate Home First Strategy and other aligned strategic objectives.

Partner with affiliated and non-affiliated nephrologists to ensure effective execution of a Home First Strategy to activate growth of the business and FKC service offerings.
Identify and generate local market opportunities for profitable treatment growth.
Establish local mission-oriented, decision-making processes that foster growth of Home Therapy portfolio.
Create, review and analyze operational metrics and KPIs to guide and enable execution of strategy and goal achievement.
Proactively resolve complex issues and effectively influence impactful solutions as credible Home Therapy subject matter expert.
Maintain extensive knowledge regarding community and regional healthcare market and industry issues; identify trends and issues that may impact the business, as well as identify viable solutions.
Sustain knowledge of FKC products, services, and strategies, in order educate and influence in support of strategic business goals.
Review and comply with the Code of Business Conduct and all applicable company policies and procedures, local, state and federal laws and regulations.
Other duties as assigned.
Additional responsibilities may include focus on one or more departments or locations.  See applicable addendum for department or location specific functions.
PHYSICAL DEMANDS AND WORKING CONDITIONS:
The physical demands and work environment characteristics described here are representative of those an employee encounters while performing the essential functions of this job.  Reasonable accommodations may be made to enable individuals with disabilities to perform the essential functions. 
Day to day work includes desk and personal computer work and interaction with patients, facility staff and physicians.
Requires travel between/to target markets. Travel to regional, business unit and corporate meetings may be required.
Must be able to travel 40-60% of the time.
SUPERVISION:
None direct. Must be able to influence without authority with a matrix environment.
EDUCATION:
Bachelor's Degree required; Advanced Degree desirable.
EXPERIENCE AND REQUIRED SKILLS:         
A minimum 12+ years' experience in healthcare industry with a Bachelor's Degree; 8+ years with a Master's Degree.
Clinical and Market Development experience highly preferred.
Polished interpersonal skills with the ability to effectively communicate, develop and cultivate partnerships with high-profile stakeholders, communicate with all levels of peers and management in am impactful and inspirational manner to foster satisfaction of staff and garnish corporate support.
Lead internal work streams to identify and implement solutions and drive efficiencies, as well as process improvements.
Must be able to work effectively in a matrix environment and sustain credibility as subject matter expert.
Demonstrated ability to write proposals, negotiate contracts, create local marketing plans and manage geographically diverse business interests.
Business and market development knowledge from evaluation through integration and implementation.
Ability to work with and include all levels of the organization in the decision-making process to bring to closure.
Credible Executive presence; proven written and oral presentation skills.
Ability to work independently and understand when to collaborate to effectively assess market conditions, formulate strategy and execute implementation plans.
Advanced strategic and tactical project and time management skills inclusive of the ability to manage multiple projects concurrently, maintain focus and productivity, adapt to changing priorities and strategic directions, as well as complete work within establish timeframes and budget in a fast-paced, dynamic, high-volume environment while remaining flexible, proactive, resourceful and efficient.
Demonstrated initiative at translating concepts and ideas into concrete strategy and tangible deliverables aligned to mission and strategic goals.
Strategic and creative problem solving and conflict management skills with the ability to identify and make critical decisions, translate strategy into action, communicate complex issues, and orchestrate plans to resolve issues and mitigate risks.
Proven experience in writing (communicating) at the level and tone suitable to be compelling with diverse audience segments: physicians, colleagues, peers, executives, and external customers.
Strong analytical, strategic, critical thinking, negotiation and risk mitigation skills with the ability to effectively analyze data and highly complex issues to develop realistic and relevant plans and recommendations.
Executive function skills including exceptional organizational, planning, multi-tasking, presentation and communication skills.
Proficient at assessing varied sources of information that translate into data-driven reports and proposals, as well as influential presentations.
Energetic, self-motivated, innovative thinker with the ability to influence without authority, motivate others, mentor, coach and collaborate with an asset-based thinking mindset.
Advanced proficiency in Microsoft Office Professional Suite (Word, Excel, PowerPoint, Outlook, Visio), project management software (ie: MS Project or equivalent), and software to support Agile process (ie: Gira or Kanban software equivalent) required.
EO/AA Employer: Minorities/Females/Veterans/Disability/Sexual Orientation/Gender Identity