Patient Care Technicians (PCTs) at Fresenius Medical Care support and collaborate with RNs to provide dialysis treatment to several patients at a time while maintaining the functionality of the clinic. This involves prepping and testing equipment, reviewing treatment sheets, and opening the clinic at 4am for first shift. PCTs have a combination of technical skills and genuine passion needed to develop deep relationships with patients and improve their quality of life. Qualified candidates have prior customer service, healthcare and direct patient care experience, and will have the opportunity to learn the discipline of dialysis.
Job Description
Louisville, Kentucky
Job ID R0039376
POSITION FEATURES:
i.Hemodialysis Experience Required
ii.Work with a dialysis RN to deliver dialysis for up to 6 patients in a dialysis iii.Den Operates Monday-Friday during the day
PURPOSE AND SCOPE:
Functions as part of the Staff Assisted Home Hemodialysis Health Care Team by providing safe and effective dialysis therapy for patients in the skilled nursing homes.  Works under the supervision of a registered nurse in accordance with FMCNA policies, procedures, and training and in compliance with regulations set forth by the corporation, state, and federal agencies.   Supports the FMCNA commitment to the Quality Assessment and Performance Improvement Program (QAI) and Continuous Quality Improvement (CQI) Activities, including those related to patient satisfaction.  Supports FMCNA's mission, vision, core values and customer service philosophy.  Adheres to the FMCNA Compliance Program, including following all regulatory and company policy and state specific requirements.
PRINCIPAL DUTIES AND RESPONSIBILITIES:
Patient Care:
Provides direct patient care for assigned patients in accordance with physician orders and state nurse practice laws under the supervision of a Registered Nurse.

Promptly arrives at the assigned patient's nursing location and inquires as to the patient's wellbeing since their last treatment.

Prepares and tests all water and dialysis equipment according to established and approved policies and procedures, documenting all required elements of testing according to established policies and procedures.

Actively participates in process improvement activities that enhance the likelihood that patients will achieve the FMC Quality Enhancement Goals (QEP).

Records pre and post treatment observations, weight, and vital signs.

Calculates and enters of individual patients' dialysis machine programming for Ultrafiltration (UF) goal, treatment time, Sodium (Na) modeling, and UF modeling as prescribed by the patient's physician; for review and approval by the Registered Nurse prior to treatment initiation.

Performs vascular access cannulation, observing vascular access for patency, under the supervision of a Registered Nurse and as allowed by state law.

Administers Heparin in accordance with physician orders and as delegated under the supervision of a Registered Nurse and as allowed by state law.

Monitors and assists with administration of treatment according to prescribed orders including dialysis treatment time, blood flow (QB) and dialysate flow (QD).

Observes patient and conducts machine safety checks according to policy and procedure.

Observes the patients' vascular access during treatment including arterial and venous monitoring pressures.

Monitor the appropriate safety alarms are engaged during treatment including air detector, narrow venous limits (NVL) 160.

Ensures appropriate safety alarms are enabled, including air detector, narrow venous limits (NVL) 160.

Records accurate and timely information regarding vital signs and treatment parameters onto the Hemodialysis Treatment Sheet with initial identification.

Inquires about any intra-dialytic problems.

Monitors patient's response to dialysis therapy.

Provides interventions as prescribed by physician order or as directed.

Obtains vital signs prior to termination treatment; performs all relevant functions necessary in preparation for the discontinuation of treatment and documents information.

Discontinues dialysis treatment according to established procedures.

Observes patient prior to termination of treatment and observes condition of the patient's access and standing & sitting blood pressure.

Obtains homeostasis and applies appropriate dressing.

Observes the patient after termination of the treatment.

Accurately documents information related to patient treatment including completion of Hemodialysis Treatment Sheet and, if applicable, progress notes.

Obtains all prescribed laboratory testing and prepares specimens for transport to Spectra laboratories as ordered by the patient's physician.

Performs and documents role-specific interventions for unusual patient status and documents patient response to intervention under the supervision of an Registered Nurse.

Reports any significant information, change in patient condition, or any other unusual findings directly to the nurse supervisor/Home Therapy Program Manager. 

Review and comply with the Code of Business Conduct and all applicable company policies and procedures, local, state and federal laws and regulations.

Assist with various projects as assigned by direct supervisor.

Other duties as assigned.
PHYSICAL DEMANDS AND WORKING CONDITIONS:
The physical demands and work environment characteristics described here are representative of those an employee encounters while performing the essential functions of this job. Reasonable accommodations may be made to enable individuals with disabilities to perform the essential functions.

Employees are required to take the Ishihara's Color Blindness test as a condition of employment.  Note that: Failing the Ishihara Test for Color Blindness does not preclude employment. The Company will consider whether reasonable accommodations can be made.

The position provides direct patient care that regularly involves heavy lifting and moving of patients and assisting with ambulation.  Equipment aids and/or coworkers may provide assistance.  This position requires frequent, prolonged periods of standing and the employee must be able to bend over. The employee may occasionally be required to move, with assistance, machines and equipment of up to 200 lbs., and may lift chemical and water solutions of up to 30 lbs. up as high as 5 feet.  There is a two-person assist program and material assist devices for the heavier items.

The work environment is characteristic of a health care facility with air temperature control and moderate noise levels. May be exposed to infectious and contagious diseases/materials.

The position involves travel to and from Nursing Home facilities in a defined geographic location; valid driver's license is required.
EDUCATION:
High School diploma or G.E.D. required.

Successful completion of a training course in the theory and practice of hemodialysis required.

Successful completion of the Staff Assisted Home Hemodialysis Employee Training and Orientation Program.

Successful completion of CPR certification required.

Successful completion of dialysis certification as required.
EXPERIENCE AND REQUIRED SKILLS:
Minimum of two (2) years of Hemodialysis experienced required.

Ability to assist in lifting patients and equipment.

Ability to provide coverage at area facilities during times of short staffing or as required.
EO/AA Employer: Minorities/Females/Veterans/Disability/Sexual Orientation/Gender Identity
Fresenius Medical Care North America maintains a drug-free workplace in accordance with applicable federal and state laws.
View More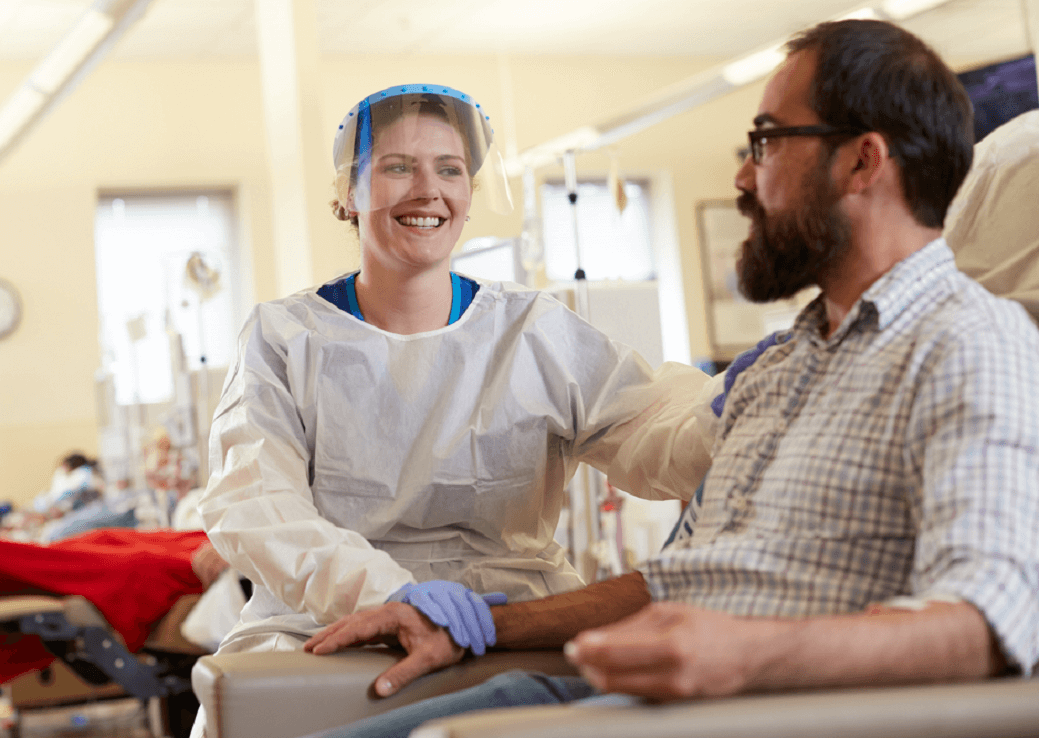 Success Profile
What makes a successful member of our team? Check out the top traits we are looking for and see if you have the right mix.
Commpassionate Patient Care
Empathetic
Team Player
Detail Oriented
Efficient
Responsible

From the patients to the staff, we are very much each other's support system. We see the same patients multiple times a week and we get to know their spouses, children, grandchildren, moms, and dads. You get to know your patients on a human level and see how full their lives are.
Bryan L., Travel Patient Care Technician
We've got your back.
We fully believe that dedication and passion should be recognized and rewarded. That's why we offer a competitive compensation and benefits package to all of our employees. Our benefits provide the flexibility, choice and support you need to be at your best as you play a vital part in helping patients live longer, better and healthier lives.
Healthcare

Healthcare

Medical
Dental
Vision
Healthcare FSA

Dependent Care FSA
Medical
Short/Long-term
Disability

Continuing Education

Continuing Education

Tuition Reimbursement
Defined Career Path (certifications, preceptor opportunities, salary increases at each stage)

Paid Time Off

Paid Time Off

Flexibility in using PTO for vacation, holiday and personal time.

Collaborative Environment

Collaborative Environment

Employee Pride
Valued Team Members
Motivation for Excellence
Respect & Dignity
Openness & Trust

Additional Perks

Additional Perks

Adoption Assistance
Wireless, Automobile and Computer Discounts

401(K) Retirement Saving

401(K) Retirement Saving

Competitive vesting schedules and a company match of 50 cents for each dollar you save up to the first 6% of your salary (3% additional) after one year of employment.
Application Process
We are so glad you are interested in a career with FMCNA! What happens next?
Application & Assessment

First you will need to complete your online application. Some roles may also require an online assessment to be completed.

Review

Then a recruiter will review the applications submitted and select those most aligned with the role to move forward. If selected, The recruiter will contact you to schedule the next step.

Interview

Next, you will participate in phone/video interview(s) with our recruiter & leadership team.

Feedback

The recruiter will provide feedback to you on your interview(s) and update you on any hiring decisions.

Offer

Next, the recruiter will extend a formal offer if you are selected for the position.

Pre-Employment Checks

Lastly, you will accept your offer and complete pre-employment checks and paperwork.
Upcoming Events
Learn more about working at Fresenius Medical Care at an upcoming hiring event near you.
Sign Up For Job Alerts
By signing up for Job Alerts, you'll receive the latest job openings based in your interests, skills and background sent directly to your inbox.
Join Our Talent Network
Joining our Talent Community allows us to send you company news, career event announcements and other career-related information.
By submitting your information, you acknowledge that you have read our privacy policy and consent to receive email communications from Fresenius Medical Care N.A.