Overview
Home Therapies professionals at Fresenius Medical Care provide education and support to patients and caretakers who have chosen home dialysis therapy. This role involves an initial visit to the homes of patients to assess home therapy readiness, as well as training and follow-up visits within the clinic environment. Successful candidates have outstanding customer service skills, a valid driver's license and the desire to positively impact patients' lives by empowering them to treat themselves in the comfort of their own homes.
Job Description
Job ID R0105136
Available Openings 1
PURPOSE AND SCOPE: Provides support and guidance to Home Therapy operations leaders to initiate and optimize the outcome of the special initiatives focused on growth, operations efficiency, quality and strategy of home therapies dialysis programs within a defined scope.
PRINCIPAL DUTIES AND RESPONSIBILITIES:
Acts as subject matter expert providing support and guidance to Home Therapy operations leaders on special initiatives focused on growth, operations efficiency, quality and strategy.
Engages with markets within a defined area of scope that need home therapies expertise, may specialize in areas such as strategic growth initiatives (i.e. urgent start, transitional care units) and transplant management.
Proactively evaluate markets within scope to identify the specialties that are needed to grow the home dialysis business in each market.
Serve as change management champion and project manager, acts as a point of contact for new operations leaders on current home therapies initiatives​.
Provides consultation to operations on scheduling, hiring, cross training, pay practices and market level productivity. Analyzes resources for effective labor management and cost containment strategies.
Responsible for ongoing communication, internal and external, with key stakeholders specific to strategy, results, current activities and issues related to home therapies business objectives.
Maintain current knowledge regarding community and regional healthcare market and industry issues which may impact business. Utilize current knowledge of FMCNA products, services and strategies to market the company and grow the business.
Mentors other staff as applicable, networks with key contacts outside of area of expertise.
Performs other related duties as assigned.
PHYSICAL DEMANDS AND WORKING CONDITIONS:
The physical demands and work environment characteristics described here are representative of those an employee encounters while performing the essential functions of this job.  Reasonable accommodations may be made to enable individuals with disabilities to perform the essential functions.
This job operates in an office setting.  While performing the duties of this job, the employee is regularly required to talk and hear. This role routinely and frequently uses a desk and standard office equipment such as computers, phones, and photocopiers with repetitive motion.
This position requires approximately 25% to 40% travel.
SUPERVISION:
EDUCATION AND REQUIRED CREDENTIALS:
Bachelor's Degree; Advanced Degree preferred or an equivalent combination of education and experience
EXPERIENCE AND SKILLS:         
8 – 12 years' related experience or an equivalent combination of education and experience. Clinical knowledge and experience is preferred.
Demonstrated project management, relationship management, and process monitoring competencies. Experience matrix organizations is preferred.
Demonstrated initiative at translating strategic concepts and ideas into concrete deliverables.
Exceptional presentation and verbal and written communication skills.
Energetic, self-motivated, innovative thinker with the ability to mentor, work independently and collaborate with a positive can-do attitude.
View More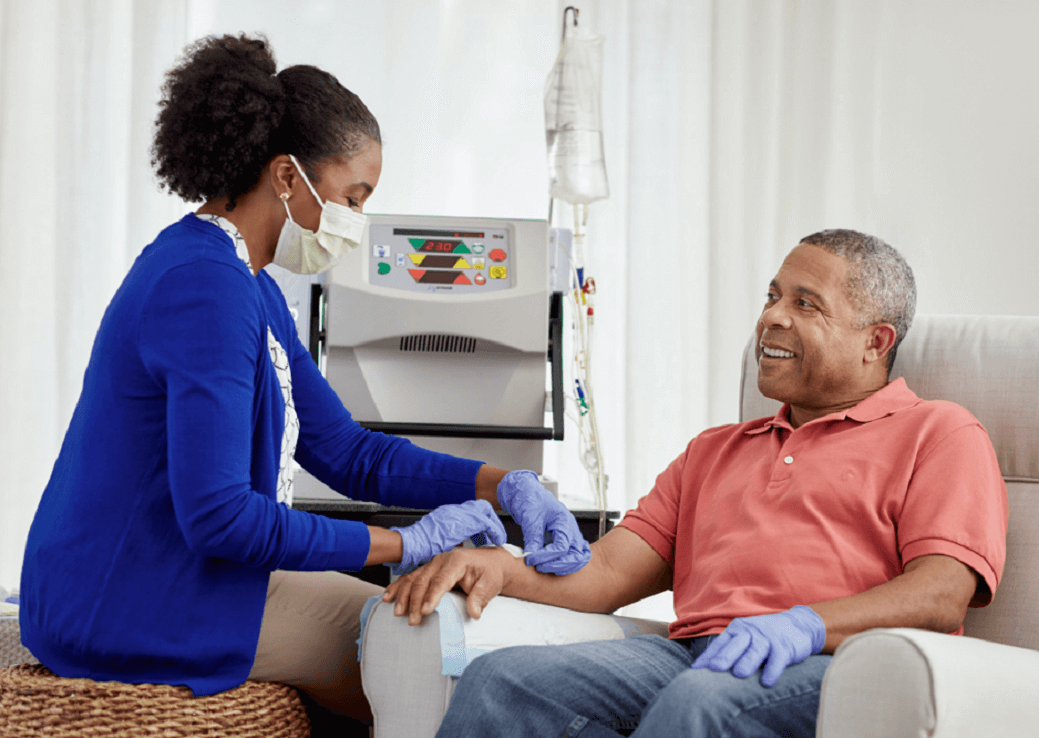 Success Profile
What makes a successful member of our team? Check out the top traits we are looking for and see if you have the right mix.
Facilitator
Leadership
Patient
Motivational
Understanding
Helpful

I see these people when they start, and when they're over that hump my heart just...I can't even describe it. It's just amazing.

Joanne S., Registered Nurse
We've got your back.
We fully believe that dedication and passion should be recognized and rewarded. That's why we offer a competitive compensation and benefits package to all of our employees. Our benefits provide the flexibility, choice and support you need to be at your best as you play a vital part in helping patients live longer, better and healthier lives.
Healthcare

Healthcare

Medical
Dental
Vision
Healthcare FSA
Dependent Care FSA

Medical
Shore/Long-term
Disability

Continuing Education

Continuing Education

Tuition Assistance and CEU reimbursements ($500/year for full‑time; $350/year for part‑time)

Paid Time Off

Paid Time Off

Flexibility in using PTO for vacation, holiday and personal time.

Collaborative Environment

Collaborative Environment

Employee Pride
Valued Team Members
Motivation for Excellence
Respect & Dignity
Openness & Trust

Additional Perks

Additional Perks

Adoption Assistance
Wireless, Automobile and Computer Discounts

401(k) Retirement Saving

401(k) Retirement Saving

Competitive vesting schedules and a company match of 50 cents for each dollar you save up to the first 6% of your salary (3% additional) after one year of employment.

Application Process

We are so glad you are interested in a career with FMCNA! What happens next?

Application & Assessment

First you will need to complete your online application. Some roles may also require an online assessment to be completed.

Review

Then a recruiter will review the applications submitted and select those most aligned with the role to move forward. If selected, The recruiter will contact you to schedule the next step.

Interview

Next, you will participate in phone/video interview(s) with our recruiter & leadership team.

Feedback

The recruiter will provide feedback to you on your interview(s) and update you on any hiring decisions.

Offer

Next, the recruiter will extend a formal offer if you are selected for the position.

Pre-Employment Checks

Lastly, you will accept your offer and complete pre-employment checks and paperwork.

Upcoming Events

Learn more about working at Fresenius Medical Care at an upcoming hiring event near you.

Sign Up For Job Alerts

By signing up for Job Alerts, you'll receive the latest job openings based in your interests, skills and background sent directly to your inbox.

Join Our Talent Network

Joining our Talent Community allows us to send you company news, career event announcements and other career-related information.

By submitting your information, you acknowledge that you have read our privacy policy and consent to receive email communications from Fresenius Medical Care N.A.