Registered Dietitians at Fresenius Medical Care build trusting relationships with patients and their families. That trust paves the way for dietary education and planning that directly affects patients' quality of life. Responsibilities include completing patient assessments, creating patient-specific nutritional plans, and providing ongoing nutritional support. All this is done in a multi-disciplinary environment where information from both patients and co-workers contribute to success. Qualified candidates are excellent listeners with a current RD license and prior clinical dietitian experience.
Job Level: Mid-level
Travel: Minimal
Success Profile
What makes a successful member of our team? Check out the top traits we are looking for and see if you have the right mix.
Compassionate 10
Trustworthy 9
Facilitator 9
Persuasive 8
Good Listener 8
Patient 7
Traits are on a scale of
0
to
10
Communicator
Motivational
Perceptive
Personable
Positive
Problem-solver
Relationship expertise
Understanding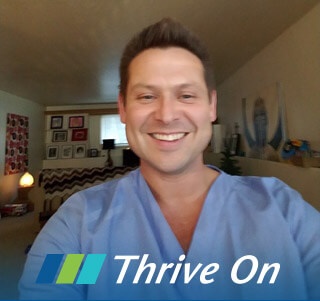 We are partnering with them for their care, and we have to work with them to make sure that they get the best care possible.
Lori K., Registered Dietitian
Trending
A day in the life of an FMCNA dialysis clinic

Employee support, enthusiasm and engagement at FMCNA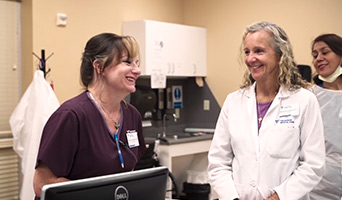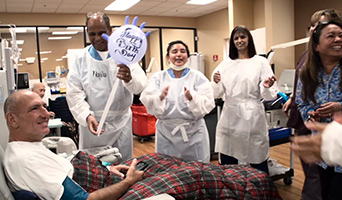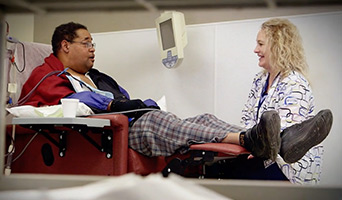 Rewards
Healthcare

Medical • Dental • Vision Healthcare FSA Dependent Care FSA Short- and Long-term Disability

Continuing Education

Tuition Assistance and CEU reimbursements ($500/year for full-time; $350/year for part-time)

Paid Time Off

Flexibility in using PTO for vacation, holiday and personal time. PTO can also be reimbursed for cash for up to 80 hours per year.

Collaborative Environment

Employee Pride Valued Team Members Motivation for Excellence Respect & Dignity Openness & Trust

Additional Perks

Adoption Assistance Wireless, Automobile and Computer Discounts Discount Fitness Program

401(K) Retirement Saving

Competitive vesting schedules and a company match of 50 cents for each dollar you save up to the first 6% of your salary (3% additional) after one year of employment.
Responsibilities
Lexington, Kentucky
Job ID
19000EB0
Available Openings
1
PURPOSE AND SCOPE:
Supports FMCNA's mission, vision, core values and customer service philosophy.  Adheres to the FMCNA Compliance Program, including following all regulatory and FMS policy requirements.
Supports the delivery of excellent nutritional care to patients by providing direction, guidance and support to facility dietitians in an assigned area.  Acts as a resource and subject matter expert to assist in the improvement of quality outcomes.  Acts as the liaison between dietitians and management in the region/area to be covered.  May carry a reduced patient load providing nutritional services for the facility's in-center and home patients as applicable in order to maximize the patient's nutritional status and improve clinical outcomes.
DUTIES / ACTIVITIES:
CUSTOMER SERVICE:
Responsible for driving the FMS culture through values and customer service standards.
Accountable for outstanding customer service to all external and internal customers.
Develops and maintains effective relationships through effective and timely communication.
Takes initiative and action to respond, resolve and follow up regarding customer service issues with all customers in a timely manner.
PRINCIPAL RESPONSIBILITIES AND DUTIES
Provides general direction, guidance and feedback based upon professional standards and FMCNA guidelines to support dietitians within the assigned area in achieving the desired outcomes in the following: quality, patient satisfaction, teamwork, unit culture, and employee satisfaction.
Provides communication and training required for facility dietitians to meet clinical competencies, policies and procedures individually and/or through regional/area meetings. Facilitates implementation of FMCNA continuing education training opportunities to enhance the practice of all dietitians.
Coordinates orientation and training of all new dietitians within the assigned region/area with the assistance of Education Coordinators, Clinical Managers, facility dietitians, and other disciplines.
Monitors achievement of FMS quality outcomes within the assigned region/area and facilitates the development of quality assessment and performance improvement projects pertaining to nutrition to achieve standards identified in CMS Conditions for Coverage and FMS quality program requirements
Attends and participates in regional and team meetings as appropriate which may include: quality team building and staff development and other meetings as appropriate.  Collaborates with appropriate regional management staff as needed to achieve effective inter-disciplinary and intra-disciplinary relationships.
Collaborates with Corporate Dietitian, Nutrition Services Advisory Board and other Lead Dietitians to target projects, design interventions and develop standardized nutrition counseling tools and education materials.
Coordinates standardization of nutrition documentation (monthly nutrition notes and other appropriate documentation to meet CMS Conditions for Coverage and FMS policies).
Works with regional management to ensure dietitian coverage assuming responsibility for enlisting dietitian coverage at dialysis facilities within the assigned region/area during times of dietitian leave of absences, vacations, census increases and vacancies.
Collaborates in the staffing of nutrition services. Provides input for staff RD's formal performance evaluations, and provides information feedback to the dietitian throughout the year.
Consult with FMS Corporate Dietitian as needed regarding nutrition services concerns.
Other duties pertaining to nutrition services.
PHYSICAL DEMANDS AND WORKING CONDITIONS:
The physical demands and work environment characteristics described here are representative of those an employee encounters while performing the essential functions of this job.  Reasonable accommodations may be made to enable individuals with disabilities to perform the essential functions.
Day to day work includes desk and personal computer work and interaction with patients, facility staff and physicians.  The position requires travel between assigned facilities and various locations within the community.  Travel to Regional, Division and Corporate meetings may be required.
The work environment is characteristic of a health care facility with air temperature control and moderate noise levels.  Employee may be exposed to infectious and contagious diseases/materials.
EDUCATION:
Registered Dietitian as per Commission on Dietetic Registration. 
Current state licensure, if applicable. 
EXPERIENCE AND REQUIRED SKILLS:
2-3 years dialysis experience.
Certification as Renal Nutrition Specialist (CSR) preferred.
Basic computer skills required.
Demonstrated leadership competencies and skills for the position, including ability to teach, strong organizational skills, excellent communication, customer service, relationship development, results orientation, team building and decision-making.
Maintains professional demeanor and presentation.
Ability to work independently taking the initiative to develop projects, motivate other team members, and gain support and input from team members in an unstructured environment.
EO/AA Employer: Minorities/Females/Veterans/Disability/Sexual Orientation/Gender Identity
&nbsp
Fresenius Medical Care North America maintains a drug-free workplace in accordance with applicable federal and state laws.