Home Therapies professionals at Fresenius Medical Care provide education and support to patients and caretakers who have chosen home dialysis therapy. This role involves an initial visit to the homes of patients to assess home therapy readiness, as well as training and follow-up visits within the clinic environment. Successful candidates have outstanding customer service skills, a valid driver's license and the desire to positively impact patients' lives by empowering them to treat themselves in the comfort of their own homes.
Job Description
Kenner, Louisiana
Job ID R0028474
PURPOSE AND SCOPE:
Entry level position working in the home therapies setting under the oversight of the HTRN to assist in coordinating patient appointments and ensuring an outstanding patient experience. Will serve as the point of contact as it relates to the patient's appointment from check in to departure including supporting the Patient Care Teams' needs.
PRINCIPAL DUTIES AND RESPONSIBILITIES:
Assists with administrative duties related to the patient's appointment:
Greets new and existing patients and notifies Patient Care Team of their arrival.

Schedules appointments and places appointment reminder calls; including scheduling appointments for access placement and removal.

Answers home therapy program calls and follows up on voice mails with the applicable care team member. 

Coordinates transportation assistance as needed.

Prepares room/ space for patient arrival: Ensuring space is clean and meets FMCNA Infection Control standards.

Places supply orders and follows up on any patient related orders with customer service, as needed.

Medical Director follow up assistance: MD billing, chart reminders, credentialing, orders and care plan meetings. 

Prepares needed items for each patient including education materials and lab supplies. Tracks extension set changes, vaccine due dates and hospitalizations.

Tracks transplant referral and any follow up needed.

Ensures patients' records are available for review.

Assists with other administrative duties as assigned.
Assists HT RN with the following during patient appointments:
Assists patients as needed to and from the waiting area.

Obtains height, weight and vital signs.  

Performs venipunctures for laboratory testing ONLY.

Processes laboratory samples.

Follows up on referrals and additional appointments needed from patient appointment.

Documents patient information as applicable.
Responsible for record and supply room maintenance including but not limited to the following:
Files and uploads records.

Stores documents.

Tracks transfer set changes, Kt/Vs, CIA, POC home visits, vaccines, hospitalizations, infections and monthly education.

Tracks MD and employee certifications, licensures and annual skills.

Medical record retention checklist.

Transplantation-lab collecting and tracking.

Checks for expired medications, lab tubes and supplies.

Counting and ordering nonprescription supplies.

Assists in ordering supplies including medication
In addition:
Reviews and complies with the Code of Business Conduct and all applicable company policies and procedures, local, state and federal laws and regulations.

Keeps assigned areas cleaned and stocked for future patient appointments.

Assures confidentiality of patient information and medical records.

Participates as part of Care Team Hub in addition to other assigned duties as assigned.
PHYSICAL DEMANDS AND WORKING CONDITIONS:
The physical demands and work environment characteristics described here are representative of those an employee encounters while performing the essential functions of this job. Reasonable accommodations may be made to enable individuals with disabilities to perform the essential functions.

Employees are required to take the Ishihara's Color Blindness test as a condition of employment. Note that: Failing the Ishihara Test for Color Blindness does not preclude employment. The Company will consider whether reasonable accommodations can be made.

This position requires frequent, prolonged periods of being in front of a computer as well as phone work.

The work environment is characteristic of a health care facility with air temperature control and moderate noise levels.

Maybe exposed to infectious and contagious diseases/materials.

This position requires frequent, prolonged periods of standing and the employee must be able to bend over.

The employee may occasionally be required to push and/or pull equipment, exerting up to 15 pounds of force. The employee may be required to lift and to lower solutions on a frequent basis of up to 30 lbs., and on an occasional lift basis up to 40 lbs., as high as 5 feet. There is a two-person assist program and material assist devices for the heavier items

May be required to travel to assist in other local Home facilities in the region.
SUPERVISION:
EDUCATION AND REQUIRED CREDENTIALS:
High School Diploma or G.E.D required
EXPERIENCE AND SKILLS:
0 to 6 months experience preferred

Entry level position with strong interest in working in a health care setting.

Prior experience in a physician office or hospital preferred.

Excellent communication skills; both verbal and written.

Proficient in MS Office Suite preferred.
EO/AA Employer: Minorities/Females/Veterans/Disability/Sexual Orientation/Gender Identity
Fresenius Medical Care North America maintains a drug-free workplace in accordance with applicable federal and state laws.
View More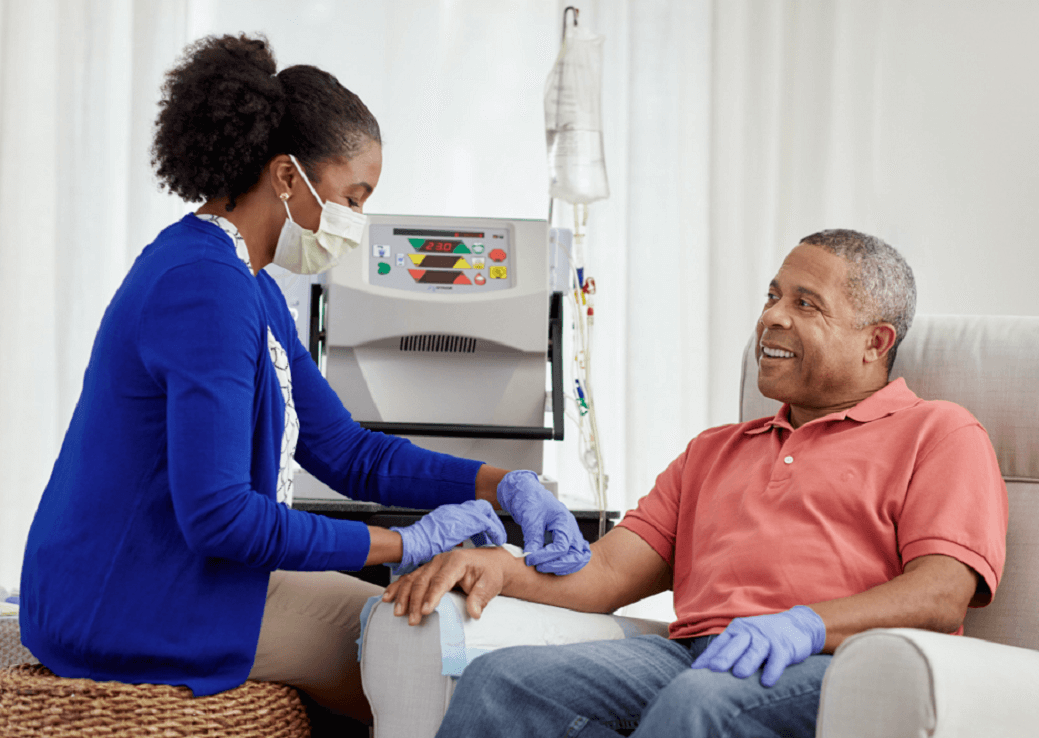 Success Profile
What makes a successful member of our team? Check out the top traits we are looking for and see if you have the right mix.
Facilitator
Leadership
Patient
Motivational
Understanding
Helpful

I see these people when they start, and when they're over that hump my heart just...I can't even describe it. It's just amazing.
Joanne S., Registered Nurse
We've got your back.
We fully believe that dedication and passion should be recognized and rewarded. That's why we offer a competitive compensation and benefits package to all of our employees. Our benefits provide the flexibility, choice and support you need to be at your best as you play a vital part in helping patients live longer, better and healthier lives.
Healthcare

Healthcare

Medical
Dental
Vision
Healthcare FSA
Dependent Care FSA

Medical
Short/Long-term
Disability

Continuing Education

Continuing Education

Tuition Assistance and CEU reimbursements ($500/year for full‑time; $350/year for part‑time)

Paid Time Off

Paid Time Off

Flexibility in using PTO for vacation, holiday and personal time.

Collaborative Environment

Collaborative Environment

Employee Pride
Valued Team Members
Motivation for Excellence
Respect & Dignity
Openness & Trust

Additional Perks

Additional Perks

Adoption Assistance
Wireless, Automobile and Computer Discounts

401(K) Retirement Saving

401(K) Retirement Saving

Competitive vesting schedules and a company match of 50 cents for each dollar you save up to the first 6% of your salary (3% additional) after one year of employment.
Application Process
We are so glad you are interested in a career with FMCNA! What happens next?
Application & Assessment

First you will need to complete your online application. Some roles may also require an online assessment to be completed.

Review

Then a recruiter will review the applications submitted and select those most aligned with the role to move forward. If selected, The recruiter will contact you to schedule the next step.

Interview

Next, you will participate in phone/video interview(s) with our recruiter & leadership team.

Feedback

The recruiter will provide feedback to you on your interview(s) and update you on any hiring decisions.

Offer

Next, the recruiter will extend a formal offer if you are selected for the position.

Pre-Employment Checks

Lastly, you will accept your offer and complete pre-employment checks and paperwork.
Upcoming Events
Learn more about working at Fresenius Medical Care at an upcoming hiring event near you.
Sign Up For Job Alerts
By signing up for Job Alerts, you'll receive the latest job openings based in your interests, skills and background sent directly to your inbox.
Join Our Talent Network
Joining our Talent Community allows us to send you company news, career event announcements and other career-related information.
By submitting your information, you acknowledge that you have read our privacy policy and consent to receive email communications from Fresenius Medical Care N.A.