Inpatient RNs at Fresenius Medical Care perform dialysis treatments on an acute patient population in a hospital setting, including ICU, ER and Med/Surg units. What makes this role truly unique is the level of autonomy you'll enjoy. Inpatient nurses are specifically accountable for administering and assessing each patient's treatment plan. And because dialysis is a critical treatment for many hospital procedures and health conditions, you'll have the opportunity to work with a wide variety of patients. Ideal candidates possess leadership skills and independence needed to make quick decisions in a fast-paced environment. Six months to one year of dialysis experience and some form of critical care nursing experience are also required.
Job Level: Experienced/Non-Managerial
Travel: Local Travel Required
Job Description
Guam
Job ID
210006Q0
Available Openings
1
PURPOSE AND SCOPE:
Ensure the provision of quality patient care to all hospitalized patients in the most efficient manner in accordance with company policy. Provides direct supervision and coordination of inpatient staff. Responsible for low volume monthly treatments. Utilizes the FMC mission, core values and customer service philosophy to ensure quality service while maintaining a high level of efficiency management.
PRINCIPAL DUTIES AND RESPONSIBILITIES:
Manage the tactical execution of short- and long-term objectives through the coordination of activities with a direct responsibility for results, including costs, methods, and staffing. Monitor costs/spending in all areas including medical supply inventory, personnel and accounts payable. Determine innovative ways to reduce costs and maintain quality.
Ensures proper staffing and operations at all contracted facilities. Ensure efficient staff/ patient scheduling and efficient staffing utilization following company policy while maintaining a safe environment.
Provide leadership, coaching and development plans for all direct reports to maintain an engaged and productive workforce; partnering with Human Resources on employee matters.
Acts as an advisor to subordinate(s) to meet schedules and/or resolve technical problems. Responsible for hiring, coaching and counseling employees, including performance reviews, development, disciplinary action and terminations.
Technically proficient in the specific department and knowledge of industry practice and business principles. Works on issues of diverse scope where analysis of situation or data requires evaluation of a variety of factors, including an understanding of current business trends. Reviews profit and loss statements for greater understanding of specific department performance.
Responsible for Acute Care Electronic System (ACES) include the following:
Takes initiative and action to respond, resolve and follow up regarding customer service issues with all customers in a timely manner.
Collaborate with contracted facility representatives to maintain a state of survey readiness for internal and external agency surveys. Work with contracted facility (ies) to resolve specific department issues as suggested/directed as a result of a survey.
Maintains and prepares QAI data and presentations. Participates and presents at meetings with internal and external representatives, often leading a collaborative effort among members of a project team. Assures provision of facility specific QAI information as appropriate.
Interacts with internal departments and external customers; particularly in problem resolution and acting as the industry expert on behalf of the customer.
Ensures compliance with hospital regulations and participates in surveys conducted by TJC, CMS, OSHA and other agencies.
Ensure a proper orientation and training program for all clinical and technical staff. Ensure that continuing in-services are provided to all clinical and technical staff. Maintain documentation of all training.
Conduct and document acute staff meetings on a regular basis.
Ensures provision of dialysis and related services such as hemoperfusion, apheresis, continuous renal replacement therapies, peritoneal dialysis, and UF complete if contracted to do so.
Ensures that treatment information is documented appropriately by staff performing treatments and oversees billing for services performed is timely and accurate.
If appropriately licensed, performs treatments as necessary to assist in times of high census, staffing shortages, and/or to assist with managing staffing costs as appropriate.
Confer routinely with Technical Program Manager and Technical Operations Manager to ensure preventative maintenance program for routine machine maintenance, to ensure the timely repair of disabled machines, to coordinate infection control measures, routine culturing, water testing, logging of results, transportation of equipment and supplies and communicate technical information to the staff.
Ensure all acute treatments are performed in contracted hospitals according to the established policies and procedures and in compliance with all applicable regulatory requirements.
Ensure efficient utilization of supplies and equipment.
Assist with various projects as assigned.
Other duties as assigned.

Additional responsibilities may include focus on one or more departments or locations. See applicable addendum for department or location specific functions.
PHYSICAL DEMANDS AND WORKING CONDITIONS:
The physical demands and work environment characteristics described here are representative of those an employee encounters while performing the essential functions of this job. Reasonable accommodations may be made to enable individuals with disabilities to perform the essential functions.
Availability for night and weekend calls/troubleshooting may be necessary to oversee issues as they arise with management of a 24/7/365 service.
Day to day work includes desk and personal computer work and interaction with patients, facility staff and physicians.
The position requires travel between assigned facilities and various locations within the community. Travel to regional, Business Unit and Corporate meetings may be required.
The work environment is characteristic of a health care facility with air temperature control and moderate noise levels. Could possibly be exposed to infectious and contagious diseases/materials.

SUPERVISION:
May be responsible for the direct supervision of various levels of inpatient staff as designated by region.

EDUCATION:
Graduate of an accredited School of Nursing (RN); Advanced degree desirable
Current state licensure as applicable

EXPERIENCE AND REQUIRED SKILLS:
3-5 years' related experience.
3+ years' supervisory or project/program management experience preferred.
EO/AA Employer: Minorities/Females/Veterans/Disability/Sexual Orientation/Gender Identity
&nbsp
Fresenius Medical Care North America maintains a drug-free workplace in accordance with applicable federal and state laws.
View More
Success Profile
What makes a successful member of our team? Check out the top traits we are looking for and see if you have the right mix.
Compassionate 10
Flexible 9
Independent 9
Quick-thinking 8
Patient 8
Responsible 7
Traits are on a scale of
0
to
10

You have a lot of independence...so the doctors trust you. You have to be able to make decisions on your own.
Lesly, Inpatient Services RN
Take a Closer Look
A day in the life of an Inpatient Services Nurse

The history of FMCNA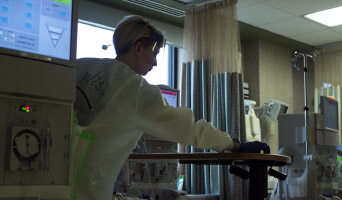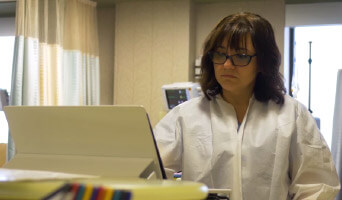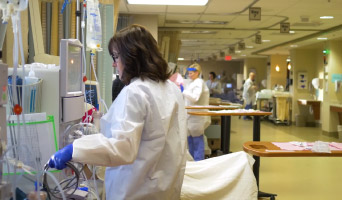 Benefits
HEALTHCARE

Medical
Dental
Vision
Healthcare FSA
Dependent Care FSA
Medical
Short/Long-term Disability

CONTINUING EDUCATION

RN Tuition Assistance Program Clinical Advancement Program (four practice tiers for RNs to advance your career)

PAID TIME OFF

Flexibility in using PTO for vacation, holiday and personal time.

AUTONOMY

The elevated responsibility of Inpatient RNs helps foster confidence and leadership skills, and allows for a more holistic role in the treatment process.

ADDITIONAL PERKS

Adoption Assistance
Wireless, Automobile and Computer Discounts
Discount Fitness Program

401(K) RETIREMENT SAVING

Competitive vesting schedules and a company match of 50 cents for each dollar you save up to the first 6% of your salary (3% additional) after one year of employment.
Sign Up For Job Alerts
By signing up for Job Alerts, you'll receive the latest job openings based in your interests, skills and background sent directly to your inbox.
Join Our Talent Network
Joining our Talent Community allows us to send you company news, career event announcements and other career-related information.
By submitting your information, you acknowledge that you have read our privacy policy and consent to receive email communications from Fresenius Medical Care N.A.