Inpatient RNs at Fresenius Medical Care perform dialysis treatments on an acute patient population in a hospital setting, including ICU, ER and Med/Surg units. What makes this role truly unique is the level of autonomy you'll enjoy. Inpatient nurses are specifically accountable for administering and assessing each patient's treatment plan. And because dialysis is a critical treatment for many hospital procedures and health conditions, you'll have the opportunity to work with a wide variety of patients. Ideal candidates possess leadership skills and independence needed to make quick decisions in a fast-paced environment. Six months to one year of dialysis experience and some form of critical care nursing experience are also required.
Job Description
Job ID JR0007977
Available Openings 1
POSITION FEATURES:
$10,000 Sign On Bonus Offered!  

Looking for Dialysis Experienced Licensed Practical Nurse - LPN
Location: Piedmont  Atlanta (1968 Peachtree Rd. NW Atlanta, GA 30309)
PURPOSE AND SCOPE:
Functions as part of the hemodialysis health care team in providing safe and effective dialysis therapy for assigned patients in accordance with FMCNA policies,procedures, and training and in compliance with regulations set forth by the corporation, state, and federal agencies.
PRINCIPAL DUTIES AND RESPONSIBILITIES:
Patient Related:
Provides patientcare under the direct supervision of Hemodialysis Registered Nurse for assigned patient(s)in the acute setting excluding Intensive Care Units as permitted by state requirements.

Performs all technical aspectsof dialysis procedures for assignedpatients as prescribed to administer and monitor treatments in accordance with currenttreatment plan under the direction of the Hemodialysis RN. Responsible for reporting and documenting all new and unusual incidences, information, complaints, or problems to the RN.

Provides treatments for assignedpatients as assignedto promote and assist in the maintenance of a safe and clean working environment. Supportsthe FMCNA commitment to the QualityEnhancement Program (QEP) and Quality Assessment and Performance Improvement (QAI) Activities; including those related to patient satisfaction and actively participates in process improvement activities that enhancethe likelihood that patientswill achieve the FMCNA QualityEnhancement Goals (QEP).

With documented competency and proficiency, the LPN/LVN may set up and prime equipment as directed by the Hemodialysis RN for renal replacement therapies (hemodialysis, continuous renal replacement, and peritoneal dialysis therapies).

Evaluates vascular accessfor patency; obtainsnecessary pre and post treatment vital signs and weight; performsvascular access cannulation as defined by the state and reports any difficulties or unusual findings to the Hemodialysis RN.

Responsible for accuratedocumentation of information related to the patient treatment.This information is documented appropriately in the individual patient record to include the hospitalElectronic Medical System (EMS) and the Acute Care Electronic System (ACES).

Responsible for reporting any significant information, change in patient condition, or equipment problemsto the Hemodialysis RN.

Responsible for ensuringappropriate safety alarms are being used for every treatment.

Records accurate and timelyinformation regarding vital signs and treatment parameters onto the Hemodialysis Treatment recorded in the EMS and ACES.

Initiates renal replacement treatment according to prescribed ordersincluding setting bloodflow rate (QB) and dialysate flow rate (QD).

Collects, labels specimens and ensurestimely delivery of laboratory per facilitypolicy.

Identifies intradialytic problems and provides intervention as prescribed by physician's order or as directed by Hemodialysis RN.

Performs and documents any interventions for the patient, documentspatients' response to intervention, and reports any changes or unusual findingsto the Hemodialysis RN.

Evaluates patient's vascular access during treatment includingarterial and venous monitoringpressures, provides appropriate intervention as needed, documents,discontinues dialysistreatment according to established procedures and reports any unusual findingsto the Hemodialysis RN.

Evaluates patient prior to termination of venous access - obtains blood pressureprior to termination of venous access; obtains hemostasis and appliesappropriate dressings; evaluatesthe patient prior to dischargeand reports any unusual findings to the Hemodialysis RN.

Performs pre and post dialysis evaluation, weight and vital signs with initial identification and reports findings to RN for documentation and any necessary follow up.

Initiates basic CPR measuresin the event of cardiacand/or pulmonary arrest and respond to emergency situations related to dialysis treatment. Responsible for re-enforcing education the patientsreceived by the RN.
Technical:
Safely operates dialysis related equipmentaccording to the proper procedures.

Provides trouble shootingwhen necessary.

Ensures a clean, safe and sanitaryenvironment in the dialysisfacility treatment area.

Ensures blood spills are immediately addressed according to FMCNA Bloodborne Pathogen Control Policies.

Operates all emergency equipment effectively and efficiently in accordance to the standard operationprocedures.
Staff Related:
Participates in staff meetingsas scheduled.

Participatesin staff trainingand orientation of new employees as assigned.

Acquires information and knowledge in currentpractice relatedto dialysis principals and technique by participating in scheduled in-service classes.
Additional:
Performs additional duties as assignedby Program Manager.
PHYSICALDEMANDS AND WORKINGCONDITIONS:
The physical demandsand work environment characteristics described here are representative of those an employee encounters while performing the essential functionsof this job. Reasonable accommodations may be made to enable individuals with disabilities to performthe essential functions.

Day to day work includes desk and personal computerwork and interaction with patients, facility staff and physicians.

This position requires frequent,prolonged periods of standingand the employee must be able to bend over.

The positionprovides direct patient care that regularlyinvolves heavy lifting and moving of patients, and assistingwith ambulation.Equipment aids and/or coworkers may provide assistance. The employeemay occasionally be requiredto move, with assistance, machinesand equipment of up to 200 lbs., and may lift chemical and water solutions of up to 30 lbs.

The work environment is characteristic of a health care facility with air temperature control and moderatenoise levels. May be exposedto infectious and contagious diseases/materials.

The positionrequires travel betweenassigned locations and various locations within the community.

Travel to meetingsmay be required.
EDUCATION:
Graduate of an accredited School of Practical Nursing (LPN, LVN).

Current appropriate state licensure.
EXPERIENCE AND REQUIRED SKILLS:
Minimum of one year medical-surgical nursingexperience. Six monthsof hemodialysis experience preferred but not required.

Successful completion of a training coursein theory and practiceof hemodialysis.

Successful completion of CPR Certification.

Certified ClinicalHemodialysis Certification preferred or obtained within first year of employment.

Employees are requiredto take the Ishihara's Color Blindness test as a condition of employment. Note that: Failing the Ishihara Test for Color  Blindnessdoes not preclude employment. The Company will consider whetherreasonable accommodations can be made.

Effective communication skills - both verbal and written.
EO/AA Employer: Minorities/Females/Veterans/Disability/Sexual Orientation/Gender Identity
Fresenius Medical Care North America maintains a drug-free workplace in accordance with applicable federal and state laws.
Read More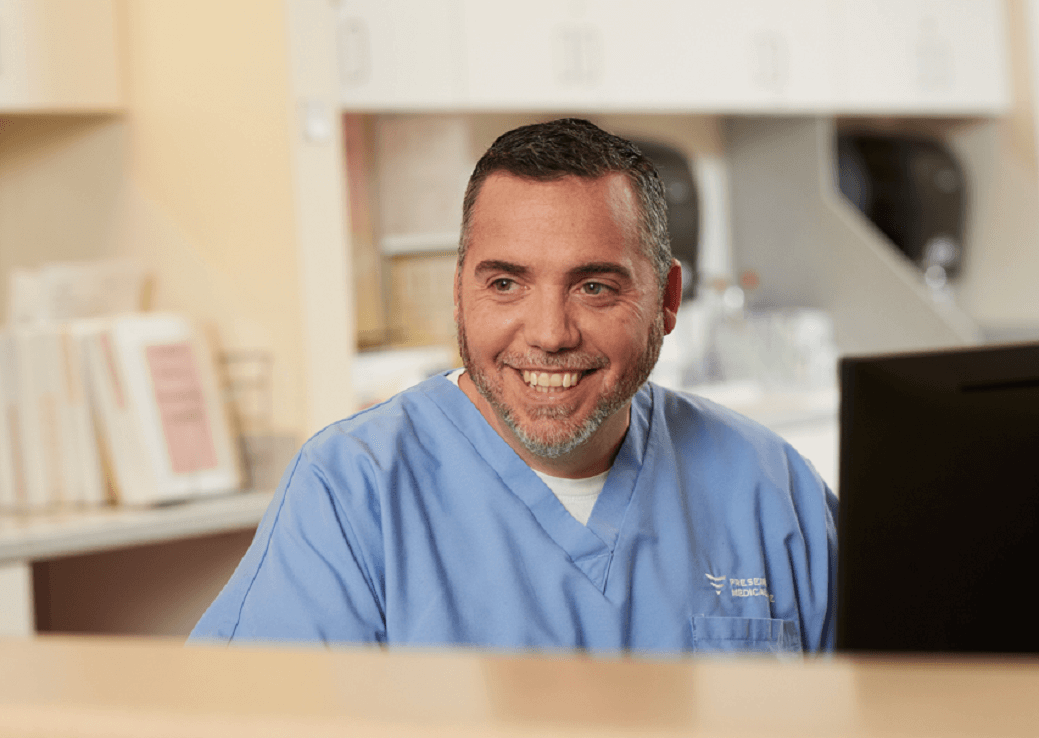 Success Profile
What makes a successful member of our team? Check out the top traits we are looking for and see if you have the right mix.
Compassionate
Flexible
Independent
Quick-thinking
Patient
Responsible

You have a lot of independence...so the doctors trust you. You have to be able to make decisions on your own.
Lesly, Inpatient Services RN
We've got your back.
We fully believe that dedication and passion should be recognized and rewarded. That's why we offer a competitive compensation and benefits package to all of our employees. Our benefits provide the flexibility, choice and support you need to be at your best as you play a vital part in helping patients live longer, better and healthier lives.
Healthcare

Healthcare

Medical
Dental
Vision
Healthcare FSA
Dependent Care FSA

Medical
Short/Long-term
Disability

Continuing Education

Continuing Education

Tuition Assistance and CEU reimbursements ($500/year for full‑time; $350/year for part‑time)

Paid Time Off

Paid Time Off

Flexibility in using PTO for vacation, holiday and personal time. PTO can also be reimbursed for cash for up to 80 hours per year.

Autonomy

Autonomy

The elevated responsibility of Inpatient RNs helps foster confidence and leadership skills, and allows for a more holistic role in the treatment process.

Additional Perks

Additional Perks

Adoption Assistance
Wireless, Automobile and Computer Discounts

401(K) Retirement Saving

401(K) Retirement Saving

Competitive vesting schedules and a company match of 50 cents for each dollar you save up to the first 6% of your salary (3% additional) after one year of employment.
Application Process
We are so glad you are interested in a career with FMCNA! What happens next?
Application & Assessment

First you will need to complete your online application. Some roles may also require an online assessment to be completed.

Review

Then a recruiter will review the applications submitted and select those most aligned with the role to move forward. If selected, The recruiter will contact you to schedule the next step.

Interview

Next, you will participate in phone/video interview(s) with our recruiter & leadership team.

Feedback

The recruiter will provide feedback to you on your interview(s) and update you on any hiring decisions.

Offer

Next, the recruiter will extend a formal offer if you are selected for the position.

Pre-Employment Checks

Lastly, you will accept your offer and complete pre-employment checks and paperwork.
Upcoming Events
Learn more about working at Fresenius Medical Care at an upcoming hiring event near you.
Sign Up For Job Alerts
By signing up for Job Alerts, you'll receive the latest job openings based in your interests, skills and background sent directly to your inbox.
Join Our Talent Network
Joining our Talent Community allows us to send you company news, career event announcements and other career-related information.
By submitting your information, you acknowledge that you have read our privacy policy and consent to receive email communications from Fresenius Medical Care N.A.