Inpatient RNs at Fresenius Medical Care perform dialysis treatments on an acute patient population in a hospital setting, including ICU, ER and Med/Surg units. What makes this role truly unique is the level of autonomy you'll enjoy. Inpatient nurses are specifically accountable for administering and assessing each patient's treatment plan. And because dialysis is a critical treatment for many hospital procedures and health conditions, you'll have the opportunity to work with a wide variety of patients. Ideal candidates possess leadership skills and independence needed to make quick decisions in a fast-paced environment. Six months to one year of dialysis experience and some form of critical care nursing experience are also required.
Level: Experienced/Non-Managerial
Travel: Local Travel Required
Success Profile
What makes a successful member of our team? Check out the top traits we are looking for and see if you have the right mix.
Compassionate 10
Flexible 9
Independent 9
Quick-thinking 8
Patient 8
Responsible 7
Traits are on a scale of
0
to
10
Consistent
Versatile
Problem Solver
Team Player
Problem Solver
Communicator
Proactive
Organized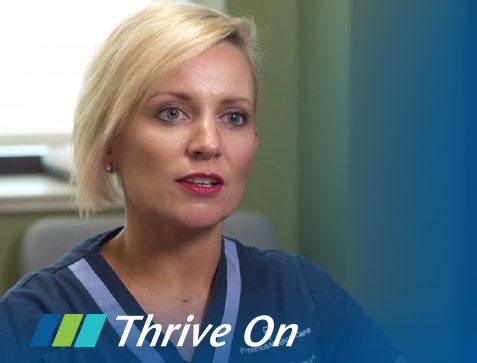 You have a lot of independence...so the doctors trust you. You have to be able to make decisions on your own.
Lesly, Inpatient Services RN
Trending
A day in the life of an Inpatient Services Nurse

The history of FMCNA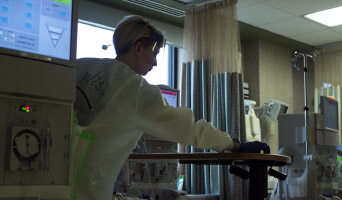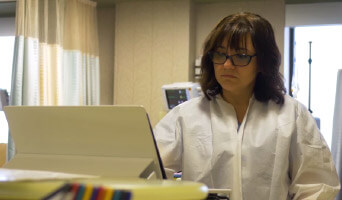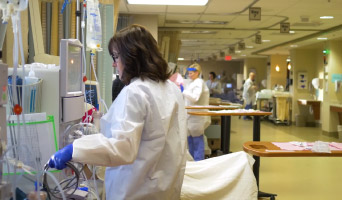 Rewards
Healthcare

Medical • Dental • Vision Healthcare FSA Dependent Care FSA Short- and Long-term Disability

401(K) Retirement Saving

Competitive vesting schedules and a company match of 50 cents for each dollar you save up to the first 6% of your salary (3% additional) after one year of employment.

Continuing Education

RN Tuition Assistance Program
Clinical Advancement Program (four practice tiers for RNs to advance your career)

Paid Time Off

Flexibility in using PTO for vacation, holiday and personal time. PTO can also be reimbursed for cash for up to 80 hours per year.

Autonomy

The elevated responsibility of Inpatient RNs helps foster confidence and leadership skills, and allows for a more holistic role in the treatment process.

Additional Perks

Adoption Assistance
Wireless, Automobile, and Computer Discounts
Discount Fitness Program
Responsibilities
Job ID
18000L8N
Available Openings
3
PURPOSE AND SCOPE:
The Inpatient Services RN functions as part of the Inpatient Services health care team to ensure provision of quality patient care in accordance with FMS policies, procedures, and training. Supports FMCNA's commitment to the Quality Enhancement Program (QEP) and Quality Assurance Initiative (QAI) Activities, including those related to patient satisfaction, through the delivery of care in a specialized care environment.  Areas of practice are diverse, including, but not limited to, the fields of hemodialysis, peritoneal dialysis, continuous renal replacement therapies, and apheresis.  Actively participates in process improvement activities that enhance the likelihood that patients will achieve the FMCNA Quality Enhancement Goals. 
Supports FMCNA's mission, vision, values, and customer service philosophy. Adheres to all requirements of the FMCNA Compliance Program, and FMS patient care and administrative policies, in addition to contracted hospital's policies and procedures.
DUTIES / ACTIVITIES:
CUSTOMER SERVICE:
Responsible for driving the FMS culture through values and customer service standards.
Accountable for outstanding customer service to all external and internal customers.
Develops and maintains effective relationships through effective and timely communication.
Takes initiative and action to respond, resolve and follow up regarding customer service issues with all customers in a timely manner.
PRINCIPAL RESPONSIBILITIES AND DUTIES
General:
Delivers safe and effective patient care in compliance with established company standards; hospital contracted policies and procedures, inpatient renal services policies and procedures, as well as regulations set forth by the corporation, state, and federal agencies.
Responsible for reporting all new or unusual incidents, information, complaints, or problems to the pertinent inpatient program manager and other parties to notify per the Adverse Event Report requirements.
Collaborates with diverse healthcare team.
Provides and requests information from other team members as they receive and discharge patients from care according to policy.
Initiates, documents, and completes ongoing QAI activities including monthly reports as directed by the relevant inpatient program manager
Responsible for the compliance, support and delivery of all relevant company and contracted facility policies and procedures.
Patient Care:
Responsible for direct patient care of assigned patients in the Inpatient Renal Replacement and Apheresis Services setting and providing the appropriate treatment technique for assigned patients as prescribed in all modality procedures, as appropriately defined - hemodialysis, peritoneal dialysis, continuous renal replacement therapies, and apheresis.
Responsible for assessing patient and family understanding of therapy regimen and conducting ongoing education for patients and their families regarding any assessed misunderstandings of therapy requirements facing the inpatient.
Assesses patients' responses to treatment therapy making appropriate adjustments and modifications to the treatment plan as indicated by the appropriately credentialed physician. Communicates problems or concerns to the inpatient program manager, appropriately credentialed physician, patient hospital primary nurse and others as indicated.
Provides, supervises (if applicable), and monitors vascular/peritoneal access care according to established procedures.
Responsible for the implementation, administration, monitoring, and documentation of patient's response to prescribed intradialytic transfusions, including appropriate notification of adverse reactions to physician and appropriate blood supplier.
Collaborates and communicates with physicians and other members of the healthcare team to interpret, adjust, and coordinate daily patient care plan to ensure continuity of care.
Initiates and coordinates communication to FMS facility nursing staff and appropriate hospital personnel as needed.
Ensures all physician orders are transcribed and entered into the medical record in a timely manner.
Accurately documents all treatment information in the individual patient record. 
Reports any significant patient information to the correct health care team member(s) including the physician etc.
May be assigned in-center patients on an as needed basis.
Instructs hospital/facility staff on aspects of specialized care related to renal replacement and apheresis therapies.
Appropriately completes any required documentation and contacts the inpatients chronic facility before hospital discharge to discuss the events of the hospitalization.
Maintenance/Technical:
Promotes and assists in the maintenance of a safe and clean working environment maintaining environmental integrity and aesthetics.
Cleans and disinfects dialysis machine surface, chair, equipment, and surrounding areas between treatments according to inpatient renal services policies and procedures.
Conducts all tasks necessary for preparation for dialysis treatment and documents where appropriate.
Performs all required pre-treatment dialysis machine alarm testing, including Pressure Holding Test (PHT).
If applicable, initiates solution delivery system (SDS).
Prepares, organizes, and efficiently utilizes supplies and equipment to prevent waste.
Operates all related equipment appropriately and safely and provides minor trouble-shooting when necessary
Ensures familiarity with company, inpatient renal services program and contracted hospital emergency procedures.
Understands, conducts and documents appropriately dialysis/apheresis machine safety tests/alarm tests, equipment calibration, dialysate testing, machine safety tests, functional testing, and internal and external disinfection on all water machines, and complies with documentation/notification standards per FMS policies.
Clerical & Administrative
Completes and documents ongoing participation in QAI activities.
Enters all treatment data into the designated medical record thoroughly, accurately and in a timely manner.
Reviews treatment documentation for completeness, ensure nursing signatures are documented, and ensures omitted entries are completed or corrected where appropriate.
Staff Related:
Provides supervisory delegation of patient care to Inpatient Renal Services Patient Care Technicians as appropriate providing expertise and informal feedback as needed.  May provide input to the PCT's annual performance evaluation.
Participates in staff meetings as scheduled.
Participates in the patient's daily plan of care.            
Acts as a resource for all staff members as needed.
Collaborates with FMS employees in a collegial manner to improve patient outcomes.
Participates in staff training and orientation as assigned.
Other:
Other duties as assigned within state, federal and contractual standards
ADDENDUM - ULTRACARE INPATIENT RN 1
Essential Nursing Functions with descriptions of expected behaviors:
POSITION SUMMARY
The registered professional nurse (UltraCare Inpatient RN 1) is accountable and responsible for the provision and coordination of clinically competent care for an assigned group of patients that includes assessment, planning, intervention and evaluation.  As a part of the End Stage Renal Disease (ESRD) health care team, the UltraCare Inpatient RN 1 participates in decision-making, teaching, leadership functions, and quality improvement activities that enhance patient care outcomes and facility operations.  The UltraCare Inpatient RN 1 relies on the experience, judgment and support of others while developing knowledge in CKD nursing practice. The UltraCare Inpatient RN 1 performs all essential functions under the direction of the Clinical Manager and with the guidance from the Educator, Preceptor or an UltraCare Inpatient RN 2, 3, 4 or 5.
Assessment:  Performs ongoing, systematic collection and analysis of Patient Data
Assesses patient status on admission and throughout patient's treatment to obtain data that integrates patient's CKD 5 diagnoses, physical/psychosocial findings, patient/family perceptions of illness and cultural value systems
Assesses patient/family's basic learning needs upon admission and throughout outpatient care related to diagnosis and treatment
Collects pertinent data in a systematic and ongoing process using appropriate evidence based assessment techniques, instruments, monitors and tools
Involves the patient in data collection and includes the family as appropriate
Prioritization of data collection activities is determined by the patient's immediate condition or anticipated needs
Recognizes aspects of patient status that vary from normal and reports to appropriate health team members for input
Documents relevant data in a retrievable format
Outcomes Identification and Planning:  Develops a Plan of Care that prioritizes care using an interdisciplinary approach
       a.) Utilizes basic knowledge of current nursing practice in CKD 5 to carry out developed care plan and provides for continuity of care
       b.) Relies on FMS Quality Enhancement Program metrics to establish expected outcomes from the diagnoses
       c.) Develops daily treatment plan in conjunction with patient and interdisciplinary team, as appropriate
       d.) Documents the plan in a retrievable format
Implementation:  Implements nursing and prescribed medical interventions identified in the plan of care and evaluates patient/family response to treatment
Delivers safe, effective care in a timely and efficient manner
Communicates pertinent patient/family information to members of the interdisciplinary team timely and efficiently
Documents interventions and any modifications of the identified plan of care in a clear, concise and timely manner 
Evaluation:  Evaluates the patient's progress toward attainment of goals, ( the  UltraCare Inpatient RN 1 seeks assistance from the CM and or UltraCare Inpatient RN levels 2-5 )
Evaluates effectiveness of plan of care and interventions in relation to progress toward identified outcomes
Uses ongoing assessment data to revise outcomes and the plan of care as appropriate
Involves the patient, family and the interdisciplinary team in the evaluation process, as appropriate
Documents the results of the evaluation
Time Management: Process of planning exercising conscious control over the amount of time spent on certain activities, to increase effectiveness, efficiency or productivity
Gives organized, concise shift reports for patients on assigned shift
Utilizes down time for the promotion of patient and company goals
Ability to accomplish work within the assigned shift
Organizes and prioritizes assigned workload and care of the patients
PHYSICAL DEMANDS AND WORKING CONDITIONS:
The physical demands and work environment characteristics described here are representative of those an employee encounters while performing the essential functions of this job.  Reasonable accommodations may be made to enable individuals with disabilities to perform the essential functions.
Employees are required to take the Ishihara's Color Blindness test as a condition of employment.  Note that: Failing the Ishihara Test for Color Blindness does not preclude employment. The Company will consider whether reasonable accommodations can be made.
Day to day work includes desk work, computer work and interaction with patients, facility/hospital staff and physicians.  The position requires travel between assigned facilities and various locations within the community and travel to regional meetings may be required.  Position requires on-call rotation. (Night, Weekend or as defined by individual program needs).The work environment is characteristic of a health care facility with air temperature control and moderate noise levels.  There is potential exposure to potentially infectious material and contagious diseases/material.  Position provides direct patient care which regularly involves heavy lifting, moving of patients, and assisting with ambulation(equipment aids and coworkers may provide assistance).  It requires prolonged periods of standing, the ability to bend (provisions to reduce bending, i.e. stool can be made available), to move machines and equipment > 200 lbs., and may lift chemical and water solutions of up to 30 lbs up as high as 5 feet. There is a two-person assist program and "material assist" devices for the heavier items.
EDUCATION
Graduate of an accredited School of Nursing.
Current appropriate state licensure.
Maintains acquired knowledge and remains current in advancements in nephrology - in particular, relative to inpatient care
Must meet the practice requirements in the state in which he or she is employed.
Certification in Nephrology Nursing, Apheresis Nursing or both is highly encouraged
EXPERIENCE AND REQUIRED SKILLS
One year RN experience required and required nursing skills.
Minimum 6 months nephrology experience required before working independently with no other Dialysis RNs.
6 months dialysis preferred if working alongside another Dialysis RN.
6 months dialysis experience required to be on-call.
Demonstrated strong assessment skills related to the critically ill patient.
Demonstrated ability to use critical thinking skills independently as identified by International Profile.
ICU experience preferred but not required.
Successful completion of a training course in the theory and practice of care of the ESRD patient. Basic Dialysis Education program
BLS CPR recognition.
Satisfactorily completes the Inpatient Renal Replacement and Apheresis Education program as described by their position.
Demonstrates ability to complete self directed learning, ability to delegate patient care appropriately, ability to communicate with MD's, RN's, and Hospital Personnel and ability to intervene and treat complications and emergencies independently.
Demonstrates organizational and time management skills, and a competency toward completing continuing and ongoing renal/nephrology education.
Displays leadership skills and ability to direct others.
Successful completion of all required competency testing and skills validation
Familiarity with all emergency operational procedures.
Successful completion of Nurses Technical Training.
EO/AA Employer: Minorities/Females/Veterans/Disability/Sexual Orientation/Gender Identity