The First Impression Is a Lasting One: Working as a Front Desk Coordinator at Azura
Marko, a Front Desk Coordinator with Azura Vascular Care, is the first and last person a patient sees when visiting the Access Care Physicians Center in Woodland Park, NJ. "The first impression is a lasting one, so when a patient checks in, I do my very best to have them walking into the pre-operative area less anxious and feeling secure," says Marko. It's these actions that set the tone for the rest of the patient's visit, and it's why Marko's job at Azura Vascular Care is an important one.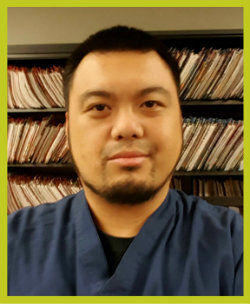 Doctors and nurses have direct involvement with patient care, but Front Desk Coordinators (FDCs) also play an integral role in caring for patients on an administrative and logistical level. FDCs are responsible for handling patients' transportation, solving issues with insurance and billing, answering pre- and post-visit patient questions, and empowering them to feel confident about their experience. When you add all this up, the challenging but rewarding job of an FDC is to provide peace of mind.
Successful FDCs are driven by a need to constantly improve the patient's experience, often going above the job requirements. Marko recalls a time when he did just that:
"I was coordinating transportation for a patient who needed to be seen immediately for a clotted access. They were unsuccessful in finding a ride from family or ambulance services, so I was their next option. I quickly called the dialysis center and informed them of the situation. They were already aware of it but were also unsuccessful in finding transportation.
I called the patient back and told him not to worry, and I assured him that I would find a way to get him to our center. After searching through various local transport companies, I was able to locate and coordinate transport for the patient. Upon the patient's arrival at our building, I went outside with a wheelchair, wheeled him into our office and proceeded to check him in.
Upon discharge, I asked him a few questions about his experience; he simply replied, 'Very good.' I offered him some more beverages while he waited for his transportation to arrive. The nurse and I waited after hours until transport arrived, and we were able to wheel him back to the vehicle to ensure his comfort and safety."
"We are a well-oiled machine in our center. From doctors to nurses, all the way down to FDCs, we take care of patients' needs at all angles, leaving them satisfied when they leave," says Marko.
Born in the Philippines and raised in New Jersey, Marko attributes his success in patient care to his past experiences. Prior to joining Azura Vascular Care, Marko served in the U.S. Marine Corps. "The military paved the way for how I conduct myself as a professional," says Marko. "To go above and beyond the call of duty, to be unrelentingly determined, and to be accountable for my actions are just a few of the values I've inherited from the Corps."
The role of an FDC is a multi-faceted one. On an operational level, you must have superior administrative and logistical skills, but on a larger level, to succeed at Azura Vascular Care you must have a passion for patient care. Hear from other Front Desk Coordinators and learn what they have to say about Azura Vascular Care in our video. If an FDC career sounds like the right fit for you, view our open positions!