Michelle, Staff RN - Massillon, OH
FMCNA employees, nurses and beyond, come from a variety of professional backgrounds, but they all have one thing in common: they've all found success and personal fulfillment working in the dialysis field. That fulfillment is the inspiration for the "Why Dialysis?" series—we're asking FMCNA employees across the country to tell us how working at Fresenius has had a positive impact on their professional development and personal growth.
Michelle, Staff RN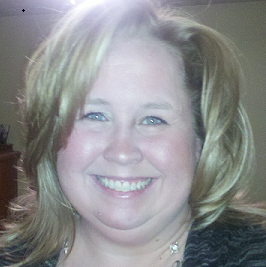 Michelle has been a Staff RN in the Massillon, OH clinic for 2 years. We sat down with Michelle to discuss her work in the clinic and the personal and professional growth she has experienced as a Fresenius employee.
Have you worked as an RN before entering the dialysis field?
Yes, I was a Med/Surg nurse for 13 years. The hospital floor I worked on focused on renal patients, so I've been involved in renal care for my whole career, but since it was Med/Surg, I saw a little bit of everything.
How has working in a dialysis clinic been different than working on a hospital floor?
I got my job in the hospital right out of nursing school and I spent several years there, and I really thought that working on a renal floor in a hospital would give me a huge advantage when I moved into the dialysis field, since I already understood some things like the patients' dietary needs, etc. But dialysis is a whole different world. In a lot of ways, though, working in a hospital was good preparation for the quality of care that's needed for dialysis patients.
I enjoyed working in a hospital because I enjoyed the diversity, but getting to know patients for a just short time and seeing only their short term outcomes didn't feel fulfilling to me. There were a lot of patients in the hospital that I would treat, and after they were discharged, I'd find myself wondering what happened to these people I took care of, because I didn't get to see them come full circle with their recovery.
What I really enjoy about the outpatient clinic is getting to know the patients and their families intimately, and being with them for the long haul. You really do become a part of patients' families, and they become part of yours. You get to know them really well because you're with them through ups and downs in their treatments and in their lives. In dialysis, you establish better relationships that last a lot longer.
"You really do become a part of patients' families, and they become part of yours."
Describe your daily job duties.
I come to the clinic before it opens, but things are happening even before I get there. Technicians are always there setting up machines and mixing water. So, I make sure everything's being set up properly from a technical aspect, and then I'll look at my schedule for the day—if I have patients that have been in the hospital that day, etc.—and I set myself a plan for the day. I print off the necessary reports and other paperwork I'll need for the day, so I can get started off on the right foot. What I do before the doors open sets the tone for the day.
I open the doors and greet my patients. When I escort them to their chairs, I ask them how they're feeling. It's always important to get them talking–I ask them very specific questions so I can assess their needs for that specific treatment. I monitor vital signs every half hour, and the average patient runs about 3 ½ to 4 hours.
Then, the clinic gets busy when our early morning patients leave and I have to clean and prepare for the next patients, who are ready to begin their treatment, all while troubleshooting emergencies, responding to patient questions, and assessing and evaluating the patients both before and after their treatments.
At the end of every day, I sit back and evaluate the day in terms of whether my patients made the goals that I set for them for clearance, dry weight, etc. I make notes about what didn't go as well as it could have–did a patient cramp up, did their blood pressure dip too low–that way I know what I can do better or change about their treatment the next time they come in.
When you work in a clinic, you get to know the patients' needs really well, and a lot of trust develops between you at the patients. You get to know them well enough that just by looking at them, you can tell if something's not going well.
I also maintain good relationships with the doctors, and I keep them informed of anything notable that happens each day. The physicians see their patients only briefly, and they know that those patients are in my hands, so it's important to have a good rapport with them.
What skills are necessary to be a successful Dialysis RN?
Building your dialysis skill set is very important; you need to understand the ways that things as simple as the settings on the machines you're working with can impact patient outcomes. Your assessment skills also have to be really strong. A good dialysis nurse has to be able to look at a patient and observe ten different things about them at the same time. And once you make those observations, you need to think quickly and make quick deductions based on that patient's appearance. That quick thinking is an important part of being confident in the decisions you make about the patient's treatment.
What is your relationship with the technicians in your clinic like?
Nurses really have to value their technicians and not underestimate their knowledge. I try to make my technicians feel valued and like an important part of the team. A lot of the things I've learned about dialysis, I've learned from great technicians.
A nurse is physically able to do everything a technician can do. But for a technician, I understand that this is their job 24/7, and they can probably do it a lot faster and with a lot more skill than I can. It's like when you go to the doctor's office: sure, a doctor can draw your blood, but you'd probably rather have a phlebotomist do it. Dialysis techs are the backbone of the entire unit, and they definitely know what they're doing.
What are some of the challenges you encounter on your job, and what skills are necessary to overcome those challenges?
Some of the biggest challenges in dialysis involve clashing personality types, whether with technicians or with other RNs. If I find that I'm butting heads with a certain type of personality, I try to establish myself as someone who is trustworthy and confident—you can gain the respect of your peers simply through your everyday actions. If you're acting on behalf of patients' needs, and you can explain that to everyone involved, then you can work through any conflict.
"I think that from a lot of aspects—intellectually, emotionally, spiritually—working in dialysis fulfills all my needs as a nurse."
What do you find most rewarding about your job?
The analytical side of me gets a lot of satisfaction from running the numbers: checking my patients' labs every month and making sure their goals have been met. I feel fulfilled using the numbers to ensure that my patients are getting the best care they can get.
Emotionally, I feel fulfilled when a new nurse or tech comes into the job and starts to understand the positive impact their work is having on people. I like watching them go from being timid and unsure and grow into strong leaders who are perfecting their skills.
I also love getting new patients. At first, they're sick, they're sad, their vital signs aren't great. But then, over the first months of treatment, I get to watch them improve. I love when patients get excited when their blood pressure is down at the end of treatment (if they're used to being hypertensive), or when they tell me that they have more energy, or are going back to work because they're finally feeling good. It feels really rewarding to me to see things from the beginning all the way through to achieving the desired outcome.
I think that from a lot of aspects—intellectually, emotionally, spiritually—working in dialysis fulfills all my needs as a nurse.
What do you love most about working at Fresenius?
One thing I like about working at Fresenius is the attention to detail–there is a policy or procedure in place for everything, so Fresenius makes it easy to make the right decision, because the company will always back you.
The company also provides a lot of education, education that's definitely superior to other places I've worked. Fresenius is really good about communicating what's new and evolving, whether within the company or in the practice of nephrology.
Fresenius is cutting edge. We have the most advanced machines, such that you can tell what's going on with your patients down to the cellular level because the tools that are provided by Fresenius help paint a very clear picture.
This is an excellent company to work for. We have very high standards for ourselves, and sometimes those standards are higher than those that the state or other healthcare monitoring agencies set for the industry. I like being a part of a company that has integrity; Fresenius raises the bar in healthcare.
What do you love most about your clinic?
I work in a small clinic in Massillon, OH, and we only work Monday, Wednesday, and Friday. I'm the only nurse here, and there are only four techs who work here. That means that there's a lot of continuity with the care. Patients can be confident that they'll be working with someone they know and trust every time they come in.
Learn more about our open positions in clinics in the Cleveland area.