FMC named to 2015 Forbes' America's Best Employers List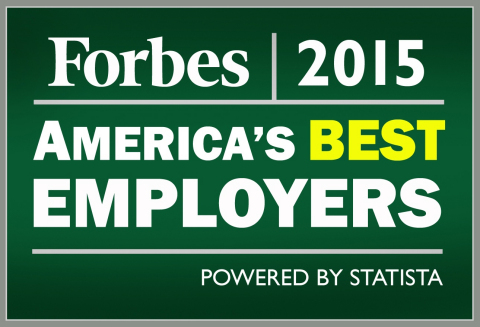 As the country's largest provider of kidney care, our efforts have consistently focused on providing the highest quality care to people with renal and other chronic conditions while also leading the way in transforming the health care system through collaborations and the implementation of new technology.
At the center of these efforts are our dedicated employees whose relentless work allows us to lead the way in renal care. In return, we seek to create a work environment that rewards our employees for their dedication and supports them as they continue their professional journey.
In fact, our determination to achieve these goals landed us on the Forbes America's Best Employers List for 2015. As the only renal care provider to have made the list, we take great pride in knowing that our employees look forward to coming into work each day.
"Our employees are the heart and soul of our business. Every day, the people who work in our clinics, run our pharmacy, manufacture our products and operate our lab dedicate themselves to improving the quality of life of our patients. It is an honor to receive this recognition."
– Ron, Chief Executive Officer of FMCNA
This distinguished recognition came through a voluntary survey completed by more than 20,000 employees at U.S. companies with at least 2,500 employees and reflects the employees' willingness to refer others to their own company.
With more than 65,000 employees in the U.S. and countless opportunities in various clinical and non-clinical fields, why not join a recognized Best Employer and the leader in renal care? Start your search today: http://jobs.fmcna.com/