Educating the Community and Treating Patients of the Future
Registered nurses (RNs) like Terry often bring about change by helping one patient at a time. But thanks to his willingness to partner with a dedicated patient, Terry helped make a difference for 30 young adults with or at risk for diabetes.
Kelley is one of Terry's home hemodialysis (HHD) patients and also one of the managers of the Whispering Pines Camp where Kelley and her care partner Michele host an annual one-week wellness education program for young adults in the area. This year, Kelley wanted to get Terry involved.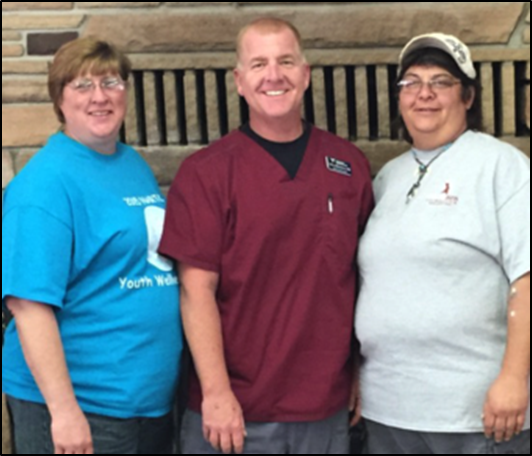 The Medical Wellness Camp, organized by the Native American Research and Training Center at the University of Arizona, has educated Native American youth aged 10-15 for 24 years about diabetes, exercise and healthy lifestyles.
"[Kelley and Michele] wanted to provide something unique and important, something that added to the educational experience for the American Indian community," Terry said.
With Terry's help, Kelley and Michele performed a complete dialysis treatment, from cannulation to take-off, before their young audience. For many in the crowd, the issue hit close to home.
"Many of those present have family members on dialysis or know someone who is," Terry said. "Kelley felt it was important to show them what happens during the treatment."
According to the U.S. Department of Health and Human Services, American Indians and Alaska Natives have the highest rates of diabetes (12 percent) and obesity (39 percent). Their rate of end stage renal disease is also the second highest of all racial/ethnic groups.
With this in mind, "it's important to take charge of our bodies now when we have time to make a change," Terry said.
The demonstration emphasized that with or without diabetes, every individual is responsible for their health, Terry said. It takes a daily commitment towards overall health to prevent ailments in the future.
The demonstration gave Terry the opportunity to do more than treat his patients. He and others like him at FMCNA are catalysts for change, serving the community and spreading awareness about healthy living.
Make an impact in your community and check out Dialysis Nurse careers.