Becoming An Azura Vascular Care Registered Nurse
As a Registered Nurse, considering a field of specialization can be a strategic step to help you reach your career goals. At Azura, our RN role comes with the opportunity to collaborate with the best in the healthcare field and the support and resources to become the best in the field as well.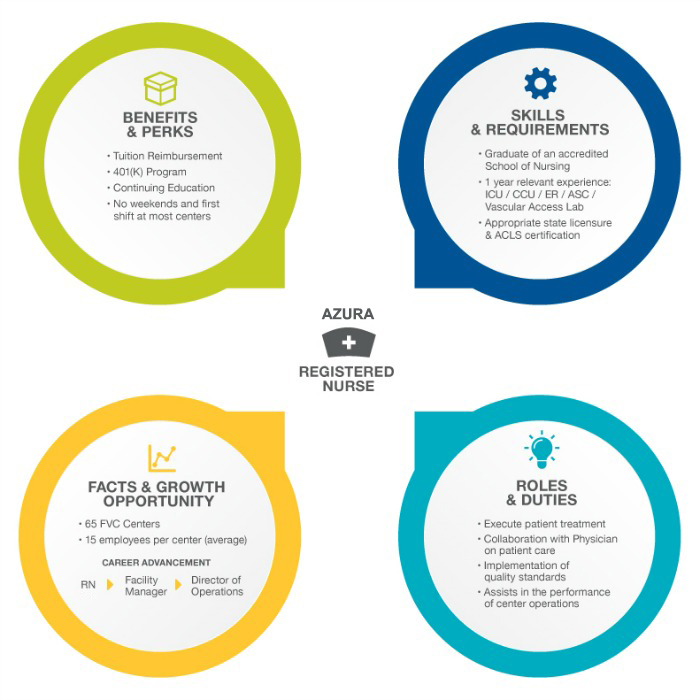 Benefits & Perks
Our benefits have been designed to help you achieve a work/life balance and support you through some of life's most important decisions. Most centers offer first shifts and no weekends so you can spend more time achieving your personal goals. If those goals include continuing education, Azura Vascular Care also offers a substantial tuition reimbursement plan to support you. In the end, we realize that our commitment to supporting our employees needs to match our pledge to providing excellent patient care.
Skills & Requirements
A common misconception about the Azura Vascular Care RN role is the need for previous experience in the vascular field. In reality, a majority of our RNs have no experience in the vascular field but are attracted by the unique opportunities we offer and receive comprehensive training upon hire. If you have at least 1 year's worth of experience as an ICU, CC, ER or ASC nurse, you may already qualify for this role. In addition to work experience, we look for individuals with a passion for helping others, whether they're a patient or a team member.
Roles & Duties
A truly well rounded role, our RN position offers the opportunity to focus on patient care while still collaborating with team members and gaining insights into the Quality Standards followed by clinics. The variety of responsibilities in the RN role at Azura Vascular Care helps develop leadership, organization and communication skills which prepare you for career advancement.
Facts & Growth Opportunity
Investing in people – that's what we do, and it's what sets us apart. As an RN, you'll gain valuable professional experience that can translate into a new opportunity. And with a growing number of centers around the country, we often tap into our current employee base when filling new roles.
Ready to apply? Learn more about our Registered Nurse opportunities at Azura Vascular Care: