Overview
Inpatient RNs at Fresenius Medical Care perform dialysis treatments on an acute patient population in a hospital setting, including ICU, ER and Med/Surg units. What makes this role truly unique is the level of autonomy you'll enjoy. Inpatient nurses are specifically accountable for administering and assessing each patient's treatment plan. And because dialysis is a critical treatment for many hospital procedures and health conditions, you'll have the opportunity to work with a wide variety of patients. Ideal candidates possess leadership skills and independence needed to make quick decisions in a fast-paced environment. Six months to one year of dialysis experience and some form of critical care nursing experience are also required.
Job Description
Job ID R0071843
PURPOSE AND SCOPE:
Functions as part of the hemodialysis health care team as a Registered Nurse Applicant, under the direction or supervision of a Staff Registered Nurse, to ensure provision of quality patient care on a daily basis in accordance with FMS policies, procedures, and training. Supports the FMCNA's mission, vision, values, and customer service philosophy. Supports the FMCNA commitment to the Quality Enhancement Program (QEP) and CQI Activities, including those related to patient satisfaction and actively participates in process improvement activities that enhance the likelihood that patients will achieve the FMCNA Quality Enhancement Goals (QEP). Adheres to all requirements of the FMCNA Compliance Program, and FMS patient care and administrative policies.  Employees hired into this position will be required to obtain their nursing license and registration within the timeframe outlined in state specific regulations, or within 90 days from hire date, whichever comes sooner.
PRINCIPAL DUTIES AND RESPONSIBILITIES:
STAFF RELATED:
Directs Patient Care Technician's provision of safe and effective delivery of chronic hemodialysis therapy to patients in compliance with standards outlined in the facility policy procedure manuals, as well as regulations set forth by the corporation, state, and federal agencies.

Delegates tasks to all direct patient care staff including but not limited to LVN/LPNs, and Patient Care Technicians

Assesses daily patient care needs and develops appropriate patient care assignments.

Routinely monitors patient care staff for appropriate techniques and adherence to facility policy and procedures.

Participates in staff training and orientation of new staff as assigned

Participates in all required staff meetings as scheduled.
PATIENT RELATED:
Education:
Ensures educational needs of patients and family are met regarding End Stage Renal Disease (ESRD).

Provides ongoing education to patients regarding their renal disease, vascular access and dialysis therapy, and other related health conditions.

Discusses with patient, and records education related to diet/fluid and medication compliance.

Provides patient specific detailed education regarding adequacy measures where applicable - Online Clearance Monitoring (OLC), Adequacy Monitoring Program (AMP), Urea Kinetic Modeling (UKM).

Ensures transplant awareness, modality awareness, and drive catheter reduction.

Educates patients regarding laboratory values and the relationship to adequate dialysis therapy, compliance with treatment schedule, medications, and fluid.
Dialysis Treatment:
Provides safe and effective delivery of care to patients with ESRD.

Accurately implements treatment prescriptions including Sodium (Na) modeling prescription, and Ultrafiltration modeling (where appropriate) to ensure stable treatment therapy as indicated.

Assesses patients' response to hemodialysis treatment therapy, making appropriate adjustments and modifications to the treatment plan as indicated by the prescribing physician. Communicates problems or concerns to the Team Leader or physician.

Identifies and communicates patient related issues to Team Leader or physician.

Initiates Initial and Annual Nursing Assessment, and ongoing evaluation and documentation of patient care needs according to FMC Policies and Procedures.

Actively participates in the pre evaluation, initiation, monitoring, termination, access homeostasis, and post evaluation of patients receiving hemodialysis treatment therapy according to established FMC procedures.

Takes appropriate intervention for changes in patient adequacy status and troubleshooting access flow issues as identified by OLC/AMP yellow lights.

Provides, supervises (if applicable), and monitors hemodialysis access care according to established procedures.

Implements, administers, monitors, and documents patient's response to prescribed interdialytic transfusions, including appropriate notification of adverse reactions to physician and appropriate blood supplier.

Ensures accurate and complete documentation by Patient Care Technician on the Hemodialysis Treatment Sheet.
Laboratory-related:
Reviews, transcribes, and enters physician lab orders accurately into the Medical Information System.

Ensures appropriate preparation of lab requisitions for Spectra or alternate lab.

Ensures correct labs tubes are utilized for prescribed lab specimens and that lab draw and processing procedures are performed appropriately for all lab samples.

Identifies and ensures appropriate follow-through regarding missed labs and specimens reported to be insufficient according to company policies and procedures.

Ensures all specimens are appropriately packaged according to Department of Transportation (DOT) policies and procedures relating to shipment of blood or body fluid specimens and potentially hazardous material.

Ensures that all labs are directed and delivered to appropriate labs.

Reports alert/panic and abnormal labs results to appropriate physician.

Ensures lab results are forwarded to physicians as requested.
General duties:
Enforces all company approved policies and procedures, as well as regulations set forth by state and federal agencies and departments.

Maintains overall shift operation in a safe, efficient, and effective manner.

Act as a resource for other staff members.

Routinely meets with the Clinical Manager to discuss personnel and patient care status, issues, and information.

Collaborate and communicate with physicians and other members of the healthcare team to interpret, adjust, and coordinate care provided to the patient.

Provides assistance as needed to patients regarding prescription refills according to FMCNA Policies.

Ensures all physician orders are transcribed and entered into the Medical Information system in a timely manner.

Oversees all documentation of patient information.

Maintains facility drug list for all required stock medications.

Maintains competency with all emergency operational procedures, and initiates CPR and emergency measures in the event of a cardiac and/or respiratory arrest.

Ensures verification and availability of adequate emergency equipment.

Ensures provision of appropriate vaccinations, immunizations, and annual Tuberculosis (TB) testing.

Administers medications as prescribed or in accordance with approved algorithm(s), and documents appropriate medical justification if indicated.

Administers PRN medications as prescribed and completes appropriate documentation of assessment of effectiveness.

Maintains appropriate recording of controlled substances as required by law.

Assists with the coordination of patient transportation if necessary.
MAINTENANCE/TECHNICAL:
Ensures a clean, safe, and sanitary environment in the dialysis facility treatment area.

Ensures competency in the operation of all dialysis-related equipment safely and effectively.

Ensures all patient stations, including machines and chairs, are clean and free of blood and placed appropriately.

Ensures that all blood spills are immediately addressed according to FMCNA Bloodborne Pathogen Control Policies.
MEDICAL RECORDS & DOCUMENTATION:
General
Ensures all relevant data including physician orders, lab results, vital signs and treatment parameters, and patient status are documented appropriately and entered into Medical Information System.

Ensures all appropriate patient related treatment data is entered into the Medical Information System.

Ensures all FMCNA policies regarding patient admission, transfer, and discharge are appropriately implemented.

Ensures and verify accuracy of Patient Care Technician documentation.
Daily
Reviews and ensures appropriate daily completion of Hemodialysis Treatment Sheets by all patient care staff.

Ensures that all appropriate procedures are followed regarding opening and closing procedures, inclusive of monitoring that all staff and patients have safely left the premises.
Monthly
Initiates, documents, and completes ongoing Continuous Quality Improvement (CQI) activities including monthly reports.

Completes monthly nurses' progress note.

Ensures patient medical records are complete with appropriate information, documentation, and identification on each page (Addressograph label is on all chart forms).

Reviews transplant status and follows established procedure regarding appropriate action to be taken.

Completes patient care plans for new patients within the initial 30 days or any patients deemed unstable requiring monthly patient care plans.

Completes any long-term programs that are due. Annually

Completes initial and annual Nursing History and Assessment physical.

Ensures completion of Annual Standing Order Review with each physician as required.
OTHER:
As a condition of continued employment, you are required to obtain and maintain any required credentials or certifications necessary for your position in an active and valid status (including renewal of such credentials or certifications prior to any expiration date). In the event that your credential or certified status changes, you must notify your supervisor immediately.

Capable of working in a challenging environment which requires the ability to handle demanding situations, multitasking, and remaining flexible to changing needs.

Maintain regular and punctual attendance.

Perform other related duties as assigned.
Additional responsibilities may include focus on one or more departments or locations.  See applicable addendum for department or location specific functions.
PHYSICAL DEMANDS AND WORKING CONDITIONS:
The physical demands and work environment characteristics described here are representative of those an employee encounters while performing the essential functions of this job.  Reasonable accommodations may be made to enable individuals with disabilities to perform the essential functions.

The position provides direct patient c

a

r

e

tha

t

regularl

y

involve

s

heav

y

liftin

g and moving of patients and assisting with

ambulation

.

Equipmen

t

aid

s

and/o

r

cow

o

rkers may provide assistance. This po

s

ition requires frequent, prolonged periods of standing and the employee must be able to bend over. The employee may occasionally be required to move, with assistance,

machine

s

an

d

equipmen

t

o

f

u

p

t

o

20

0

lbs.

,

an

d

ma

y

lif

t

chemica

l

an

d water solutions of up to 30 lbs. up as high as 5 feet.
The work environment is characteristic of a

healt

h

car

e

facilit

y

wit

h

ai

r

temperatu

r

e control and moderate noise levels. May

b

e exposed to infectious and contagious diseases/materials.
SUPERVISION:
EDUCATION:
Current appropriate state Temporary Permit.

Must meet the practice requirements in the state employed.
EXPERIENCE AND REQUIRED SKILLS:  
0 – 1 year's related experience.
View More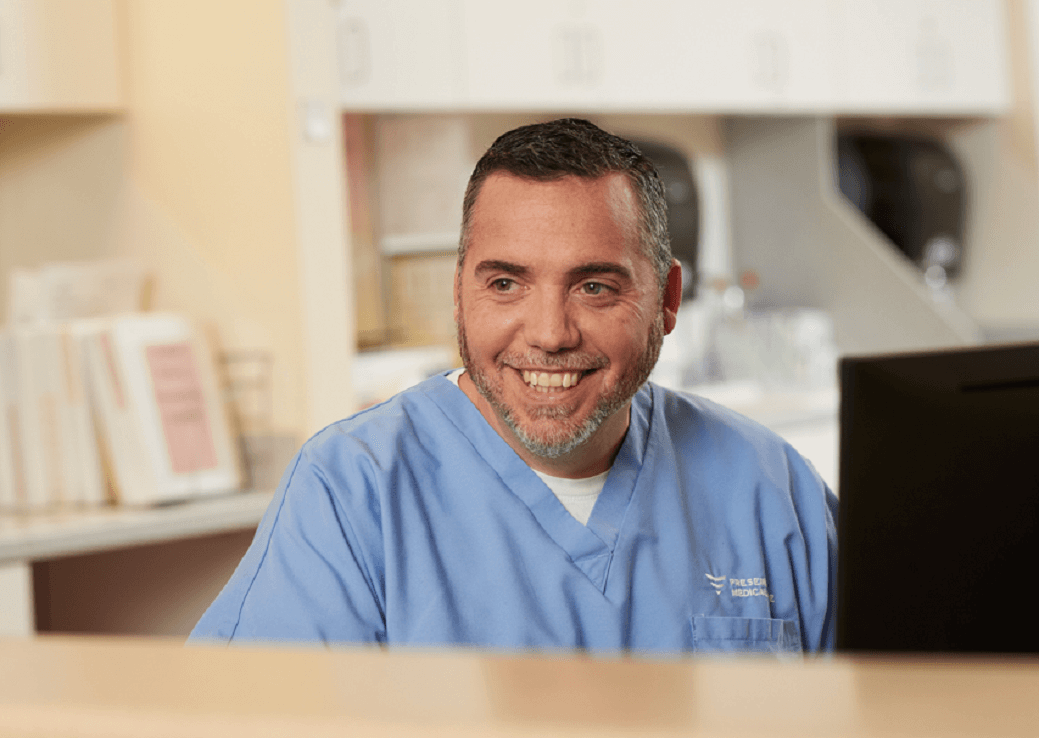 Success Profile
What makes a successful member of our team? Check out the top traits we are looking for and see if you have the right mix.
Compassionate
Flexible
Independent
Quick-thinking
Patient
Responsible

You have a lot of independence...so the doctors trust you. You have to be able to make decisions on your own.

Lesly, Inpatient Services RN
We've got your back.
We fully believe that dedication and passion should be recognized and rewarded. That's why we offer a competitive compensation and benefits package to all of our employees. Our benefits provide the flexibility, choice and support you need to be at your best as you play a vital part in helping patients live longer, better and healthier lives.
Healthcare

Healthcare

Medical
Dental
Vision
Healthcare FSA
Dependent Care FSA

Medical
Shore/Long-term
Disability

Continuing Education

Continuing Education

Tuition Assistance and CEU reimbursements ($500/year for full‑time; $350/year for part‑time)

Paid Time Off

Paid Time Off

Flexibility in using PTO for vacation, holiday and personal time. PTO can also be reimbursed for cash for up to 80 hours per year.

Autonomy

Autonomy

The elevated responsibility of Inpatient RNs helps foster confidence and leadership skills, and allows for a more holistic role in the treatment process.

Additional Perks

Additional Perks

Adoption Assistance
Wireless, Automobile and Computer Discounts

401(k) Retirement Saving

401(k) Retirement Saving

Competitive vesting schedules and a company match of 50 cents for each dollar you save up to the first 6% of your salary (3% additional) after one year of employment.

Application Process

We are so glad you are interested in a career with FMCNA! What happens next?

Application & Assessment

First you will need to complete your online application. Some roles may also require an online assessment to be completed.

Review

Then a recruiter will review the applications submitted and select those most aligned with the role to move forward. If selected, The recruiter will contact you to schedule the next step.

Interview

Next, you will participate in phone/video interview(s) with our recruiter & leadership team.

Feedback

The recruiter will provide feedback to you on your interview(s) and update you on any hiring decisions.

Offer

Next, the recruiter will extend a formal offer if you are selected for the position.

Pre-Employment Checks

Lastly, you will accept your offer and complete pre-employment checks and paperwork.

Upcoming Events

Learn more about working at Fresenius Medical Care at an upcoming hiring event near you.

Sign Up For Job Alerts

By signing up for Job Alerts, you'll receive the latest job openings based in your interests, skills and background sent directly to your inbox.

Join Our Talent Network

Joining our Talent Community allows us to send you company news, career event announcements and other career-related information.

By submitting your information, you acknowledge that you have read our privacy policy and consent to receive email communications from Fresenius Medical Care N.A.