Home Therapies professionals at Fresenius Medical Care provide education and support to patients and caretakers who have chosen home dialysis therapy. This role involves an initial visit to the homes of patients to assess home therapy readiness, as well as training and follow-up visits within the clinic environment. Successful candidates have outstanding customer service skills, a valid driver's license and the desire to positively impact patients' lives by empowering them to treat themselves in the comfort of their own homes.
Job Description
Louisville, Kentucky
Job ID R0084087
POSITION FEATURES:
-Entry level dialysis Biomedical Technician
-Experience not necessary, will train the right candidate
-Electrical, mechanical, HVAC experience a plus
-Competitive wages and advancement opportunities
PURPOSE AND SCOPE:
Knowledgeable, developing intermediate level technician performing normal functions under general supervision. Performs scheduled and unscheduled semi-routine repair, maintenance activities and operational condition of all medical equipment, water systems and the physical plant in assigned facilities that ensure patient safety and staff operating equipment in accordance with company policies and procedures, manufacturer's documentation, industry standards and local, state and federal regulatory requirements. Performs cost containment activities related to repair and maintenance and monthly Technical CQI/QAI duties. Functions as an equipment "trouble-shooter" to identify and ensure resolution to problems.
PRINCIPAL DUTIES AND RESPONSIBILITIES:
Under general supervision, performs moderate scope semi-routine tasks in nature requiring full knowledge of general aspects of the job, including but not limited to the following:
Repair and Maintenance:
Performs and/or oversees timely maintenance, troubleshooting, and repair activities to water treatment equipment, dialysis equipment, ancillary equipment, test equipment, and the physical plant as required and recommended by the manufacturer and established company policy and procedures, including maintaining aesthetics of the equipment and water room.
Coordinates and completes scheduled and unscheduled repair and maintenance of physical plant by company approved vendors.
Oversees maintenance of all ancillary devices assuring it follows manufacturer's recommendations and in compliance with company policies and procedures, industry standards and local, state and federal regulatory requirements.
Acts as equipment "trouble-shooter", identifying where problems exist and recommending resolution as needed utilizing acquired knowledge of company machinery, equipment, and systems.
Purchases and maintains an inventory of service parts using approved sources and ensures RGA and warranty parts are returned in a timely manner.
Performs water/dialysate sample collection and processing, and reviews, evaluates, and reports quality results per applicable policies and procedures.
Documents all daily, weekly, monthly repair and maintenance activity/repairs per applicable policies and/or procedures.
Oversees and updates project tracking or other company tracking/documentation systems as assigned. 
Regulatory Compliance:
Performs monthly Technical CQI/QAI duties. Analyzes, assembles, and assimilates information and data for the CQI/QAI process and leads technical discussion, including reporting outcomes and creating and implementing improvement plans.
Collaborates with facility staff to ensure all regulatory and OSHA requirements are met.
Reviews water system documentation to verify compliance (i.e. readings are within parameters).
Performs daily, weekly, and monthly trend analysis on the water system, anticipating appropriate action to assure system functions as designed.
Identifies instances where company policy and procedures are not being met including escalation of issues to next level management.
Medical Supply Inventory:
Manages Program's Medical Supply Inventory by managing par values, making sure program has the correct inventory to support the patient treatments, performing physical inventory counts and generating a physical inventory report.
Miscellaneous, Operational and Educational:
Must maintain water treatment equipment qualification by completing Annual Water Training.
Supports clinical education by administering return demonstrations during Annual Water Training.
Must maintain current required certifications.
Monitors and reviews patient care staff's technique for testing water system, assuring tests and documentation meet policy and comply with manufacturer's specifications for the devices and test equipment used.
Attends and successfully completes all technical training programs required by state/federal regulations and company policy. Refer to Biomedical Technician Career Pathway Department Operating Guideline for full list of training requirements.
Transports equipment as needed.
Escalates issues to supervisor for resolution, as deemed necessary.
Acts as a mentor, role model and resource for technical staff by setting an example of appropriate behavior, work habits and attitudes towards patients, coworkers, and management.
At supervisor's discretion, assists technical staff with general tasks that require a better understanding of functions and provides mentorship and training to new technical staff.
Works toward becoming subject matter expert in one or more areas through continued learning in professional subjects.
Other related duties as assigned.
PHYSICAL DEMANDS AND WORKING CONDITIONS:
The physical demands and work environment characteristics described here are representative of those an employee encounters while performing the essential functions of this job.  Reasonable accommodations may be made to enable individuals with disabilities to perform the essential functions.
Employees are required to take the Ishihara's Color Blindness test as a condition of employment.  Note that, failing the Ishihara Test for Color Blindness does not preclude employment. The Company will consider whether reasonable accommodations can be made.
Position involves active work including lifting, bending, walking and standing for considerable lengths of time. 
The use of dollies or other equipment is mandatory when moving heavy weight items. May be required to frequently lift items weighing up to 50 lbs. as high as 5 feet. 
There is potential exposure to chemicals and infectious materials. Scope of work includes high voltage equipment. Personal Protective Equipment (PPE) is provided by the company. 
Work environment is typically air temperature controlled with moderate noise levels. May be required to work in various outdoor elements. 
Evening and weekend availability, as well as ability to take on-calls are required. Overnight travel may be required.
SUPERVISION:
None
EDUCATION AND REQUIRED CREDENTIALS:
High school diploma or G.E.D. required.
Successful completion of the Biomedical Technician Education Curriculum and Practicum.
Associate or Bachelor Degree in electronics / biomedical technology, or equivalent a plus.
Nephrology/Biomedical Industry Technical Certifications preferred - Board of Nephrology Examiners Nursing and Technology (BONENT), Certified Hemodialysis Technician (CHT), National Nephrology Certification Organization (NNCO), Certified Biomedical Nephrology Technician (CBNT), Water Quality Association (WQA) Water Treatment Specialist (WTS), Association for the Advancement of Medical Instrumentation (AAMI), Certified Biomedical Equipment Technician (CBET)
Valid Driver's License issued in the employee's state of residence required.
EXPERIENCE AND REQUIRED SKILLS:
1 - 2 years as a Biomedical Technician level I with successful completion of all required training, education curriculum and practicum and meet all other promotion requirements as outlined in the Biomedical Technician Career Pathway Department Operating Guideline. Or 2+ years' directly related experience working in an industrial/medical technical setting, 1+ years directly related experience with an Associate Degree in electronics/biomedical technology, or Bachelor Degree in electronics/biomedical technology with no experience - Must successfully complete all required training, education curriculum and practicum within the first 24 months from date of hire / job entry date.
Manual dexterity required - ability to use common hand tools and small power equipment.
Strong verbal and written communication skills with the ability to comprehend and communicate in the English language.
Proficient computer skills with the ability to navigate through common operating systems, such as Microsoft Office, SAP and TMS products.
Ability to work a flexible schedule including nights, weekends and holidays.
 EO/AA Employer: Minorities/Females/Veterans/Disability/Sexual Orientation/Gender Identity
Fresenius Medical Care North America maintains a drug-free workplace in accordance with applicable federal and state laws.
View More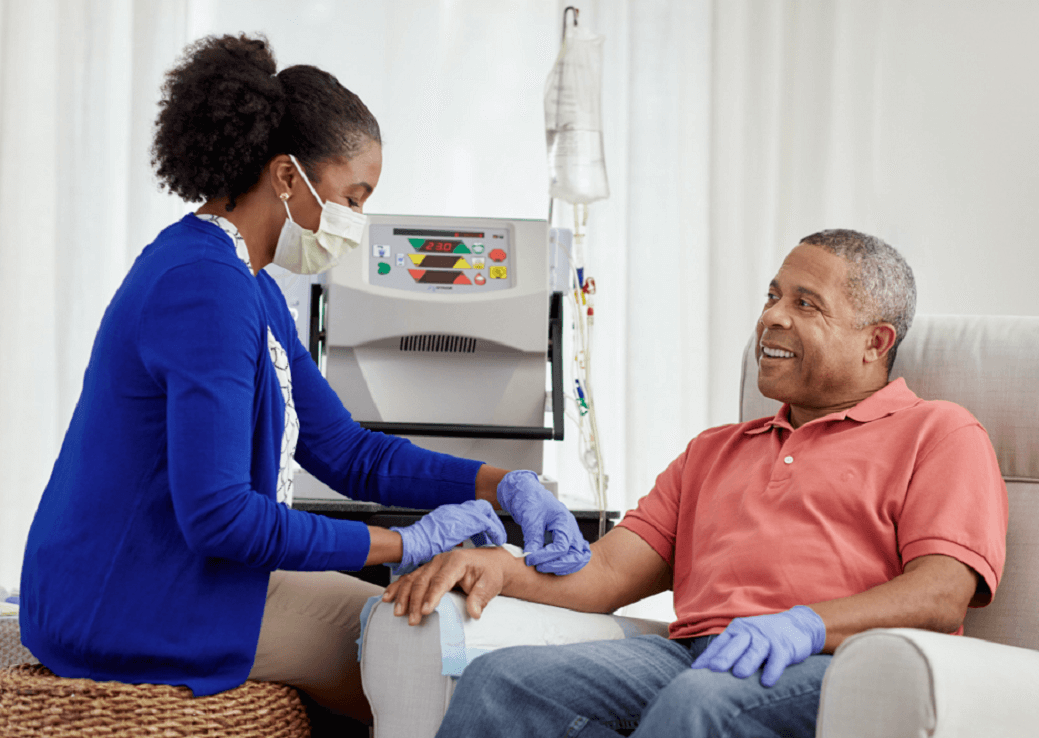 Success Profile
What makes a successful member of our team? Check out the top traits we are looking for and see if you have the right mix.
Facilitator
Leadership
Patient
Motivational
Understanding
Helpful

I see these people when they start, and when they're over that hump my heart just...I can't even describe it. It's just amazing.
Joanne S., Registered Nurse
We've got your back.
We fully believe that dedication and passion should be recognized and rewarded. That's why we offer a competitive compensation and benefits package to all of our employees. Our benefits provide the flexibility, choice and support you need to be at your best as you play a vital part in helping patients live longer, better and healthier lives.
Healthcare

Healthcare

Medical
Dental
Vision
Healthcare FSA
Dependent Care FSA

Medical
Short/Long-term
Disability

Continuing Education

Continuing Education

Tuition Assistance and CEU reimbursements ($500/year for full‑time; $350/year for part‑time)

Paid Time Off

Paid Time Off

Flexibility in using PTO for vacation, holiday and personal time.

Collaborative Environment

Collaborative Environment

Employee Pride
Valued Team Members
Motivation for Excellence
Respect & Dignity
Openness & Trust

Additional Perks

Additional Perks

Adoption Assistance
Wireless, Automobile and Computer Discounts

401(K) Retirement Saving

401(K) Retirement Saving

Competitive vesting schedules and a company match of 50 cents for each dollar you save up to the first 6% of your salary (3% additional) after one year of employment.
Application Process
We are so glad you are interested in a career with FMCNA! What happens next?
Application & Assessment

First you will need to complete your online application. Some roles may also require an online assessment to be completed.

Review

Then a recruiter will review the applications submitted and select those most aligned with the role to move forward. If selected, The recruiter will contact you to schedule the next step.

Interview

Next, you will participate in phone/video interview(s) with our recruiter & leadership team.

Feedback

The recruiter will provide feedback to you on your interview(s) and update you on any hiring decisions.

Offer

Next, the recruiter will extend a formal offer if you are selected for the position.

Pre-Employment Checks

Lastly, you will accept your offer and complete pre-employment checks and paperwork.
Upcoming Events
Learn more about working at Fresenius Medical Care at an upcoming hiring event near you.
Sign Up For Job Alerts
By signing up for Job Alerts, you'll receive the latest job openings based in your interests, skills and background sent directly to your inbox.
Join Our Talent Network
Joining our Talent Community allows us to send you company news, career event announcements and other career-related information.
By submitting your information, you acknowledge that you have read our privacy policy and consent to receive email communications from Fresenius Medical Care N.A.