Overview
Travel Nurses at Fresenius Medical Care support our dialysis clinics and partner hospitals across the country for 13-week assignments. This role offers variety, flexibility, autonomy and the highest compensation package available for dialysis nurses. A minimum of one year of dialysis experience is required, as is the ability to quickly build rapport with new patients and team members. Through it all, you'll make a profound difference in the lives of patients affected by kidney disease.
Job Description
Job ID R0110056
Available Openings 1
POSITION FEATURES:
**Candidate must reside in Idaho, Colorado, Utah or Nevada.
This is a remote position supporting the Frenova Renal Research division and will involve travel to sites in the United States. Primary sites supported will be: Boise, Idaho - Denver, Colorado - St George, Utah - Las Vegas, Nevada. The position requires >50% travel to site network locations and required meetings.
PURPOSE AND SCOPE:
Works under the supervision of the Principal Investigator (PI), Director and other site personnel as applicable.  Conceptually applies the research protocol to the clinical setting to allow accurate and timely completion of all duties.  Maintains appropriate documentation associated with the assigned clinical study.  Ensures studies are conducted according to established company policies and procedures as well as all applicable State and Federal regulations, specifically Good Clinical Practice (GCP), ICH, and FDA guidelines.
PRINCIPAL DUTIES AND RESPONSIBILITIES:
Develops in-depth understanding of each study protocol to ensure all aspects of the protocol are adhered to in accordance with FDA, GCP, and ICH Guidelines.

Under the supervision of the Principal Investigator (PI) and appropriate management prepares and submits regulatory documents in an accurate and timely manner.

In collaboration with the PI, incorporates clinical judgment and knowledge of protocol to identify potential study participants according to inclusion and exclusion criteria.

Obtains informed consent according to GCP.

Schedules subject visits.

Prepares labs/tests per protocol.

Responsible for study drug storage and drug accountability according to the parameters of the study protocol and sponsor requirements.

Administers the investigational product according to the parameters of the study protocol and under the direction of the physician. LVNs/LPNs may administer medications under their state licensure and under the order of the PI. Non-LVNs may administer oral and subcutaneous drugs with appropriate training and under the license of the PI.

Monitors and evaluates patients' condition with regard to the investigational product.

Consults with PI regarding the appropriate administration of investigational product.

Conducts routine assessments to evaluate the subject's response to investigational product, and communicates observations to the PI, sponsor and IRB as appropriate.

Educates the subject about the applicable study particulars.

Informs/updates the subject about pertinent study details as needed.

Documents subject information as it pertains to the clinical study according to the principals of ALCOA (Attributable, Legible, Contemporaneous, Original, Accurate).

Meets with the study monitor to review, verify and correct all data entered onto the case report form and to ensure appropriate maintenance of study records.

Reviews all lab/tests with the physician in a timely manner.

Reports subject's progress, complaints and issues to PI, study sponsor, or IRB as needed in a timely manner.

Conducts ongoing assessments of the overall study execution within the facility/practice, communicating concerns to the Director, PI, study sponsor or IRB as needed.

Notifies appropriate management and external parties of serious adverse events according to protocol.

Collects pre-study essential documents

ssential to protocolRB as neededccording tot he

 according to GCP and files appropriately in the study record.

Maintains the study file record according to GCP.

Maintains subject participant records according to GCP.

Provides a list of all study participants to facility/practice management to avoid improper billing of lab tests or services covered under the research budget.

Ensures appropriate storage, access, and maintenance of records pertaining to investigational product.

Documents investigational product received dispensed, and returned to study sponsor according to GCP.

Completes the clinical trials management system and electronic/paper case report forms in an accurate and timely manner

Attends Investigator Meetings as necessary.

Other duties as assigned.
PHYSICAL DEMANDS AND WORKING CONDITIONS:
The physical demands and work environment characteristics described here are representative of those an employee encounters while performing the essential functions of this job. Reasonable accommodations may be made to enable individuals with disabilities to perform the essential functions.

Day to day work includes desk and personal computer work and interaction with patients, facility staff and physicians.

The work environment is characteristic of a health care facility with air temperature control and moderate noise levels. May be exposed to infectious and contagious diseases/materials.

The position requires 10 – 15% travel between assigned facilities and various locations within the community. Travel to regional, Business Unit and Corporate meetings may be required.
SUPERVISION:
EDUCATION:
Bachelor's Degree or an equivalent combination of education and experience

Graduate of a technical program in healthcare (e.g. LVN/LPN, Medical Assistant or Dialysis Technician) AA in Life Sciences or other health related field. Advanced Degree preferred.
EXPERIENCE AND REQUIRED SKILLS:
2 to 5 years' healthcare experience with Dialysis experience preferred.

Research experience preferred.

Willing to pursue CCRC or SoCRA certification when eligible.

Current appropriate state licensure if applicable.

Proficient with PCs and Microsoft Office applications.

Good communication and organizational skills.

Ability to work independently.
EO/AA Employer: Minorities/Females/Veterans/Disability/Sexual Orientation/Gender Identity
Fresenius Medical Care North America maintains a drug-free workplace in accordance with applicable federal and state laws.
View More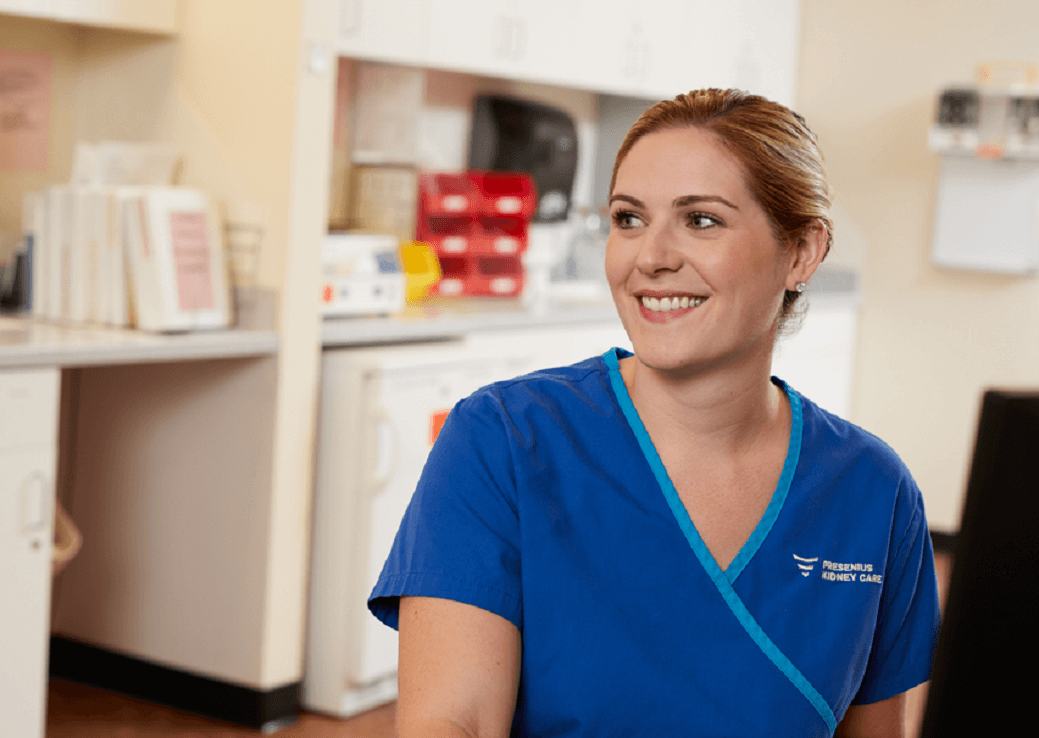 Success Profile
What makes a successful member of our team? Check out the top traits we are looking for and see if you have the right mix.
Dependable
Adaptable
Compassionate
Positive
Team-player
Flexibility
We've got your back.
We fully believe that dedication and passion should be recognized and rewarded. That's why we offer a competitive compensation and benefits package to all of our employees. Our benefits provide the flexibility, choice and support you need to be at your best as you play a vital part in helping patients live longer, better and healthier lives.
Healthcare

Healthcare

Medical
Dental
Vision
Healthcare FSA
Dependent Care FSA

Medical
Shore/Long-term
Disability

Continuing Education

Continuing Education

Tuition Assistance and CEU reimbursements ($500/year for full‑time; $350/year for part‑time)

Paid Time Off

Paid Time Off

Flexibility in using PTO for vacation, holiday and personal time.

Collaborative Environment

Collaborative Environment

Employee Pride
Valued Team Members
Motivation for Excellence
Respect & Dignity
Openness & Trust

401(k) Retirement Saving

401(k) Retirement Saving

Competitive vesting schedules and a company match of 50 cents for each dollar you save up to the first 6% of your salary (3% additional) after one year of employment.

Application Process

We are so glad you are interested in a career with FMCNA! What happens next?

Application & Assessment

First you will need to complete your online application. Some roles may also require an online assessment to be completed.

Review

Then a recruiter will review the applications submitted and select those most aligned with the role to move forward. If selected, The recruiter will contact you to schedule the next step.

Interview

Next, you will participate in phone/video interview(s) with our recruiter & leadership team.

Feedback

The recruiter will provide feedback to you on your interview(s) and update you on any hiring decisions.

Offer

Next, the recruiter will extend a formal offer if you are selected for the position.

Pre-Employment Checks

Lastly, you will accept your offer and complete pre-employment checks and paperwork.

Upcoming Events

Learn more about working at Fresenius Medical Care at an upcoming hiring event near you.

Sign Up For Job Alerts

By signing up for Job Alerts, you'll receive the latest job openings based in your interests, skills and background sent directly to your inbox.

Join Our Talent Network

Joining our Talent Community allows us to send you company news, career event announcements and other career-related information.

By submitting your information, you acknowledge that you have read our privacy policy and consent to receive email communications from Fresenius Medical Care N.A.